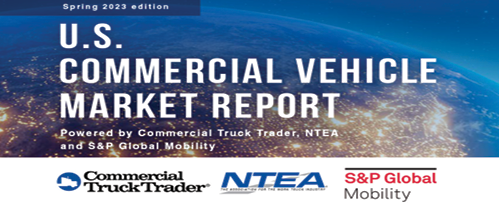 NTEA – The Association for the Work Truck Industry released the second edition of the U.S. Commercial Vehicle Market Report – Powered by Commercial Truck Trader, NTEA and S&P Global Mobility. This semi-annual industry report delves into the details, data and trends around the commercial vehicle life cycle – from chassis sales to truck registration to later stages when used vehicles re-enter the sales market.
"We're excited to release the spring 2023 U.S. Commercial Vehicle Market Report to the industry," said Kevin Koester, NTEA managing director. "We continue to mine new data with the goal of providing valuable insights and helping the industry through historically challenging times. We look forward to discussing our findings in our session at Work Truck Week and receiving feedback to continue to improve this valuable resource."
The second report was released in conjunction with Work Truck Week 2023 in Indianapolis, during a session on trends impacting the North American commercial vehicle population led by representatives from Commercial Truck Trader, S&P Global Mobility and NTEA.
"Knowledge is power, and the insights shared in the 2023 U.S. Commercial Vehicle Market Report will arm dealers with the right data to make more strategic and informed decisions in their business," added Charles Bowles, director of OEM and strategic initiatives at Trader Interactive, parent company of Commercial Truck Trader. "We are thrilled to once again discuss the insights from the report at Work Truck Week alongside NTEA and S&P Global Mobility." 
"We are proud to continue collaborating with NTEA and Commercial Truck Trader to deliver this great resource to the work truck market," said Mark Hazel, associate director, commercial vehicle reporting at S&P Global Mobility. "As the industry works through various supply shortages and the rise of electric vehicles, this report will continue to provide valuable information to help businesses navigate these times."
This second edition of the U.S. Commercial Vehicle Market Report leverages multiple complex datasets to provide an introductory landscape of opportunities, trends and challenges in today's work truck market.
Topics covered include:
Purchasing trends and forecasts by vehicle class.
Fleet reactions to supply shortages and resulting effects on demand.
How recent chassis shortages have impacted inventory levels.
Proliferation of electric commercial vehicles.
Average vehicle age shifts.
The spring 2023 U.S. Commercial Vehicle Market Report is available free to the industry. Visit ntea.com/cvmarketreport, or contact NTEA at [email protected] or 800-441-6832, for additional details and report access.