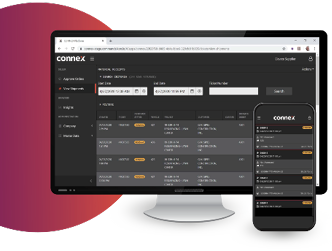 Command Alkon, a global supplier of integrated solutions for construction materials producers, has customers in more than 70 countries worldwide. Command Alkon offers industry-specific hardware and software systems for producers, suppliers and haulers of ready-mixed concrete, concrete products, aggregate, asphalt and cement.
The Command Alkon's family of products addresses batching, dispatching, dispatch optimization, fleet and workforce management, quality control, bulk materials distribution, plant and quarry automation, transportation planning and performance, process controls, back-office operations, performance management, enterprise content management, voice-based scheduling and mobile computing.
Its products include:
Dispatch – Cloud-based dispatch offers centralized management of all your plant data and pricing and a consolidated view of total customer demand and operational capacity each day. Extend real-time information and communications with customers and field personnel and speed up invoicing and payment cycles.
Inventory and Replenishment – Remove spreadsheets and phone calls from your inventory management playbook and capture a new level of visibility to manage your day and plan the next day with ease. Automatically forecast inventory needs, place vendor orders, and replenish inventory based on scheduled daily orders.
Customer Portal – Customer Portal offers delivery and order tracking for material suppliers and their customers. This cloud-based, mobile solution provides a convenient online experience for creating, managing, and tracking orders 24 hours a day.
COMMANDassurance – Sensor data – including slump, temperature, volume, water additions, W/C ratio, drum rotation, and direction for each load – goes into the cloud and is readily available in real time to all who need it. Soon, measuring air-content in real-time will be available, giving complete and unparalleled visibility into concrete properties.
Command Alkon, www.commandalkon.com