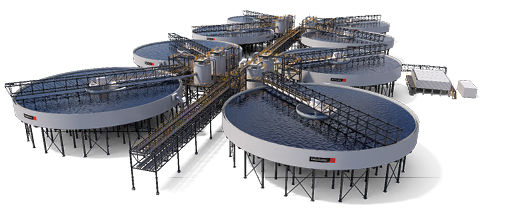 Metso is introducing scalable thickening plant units to ensure outstanding circuit performance and reliability for any minerals processing application or capacity.
Comprising high-rate thickeners, high-compression thickeners, paste thickeners, clarifiers and polymer dosing units, Metso Thickening Plant Units fit seamlessly with other dewatering units, like filtration or any type of water treatment applications. The pre-engineered units incorporate Planet Positive Reactorwell feedwell technology, maximizing thickener performance while minimizing flocculant consumption.
"Decreasing ore grades sets new challenges for the mining industry. Equipment design needs to integrate seamlessly across the process to avoid underperformance and recovery losses. Our new thickening plant units feature scalable, modular components, and the integrated units deliver consistent performance even in changing process conditions. What's more, the productized and partially modular units are quick and safe to install and commission," explained Toni Kuisma, product manager for dewatering islands at Metso.
Metso Thickening Plant Units offer unique benefits:
A wide and proven range of proprietary equipment with innate digitalization for the whole plant, providing consistent performance in changing process conditions.
Industry-leading Reactorwell feedwell technology to ensure efficient use of the clarification area.
Better risk management through process performance guarantees.
In-house testing and sizing.
Expert support in the design of individual applications, based on extensive plant design know-how and numerous references for various applications, concentrate and tailings.
The company's comprehensive service portfolio extends from spares and wears to advanced life cycle services and is backed by a global network of service expertise. The wide variety of upgrades enables the restoration of outdated existing technology for optimized thickener performance and the achievement of sustainability targets.
Metso, www.mogroup.com