Terex MPS (Materials Processing Systems), one of the world's leading producers of modular, portable and static mineral screening equipment for North America, attended ConExpo-Con/Agg 2023, showcasing the exclusive new Cedarapids CRC1350S Portable Cone Crusher Plant and the new Simplicity ESX "Extra Clearance" Series Horizontal Screen: first-to-the-market models showcasing features not offered by others in the industry.
"Our team received extensive positive feedback and secured several orders. A success all around," the company noted.
"Our team was grateful for the opportunity to visit with so many people during the 2023 ConExpo-Con/Agg event. The chance to showcase two new pieces of equipment and receive first-hand feedback from passionate people in our industry was very positive. Our team truly enjoyed visiting with the numerous loyal customers and visitors from around the world and getting a chance to hear the stories and share experiences with our legacy brands," said Russ Burns, sales director Terex MPS.
Cedarapids CRC1350S Portable Cone Crusher Plant
The new Cedarapids CRC1350S Portable Plant is in a class of its own, designed for high production at lower costs per ton. Featuring the enhanced TC1300X cone crusher with 400 hp and high efficiency roller bearings, it not only increases the power overall, but increases the stroke from 45 mm to 70 mm. This configuration results in an increase thru-put and improved quality product shape.
This plant paired with the TSV7203P, 7-ft. wide, three-deck horizontal screen delivers peak productivity in an easily portable structure. The TSV screen overall increases production and handles applications not possible with traditional horizontal screens. It features a variable slope operation resulting in increased capabilities, higher production, enhanced durability and ease of maintenance.
"The CRC1350S exceeds our customers portable plant strategies," the company stated. "A series of interviews with key distributors were performed by Terex MPS engineers, which lead to the development of this popular closed-circuit layout. MPS is meeting their customer demands to yield higher production capacity, lower cost per ton while remaining highly portable."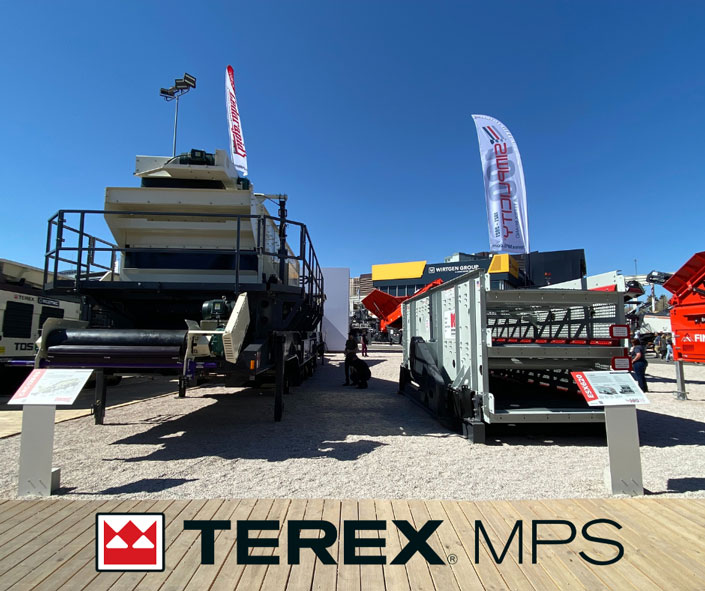 Simplicity ESX Extra Clearance Horizontal Screen
The ESX620 horizontal screen is the company's newest addition to the trusted range of screening solutions by Simplicity. The elliptical stroke, "Extra Clearance" ESX Series screens have taken the legendary oval stroke screen to the next level. The increased clearance between the screen decks provides easy maintenance access to the media. Upgrades to the drivetrain and suspension ensure that this screen still has the performance that you can count on for years to come.
With a wide opening of 23-in. between the top and middle deck, and a staggering 27.5-in. between the middle and bottom, the experienced MPS engineering team has designed this with the user in mind. "Whether you are installing urethane media or specialty wire cloth, we have you covered with space large enough to inspect and replace any type of media you prefer, safely and with ease," the company stated.
Outfitted with the latest design techniques and advancements utilizing state of the art engineering and production processes, the ESX Series screens are built stronger, run smoother, and will give you peace of mind by providing industry leading durability.
"Thank you for visiting our team at ConExpo-Con/Agg, providing great feedback and excitement for the exclusive Portable Cone Crusher Plant and the ESX Extra Clearance Horizontal Screen. This year marks the 100th year anniversary of Cedarapids and in 2021, Simplicity also celebrated 100 years. Experience matters, and our legacy brands continue to innovate and design products that exceed the demands of our distributors," said Christal Dietzenbach, Terex MPS general manager
ConExpo-Con/Agg 2023 had more than 139,000 people in attendance, from 133 countries, making it the largest trade show in North America, including more than 2,400 exhibitors from 36 counties spread out over 3 million sq. ft. of exhibit space.
Terex MPS legacy brands are already planning for the 2026 show.