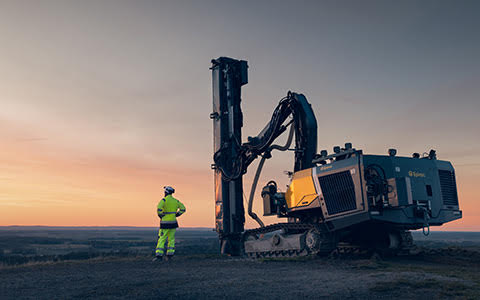 Epiroc stepped up to the plate with a range of its latest products. These include two new surface drill rigs that demonstrate new advances in the SmartROC series, two smart grouting systems, a new Down-The-Hole (DTH) hammer, a new V-shaped drum cutter, new digital tools and related aftermarket solutions.
All of these products have been designed to help accelerate the transformation of the construction industry to become more sustainable, efficient and environmentally friendly.
The SmartROC T25 R is a radio-remote rig built on a new platform and offers several valuable features, all of which will be showcased as part of the rig's pre-launch. These include an exceptional coverage area, excellent "terrainability" and application versatility – all backed up by a smart Rig Control System (RCS) and future-proof digital functions that improve efficiency and help to reduce the rigs' climate impact through fuel savings.
The upgraded version of the advanced SmartROC T40 tophammer rig for quarrying and construction consumes less diesel than any other diesel-hydraulic rig in its class and offers superior performance even under the toughest drilling conditions. The rig's class-leading fuel efficiency reduces environmental impact and costs. It also comes with smart features and options that boost productivity, including enhanced automation which helps to increase both drilling consistency and output.
The DTH 5 hammer represents a significant upgrade that gives more drilled meters per shift and the versatility needed to tackle any type of rock and task. The design offers 12 configurations and a 5% higher penetration rate compared to its predecessor and lasts approximately 10% longer. For the operator this translates into more productive and profitable workdays with fewer time-consuming and heavy changes of tools.
In January, Epiroc also launched new DTH drill bits which signals a new era for Down-The-Hole drilling. Thanks to a new design and the use of the new Epiroc carbide, these bits improve productivity and profitability while ensuring better workdays for operators
Epiroc, www.epiroc.com