A New Plan Allowed The Company To Focus On Delivering Value To Its Customers – And Its Customers To Focus On Their Work.
By Barry Hudson and Julia Georgi
This is the third in a series of articles on pricing. -Ed.
The year 2022 was an unprecedented year for inflation, and the speed of its onset. Headline inflation numbers were the talk of the day, and as an industry, aggregates were not immune from the significant impacts the inflation made to the input costs of doing business and producing products.
The cost pressures were so great, that pricing of aggregates – to at least try to cover the increasing production costs – became a prominent topic, right alongside sustainability and replacing our aging workforce.
Timely price increases or surcharges may have been a rational response to the market context, unfortunately not in our conservative industry. Most aggregates players tend to adopt very conformist behaviors even when their profits are at stake.
These traits help keep things in balance over the longer term, but when there is change that is rapid, as in the case of the sudden inflation, as an industry we find we often get caught short. The effective response to the new market reality requires quick adoption of new pricing tactics and methodologies, but as we all know those processes are rather slow in our industry.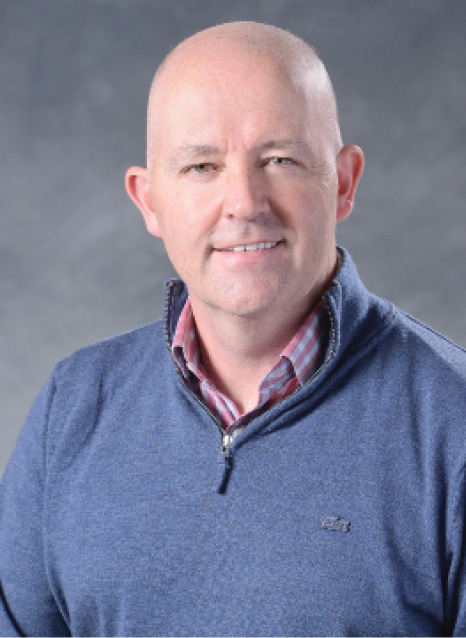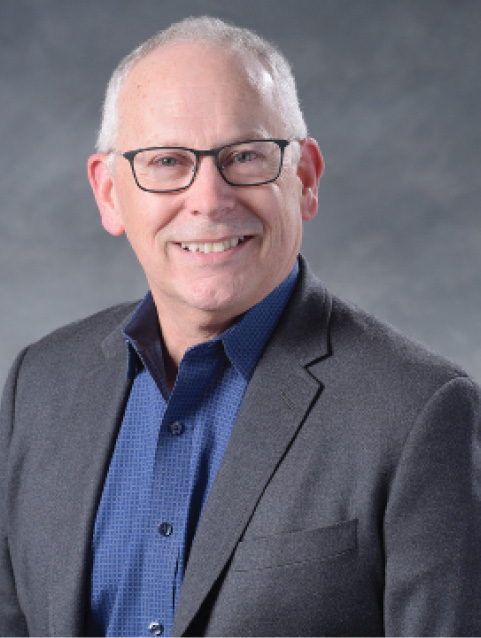 How Did We Cope?
So how did the industry cope in 2022 with the cost pressures? The short answer, outside of the larger players, not very well. What can be seen from the available data is that the larger publicly traded companies probably came out ahead or equal of the inflationary impacts on costs, and the smaller players, approximately the other 70% had a rough time.
There are many reasons for this disparity, the larger companies generally will have more market pressure from their quarterly results publication, so tended to be faster to react. The larger companies also tend to have more resources to better analyze sales data and reinforce some sales processes that will benefit financial statements, at least, in the short term. Whereas, the smaller companies maybe are not quite as clinical, and rely more on relationship selling, not having the same levels of structure, analysis, and execution.
An example of the larger national companies' price performance is seen from Anne Noonan, CEO Summit Materials on the company's third-quarter 2022 earnings call. "You'll see that we delivered solid third quarter results as evidenced by the strongest year-on-year organic pricing growth for aggregates, cement and ready-mix in our company history," she stated.
Heidelberg Materials CEO Dominik von Acten said on the company's third-quarter 2022 earnings call, "Pricing basically compensated all cost inflation in the quarter, in North America margin declines basically '0.' So the American team has been able to hold the margin."
Meanwhile, Vulcan's CEO Tom Hill stated on his company's third-quarter earnings call, "I don't expect the inflationary pressures to go down, either in the fourth quarter or 2023."
Further to Anne Noonan's comments, Brian Harris, Summit's CFO, was far more granular. "In aggregates, pricing increased 10.2% and is up 6.5% over the first nine months of 2022. Given the strong trends in pricing, we remain confident that we will exit 2022 with tremendous pricing momentum."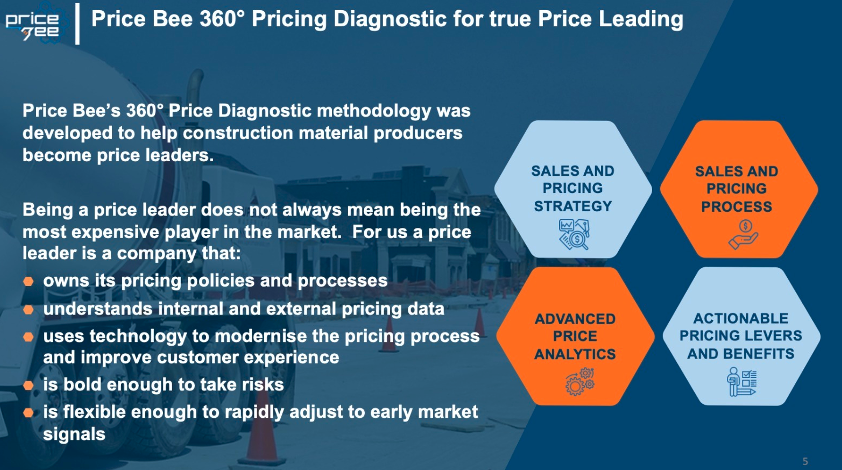 Smaller Players
How many of the smaller regional aggregates players can make a similar claim?
Peckham Industries, the family-owned construction and construction materials business based in Brewster N.Y., can. Gary Metcalf, vice president of sales and marketing for their Construction Materials business has been with Peckham for 38 years. He started in the asphalt paving business with his family's business before moving to Peckham. Metcalf started his role as vice president of sales and marketing soon after Damian Murphy took over as Peckham CEO nearly two years ago.
Murphy and Metcalf both agreed that an area of improvement for the company was in price performance that is a result of a good price strategy and successful execution of that strategy by sales teams. As Metcalf looks back at the last 18 months of the Pricing Diagnostics project and implementation of a structured Configure-Price-Quote Software (price-bee.com), he mused, "Thank goodness for the Pricing Diagnostic Project and for the new bid software, Price Bee."
Throughout the challenging 2022, the Peckham sales team of 15 sales representatives and three inside-sales coordinators balanced the inflationary pressures they faced for their aggregates and hot mix asphalt sales for the year.
"Of course, the timing was critical, and like the rest of the industry, our sales team had limited exposure to a structures sales process. We are a conservative industry and the sales team was split 50/50 on the merits of commencing a project where we analyze our past pricing performance, and then devise strategies for our pricing moving forward," according to Metcalf.
The Pricing project put forward by Price Bee was conducted more like a team-building event. Price Bee's agile and collaborative consulting approach helps co-build plant specific pricing catalogue that can be immediately used on the ground. And as Metcalf noted, "the timing has been perfect, as right now pricing and protecting margins has been most challenging."
And it isn't all just about pricing data models. To get a better understanding of Peckham's internal pricing culture Price Bee used qualitative studies and models such as Pricing Strategy Self-Assessment, Customer Attractiveness and Pricing Maturity.
The advantage of those studies is that just in a matter of several days they clearly highlight philosophical, managerial and process gaps with regards to pricing. Thanks to clear visual outputs that are rather self-explanatory the points of view of the project team members were aligned from the early stages of the Pricing Project.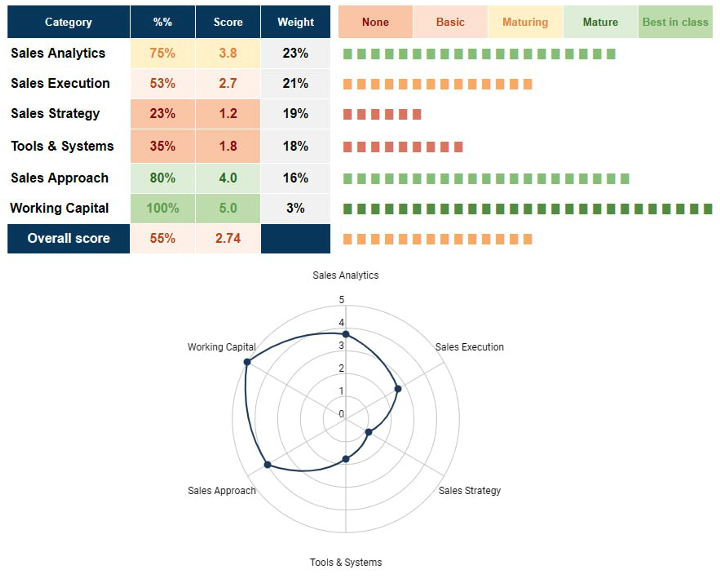 Getting Better
Julia Georgi, COO of Price Bee, commented about the Peckham Pricing Project: "They are such a great client, fully engaged and wanting to improve and get better at their pricing discipline. The project required forming a price strategy that is harmonious in the four regions Peckham operate, after studying all the data, and performing a series of workshops with all the sales teams, we settled on a couple of most actionable strategies such as customer size-based pricing. 
"In our industry the business happens on the ground and a good pricing strategy cannot exist without a good quotation software. And I am so proud to say that from April of 2023, Peckham will be using Price Bee, our Quotation and Price Management software that will enable them to manage various plant and product-specific pricing strategies; and most importantly, implement a market-focused bid process. Price Bee is designed not only to guide salespeople through daily quotation process, but also to help them to combine it with competitor intelligence and more accurate transport cost calculation."
Metcalf said, "I don't think a lot of companies are going to be able to do what we have done in the last 12 months. We are in line with our budget and our bottom line. We got hit with tremendous increases in costs and our team worked diligently to reduce these impacts, however the end user ultimately has to bear the higher cost.
"What this Pricing project did for us was more than just look at numbers," Metcalf said. "It gave us more of a philosophy to work by. The great thing is, we at the same time got a recognized Sales Training consultant in to further upskill our sales team, and their methods and processes fully aligned with Price Bee, this gave us even more confidence moving forward. Price Bee gave us an indication of potential upside with their Pricing Diagnostic of between 4-12% of revenue. We believe that the final result will fall in this range, and we haven't fully executed the plan yet."
When asked about any negative customer reaction to the new pricing model, Metcalf stated, "We had a handful of customers that didn't want to accept the new pricing, and they left, but they are slowly returning."
In Summary
Summarizing, Metcalf said, "Overall knowing there is a better way of pricing, we can become very powerful and having a consistent approach and strategy in our pricing makes it easy for our customers to work with us. The endless negotiations over every penny and every rock needed to stop. This allows us to focus on delivering value to our customers and allows our customers to focus on their work."
Murphy closed out the pricing discussion, saying, "Working with Price Bee we have identified significant opportunities in our approach to the market. There is a clear visibility to our customer profitability. Our sales team now have a simple and effective tool from quote to order intertwined with real time pricing history. Our sales team has an accountable, disciplined framework where anomalies are easily identified, and profitability enhanced."
There seems to be some belief in the industry that our sales force knows how to effectively price, assuming they have some natural ability to know the complexities of pricing and can instantly deliver an optimal result. Like all functions in business, Pricing is something that needs proper analysis and training. That is why we have built the tools and processes we have nicknamed Plan Bee.
Barry Hudson and Julia Georgi are with Price Bee, www.price-bee.com.