The Show, Now Nearly 5% Bigger Than The Record Set In 2020, Will Feature 1,800 Exhibitors And 150 Education Sessions.
By Mark S. Kuhar and Josephine Patterson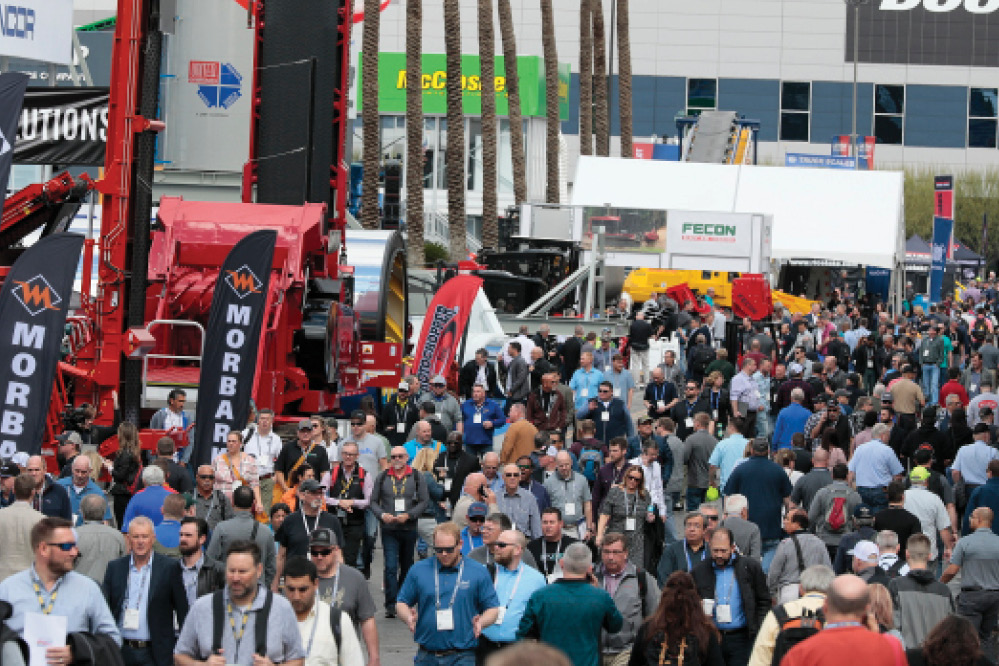 Here it comes again. The next ConExpo-Con/Agg will be held March 14-18, 2023, in Las Vegas. ConExpo-Con/Agg is the largest construction and aggregates trade show in North America and the premier event that connects professionals from every major construction sector.
Held every three years, ConExpo-Con/Agg takes the construction and aggregates industries to the next level by helping construction professionals elevate their industry expertise, experience the newest equipment and products through demonstrations and industry-leading education, make new professional connections, and grow their own marketability within the industry.
ConExpo-Con/Agg, already recognized as the largest trade show in North America, has officially sold all available exhibit space, guaranteeing the 2023 edition of the show will be the biggest in history.
"The addition of the new West Hall and Diamond Lot at the Las Vegas Convention Center gave us, and our exhibitors, a number of new opportunities to show how we are taking the construction industry to the next level," said ConExpo-Con/Agg Show Director Dana Wuesthoff. "Now at 2.8 million sq. ft. of exhibits, there's more for construction pros to see than ever before."
The show, now nearly 5% bigger than the record set in 2020, will feature 1,800 exhibitors and 150 education sessions during its run from March 14-18, 2023.
Despite being the largest ConExpo-Con/Agg ever, recent additions to the Las Vegas Convention Center (LVCC) will make it the easiest to get around as well. Beneath the entire LVCC campus runs the Convention Center Loop, an underground transportation system designed by Elon Musk's The Boring Company that transports convention attendees throughout the campus in under two minutes in Tesla vehicles, free of charge.
Construction pros are ready for the show to return as well. The current pace of attendee registration is nearly double what it was at this time for the 2020 show.
"This is the event that construction professionals, especially those making company-level decisions, and those needing professional development hours, can't miss," said ConExpo-Con/Agg Show Chair and Caterpillar Senior Vice President Phil Kelliher. "Seeing the new equipment and techniques on a screen doesn't compare to seeing it all in person. At the show, you can see the equipment, ask questions of the manufacturers themselves, and really understand what the equipment and education can do for your career and business."
Education
"The biggest value in making the trip to Vegas to come to ConExpo-Con/Agg is learning, and I don't mean just learning about the latest and greatest equipment on display," said Wuesthoff. "The education offerings at ConExpo-Con/Agg have always stood out for their focus on helping construction professionals build both their skillsets and their overall businesses acumen."
With construction technology around sustainability significantly advancing in recent years, ConExpo-Con/Agg is already set to have the biggest focus on sustainability since the show began in 1948.
"The construction industry and ConExpo-Con/Agg are evolving in many ways to adapt and showcase sustainable technologies, products and practices supporting a more sustainable world," said Wuesthoff. "More than ever, show attendees will see sustainability in action, from electric and hydrogen powered construction equipment, to more recyclable materials and waste reduction opportunities, to changes we're making to the show to better support sustainability."
Here's how ConExpo-Con/Agg is putting sustainability at the forefront: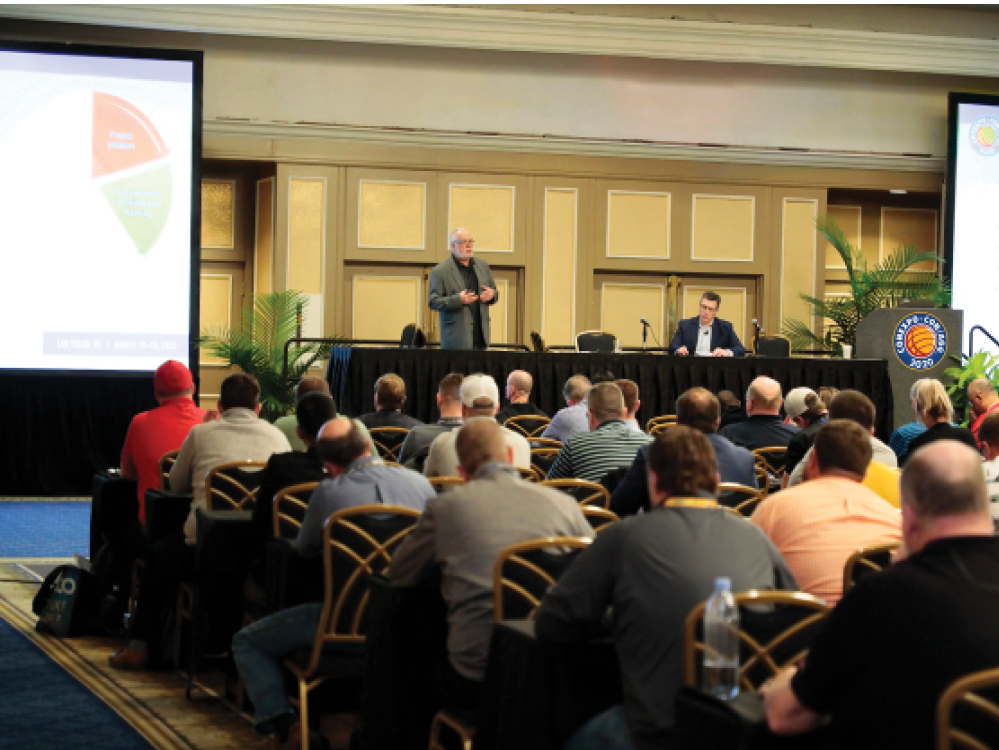 Tech on Display
Across the show floor, sustainable technologies, products and practices will be on display. Here is a sampling of what will be featured:
Volvo Construction Equipment has already announced they will bring several electric and autonomous pieces to their stand in the Festival Lot, including their EC230 electric excavator pilot, their Zeux autonomous concept wheel loader, and their HX04 prototype hydrogen articulated hauler.
Just steps away, Caterpillar (Booth F-9127) will bring four battery electric machines as well as a series of prototype batteries for off-road equipment ranging from 48-600 volts.
Aerial work platform specialists Skyjack (Booth F-9427) will have their new SJ120 E on hand, a zero-emissions mast lift with a 30% improvement in duty cycle. Asphalt recycling equipment from Pavement Recyclers LLC (Booth S-5966) and VSS Macropaver (Booth C-32073) use different processes for recycling asphalt, keeping it out of landfills. Concrete contractors can also get in on the green trend by checking out Holcim's (Booth C-20405) ECOPact concrete that can eliminate carbon emissions entirely in some instances.
Construction pros that want to maximize their energy efficiency can explore Kubota's (Booth S-84415) V3307 Micro-Hybrid engine for installing in their existing equipment, saving fuel with the attachments they use, like Rototilt's (Booth F-8338) Rototilt Control system.
Contractors who work in disaster recovery could save up to 600 sand bags per barrier (and not worrying about disposal should it become contaminated) with Rapid Barrier Systems' (Booth S-61515) water-inflatable barriers, not to mention the fuel needed to haul it on and off site.
Demolition contractors wanting to reduce waste and preserve still-usable material can see Aquajet's Hydrodemolition robots at the Brokk booth (Booth C-20349) that can help remove damaged concrete while leaving still-good concrete and rebar reinforcement intact.
Compaction is another place where low-efficiency engines can be replaced with battery-operated equipment, according to Wacker Neuson (Booth W-43501) who will be bringing a number of electric tools including, for the first time, battery-powered, reversible plates.
Small engine specialists Briggs & Stratton will bring their Vanguard (Booth D-1033) brand's swappable lithium-ion batteries to ConExpo-Con/Agg for the first time, available for attendees to test out. And for construction pros that want to make sure their batteries are in proper working condition, Redline Detection (Booth N-10532) is bringing their battery coolant and leak detector.
When it comes to equipment, gas or electric-powered, the environmental impact is more than just emissions, but lubricants. B3C Fuel Solutions (Booth S-61545) is bringing products to the show to help contractors eliminate waste by restoring emulsified/damaged oil, and make sure lubricant that does find its way to the environment is non-toxic and biodegradable.
Wastewater is a major issue, including when construction equipment needs cleaning. Waste2Water (Booth S-64429) is bringing solutions to ConExpo-Con/Agg to help equipment operators keep waste and chemical-laden water out of the environment.
Once attendees have all their sustainable equipment picked out and ready, AT&T's Equipment and Machinery Solutions team (Booth N-12700) is bringing a solution to help track their actual Scope 1 emissions versus their targets.
One of the biggest sustainability efforts on the part of ConExpo-Con/Agg directly is a newly announced partnership between the show and the Arbor Day Foundation. ConExpo-Con/Agg and the Arbor Day Foundation are working toward planting 130,000 trees in forests of greatest need, one for every show registrant.
Additionally, ConExpo-Con/Agg exhibitors and attendees can contribute to the Arbor Day Foundation's funds, allowing them to further their goal of involving themselves in its mission of planting, nurturing and celebrating trees around the globe.
Each dollar contributed to the Arbor Day Foundation will result in one tree being planted in a forest in need.
"The Arbor Day Foundation is excited to be the official nonprofit sustainability partner of ConExpo-Con/Agg," said Becca Hebbard, corporate partnerships manager for the Arbor Day Foundation. "As one of the world's most trusted and experienced tree planting organizations, we work with organizations of all sizes to help them meet their corporate sustainability, ESG, and CSR goals. Whether you're looking to help protect biodiversity, contribute to wildfire recovery, bring the benefits of trees to a community in need, or add verified forestry carbon credits to your emissions reduction strategy, the Arbor Day Foundation is uniquely positioned to connect you with meaningful projects all over the world."
ConExpo-Con/Agg has given sustainability its own education track in its seminar offerings, now with 13 sessions dedicated to the topic. Those sessions tackle subjects like reducing the carbon footprint of concrete, getting and managing electric construction equipment, asphalt and concrete recycling, carbon neutrality, and a "Sustainability 101" session for attendees just now starting their sustainability journey.
ConExpo-Con/Agg and IFPE are committed to reducing the environmental impact of the show. This includes partnering with vendors that are dedicated to sustainable practices and reducing waste, helping exhibitors choose more sustainable options, and measuring our total 2023 environmental impact to identify future improvements.
The sustainability efforts at ConExpo-Con/Agg reflect the focus on sustainability within the entire construction industry. Many construction companies have realized that their clients are demanding sustainable building practices more and more with each project, and contractors themselves are recognizing the benefits of moving to more sustainable equipment and practices.
ConExpo-Con/Agg 2023 Aggregates Exhibitor List
ConExpo-Con/Agg is put on by the Association of Equipment Manufacturers (AEM) AEM is the North America-based international trade group representing off-road equipment manufacturers and suppliers with more than 1,000 companies and more than 200 product lines in the agriculture and construction-related industry sectors worldwide. The equipment manufacturing industry in the United States supports 2.8 million jobs and contributes roughly $288 billion to the economy every year. For more information on ConExpo-Con/Agg, visit www.conexpoconagg.com.