Heavy-Duty Vibrating Screens and Feeders Deliver Top Performance In Multi-Plant Upgrades.
By Carol Wasson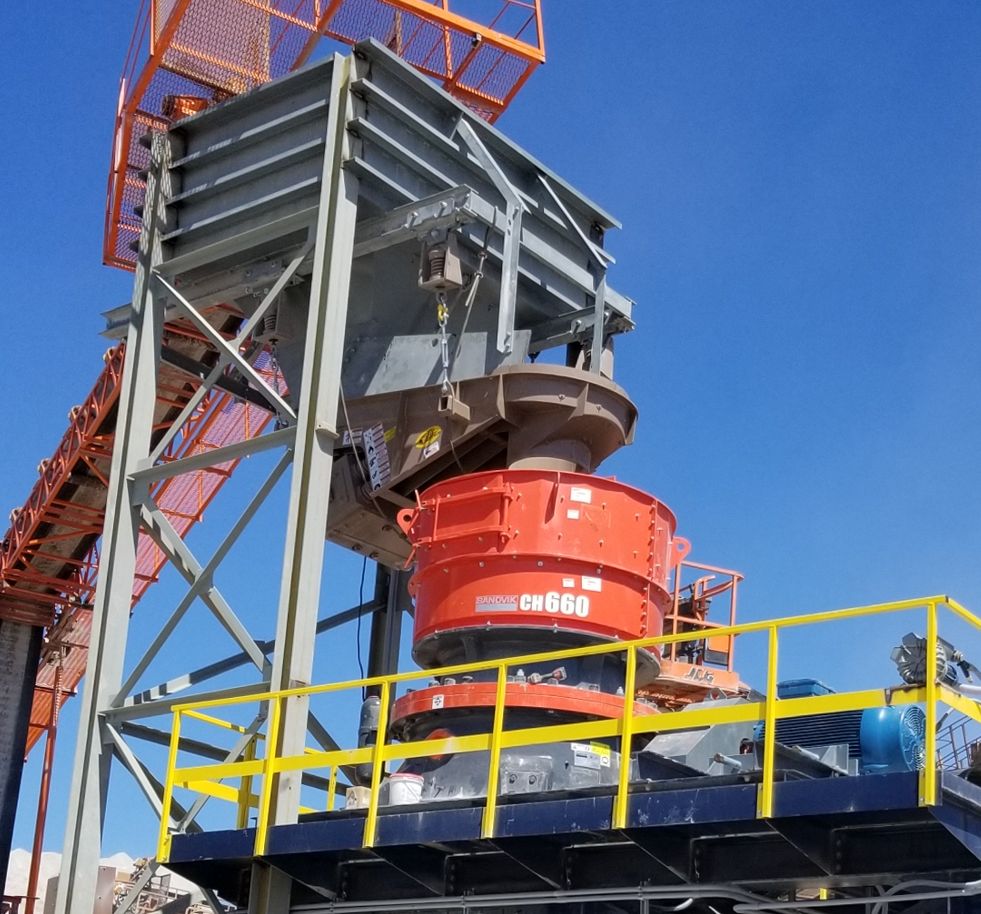 When Blue Water Industries expanded its market reach with the 2018 acquisition of five limestone quarries throughout Tennessee, its primary goal was maximizing efficiency and production capacities via a multitude of strategic plant upgrades. As such, Blue Water Area Manager Randy Dies sought out "beefy" components, he said, "that will do nothing less than what we need them to do."
An industry veteran of more than 35 years, Dies oversees the plant upgrades for the new sites, making sure that each processing circuit meets stringent performance standards. Right from the start, Dies says he knew exactly what he wanted in screening equipment – and after just a bit of trial and error – he discovered just what he needed in feeders as well.
As a result, each of the new plants optimize feed, flow and throughput with heavy-duty vibrating screens; and innovative electromechanical feeders that deliver high-capacity feed rates at lower costs per ton.
Expert Equipment Specification
When specifying vibrating screens for various scalping, sizing and wash applications, Dies says he consulted with Deister Machine Co. Inc., and its representative Alpharetta, Ga.-based 1st Quality Equipment. "We always work with the Deister team. Their quality is number one, and we know we will get the best service and support," said Dies.
Since acquiring the new sites, Blue Water has installed more than 10 Deister screens that include several 8- x 24-ft. triple-deck sizing screens; two 8- x 20-ft. triple-deck sizing screens; and numerous wash screens – each of them being triple-deck units and varying in size from a 6- x 16-ft. units up to 8- x 20-ft. wash screens.
"We would not want to go any other direction for our screening circuits. Each of these screens is critical to our efficiency," said Dies. He notes that each screen is customized to the specific application and rigorously tested at the factory to ensure optimum performance.
Dies said that Deister also provided a heavy-duty scalping screen for a circuit that follows the primary jaw and handles up to 11-in. rock. "I need the best and most beefy scalping screen in that application," he said, referring to upgrades at Blue Water's Allsboro Quarry, which is located along the Alabama border. Recently, that site also saw the addition of two heavy-duty Deister vibrating grizzly feeders – one that feeds the primary jaw and the second unit working below the jaw to process riprap.
Electromechanical Feeders
Over the course of upgrading the plants, Dies said he learned more about how electromechanical feeders could boost his production capacities. Initially, Deister recommended the placement of two EMF (electromechanical) feeders underneath surge bins coming from a primary jaw.
However, Dies says he chose two conventional feeders (from another manufacturer) for the circuit. "We ran those for a year and found that they weren't giving us the 600-tph performance we needed," he said.
Dies contacted Deister representative Pat Curley, who serves as vice president of sales for 1st Quality Equipment. Curley and the Deister team provided two 800-tph electromechanical feeders for the circuit. "These feeders just send everything straight on through. They do what Deister says they will do in stated capacity," said Dies. He notes that fortunately, they were able to move the conventional feeders to a circuit that required only a 300-tph capacity.
Crusher Optimizer Feeder
The first feeder that Blue Water installed within its new plants was the Deister EMCO 360 Crusher Optimizer Feeder, which is specifically engineered to optimize cone crusher performance. Pat Curley explained that the EMCO feeder blends the fines in with the coarse material as it flows through the feeder opening, delivering an even feed into the crushing chamber.
Featuring a 360-degree discharge opening, the EMCO feeder distributes a homogeneous feed to cone crushers, keeping cones choke-fed for optimum efficiency, greater manganese wear life, improved production rates, and the consistent yield of a more cubicle product.
Importantly, said Deister engineers, the EMCO 360 eliminates the need for two pieces of equipment – the traditional flat pan feeder and a rotating feed distributor. Its design incorporates the action of the rotating feed distributor to evenly distribute the material into the cone to minimize uneven rock buildup within the crusher.
Alternatively, conventional feeders allow a segregated feed to enter the crusher, with smaller rocks falling together and larger rocks falling together under the force of gravity. This leads to an uneven distribution of material feed and an uneven crushing of the rocks – with the latter causing increased component wear and costly downtime.
Two-Mass Technology Advantages
"It is the unique, but simple design of the EMF feeders that makes them work so well for us," said Dies, who noted that Deister engineers are better at explaining the inner workings of the units.
While most vibrating feeders within quarries are single-mass or brute force machines, the two-mass design in electromechanical feeders features a unique drive system where the motion is driven from a separate or "moving mass," which is connected to the primary or "reaction mass" via springs that drive the vibration.
"Two-mass technology allows higher feed rates; reduced horsepower requirements; and an ability to easily adapt and adjust to changes in loads," said Carla Phelps, product manager for the Deister EMF/EMCO Series Feeders.
Commonly used in surge tunnels, these two-mass feeders excel at starting and stopping while they are still under a burden load. Phelps explained that from an engineering perspective, a two-mass electromechanical feeder is tuned near operating frequency and takes advantage of a "greater vibratory amplification" that occurs when the unit is operating near its resonant condition.
In other words, the feeder delivers a more robust reaction with little input. "It reacts quickly, allowing fast increases or decreases of material feed as needed, and that can be quite useful for some operations," she said, explaining that operations may use the electromechanical feeder to fine-tune the specs coming off the belt.
With the use of belt scales, operations can gauge how much of a particular product size is being fed from a surge pile. "Then they can create a feedback loop that will vary the speed of the feeder to give them the desired tonnage of any particular product – and they can do that quickly and without a lot of input," she said.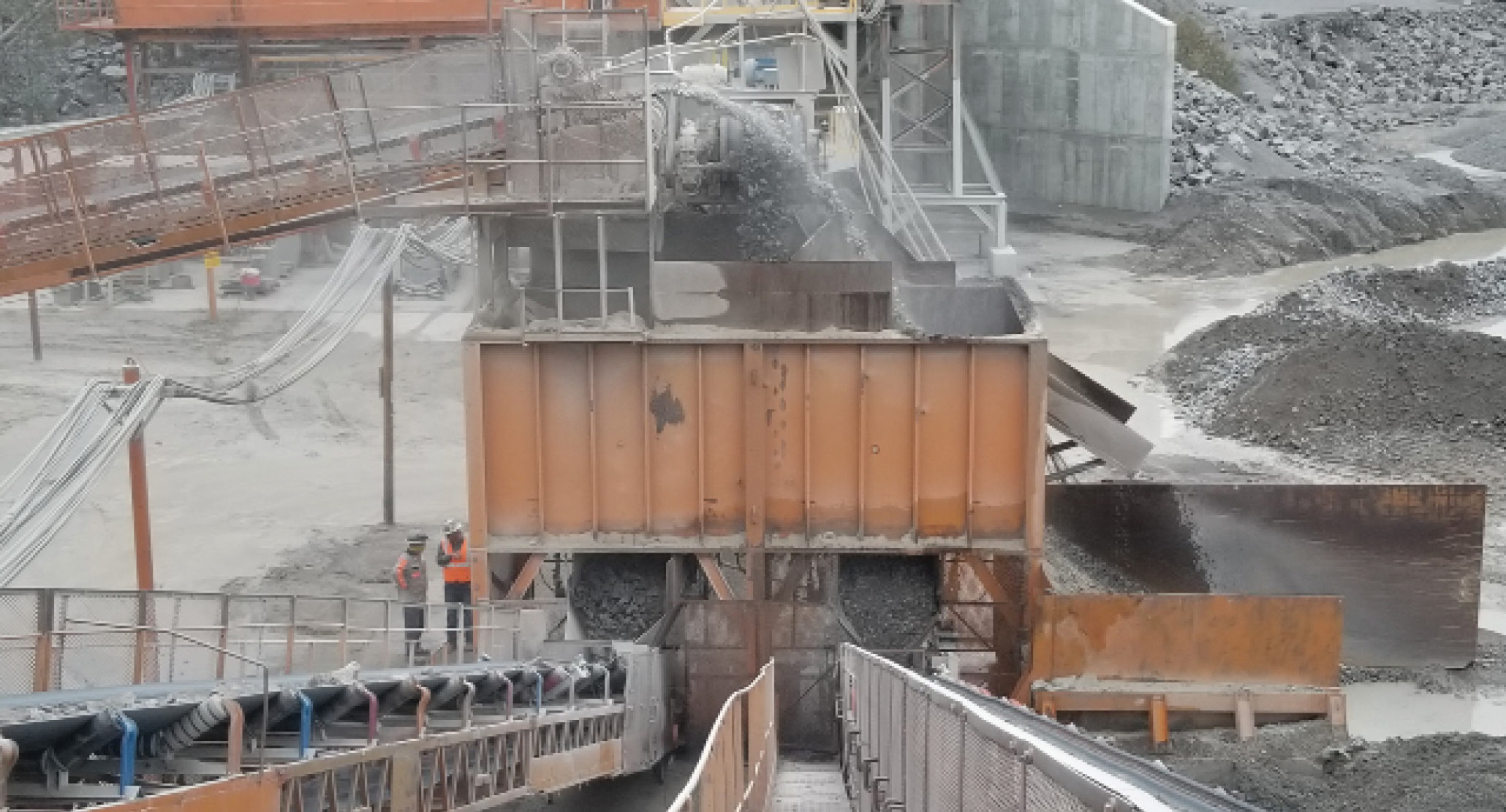 Top Performance
With the use of high-quality, heavy-duty vibrating screens and feeders, Blue Water is optimizing plant performance at each of its locations. Headquartered in Jacksonville, Fla., Blue Water maintains aggregate operations in Tennessee, Mississippi, North and South Carolina, Virginia and Florida. Its growth is steady, and its commitment to operating the most efficient plants in the Southeast United States is an ongoing mission.
Carol Wasson is a freelance writer for the aggregate, mining, construction and heavy equipment manufacturing industries.