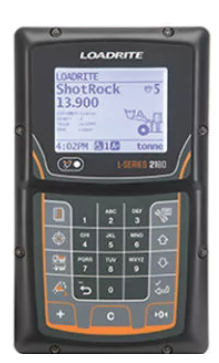 When it comes to wheel loader scale systems, accuracy is crucial. SITECH West offers LOADRITE wheel loader scales:
L2180 – The L2180 features multi-point weighing, calculating the weight repeatedly throughout the lift cycle to produce a consistent and accurate weight regardless of lift speed. Thanks to this wheel loader scale's proprietary Friction & Ambient Compensation Technology (FACT) software, you will also get an accurate weight no matter what type of machine you are using, what time of day it is or what the temperature is. You will enjoy an accuracy of within .3% and 1% when weighing with the L2180.
L2150 – The L2150 is an affordable, high-precision onboard loader scale. It is extremely user-friendly, with an intuitive setup that you can use to configure the scale to up to 150 items in three data lists. You can monitor daily totals of multiple different material types and automatically find the maximum load for each truck with the Auto Target function. By ensuring accurate weighing every time, you avoid the lost time and costs of double handling or overload fines.
FORCE – The FORCE scale is an economical wheel loader scale solution that is perfect for jobs where you don't need a lot of advanced features. This is a simple, no-frills weighing system that will allow operators load trucks to their ideal target weight every time, freeing you from the costs and complications of improper loading. As with the other LOADRITE wheel loader scales, the FORCE scale has the Target Loading and Split Loading features to help you make sure you are utilizing the maximum load without requiring you to do any math.
SITECH West, www.sitechwest.com