In This Quarterly Report, Provided Exclusively to Rock Products, Capstone Partners Offers Insight Into Merger and Acquisition Activity, Capital Markets Trends, Aggregate Production and Pricing.
By Darin Good, Brian Krehbiel and Crista Gilmore
Capstone Partners' Building Products & Construction Services Team is pleased to share its latest Rock Products Aggregates Industry Market Report. The Aggregates sector has continued to report robust revenue growth, fueled by favorable pricing, strong construction demand, and federal funding. The merger and acquisition (M&A) market has remained healthy with public companies and private equity firms actively refocusing their product portfolios to enhance aggregates supply capabilities.
Several additional key takeaways are outlined below.
Select public companies in the sector have experienced record revenues amid rising inflation and materials costs.
An increase in federal contracting for improvements in infrastructure is expected to result in billions of dollars in potential revenue for sector participants.
M&A transaction volume in year-to-date (YTD) has outpaced YTD 2021 levels, as transaction flow has continued to surpass historical and pre-COVID levels.
Public companies in the sector have continued to consolidate mid–sized regional aggregates suppliers into their national or international networks.
Aggregates prices and volume have continued to increase, showcasing the ability of aggregates suppliers to defer rising costs to the consumer.
Introduction
In this quarterly report, also published by Rock Products, Capstone Partners provides insight into mergers & acquisitions, capital markets trends, aggregates production, and pricing data through YTD 2022.
Capstone's Building Products & Construction Services Team advises industry business owners, entrepreneurs, executives, and investors in the areas of M&A, capital raising, and various special situations. Due to our extensive background and laser focus within the industry, Capstone is uniquely qualified and has an unparalleled track record of successfully representing Building Products & Construction Services companies.
Public Company Commentary
Public company EBITDA trading multiples in the Aggregates sector have averaged 8.8x over the last-twelve-month (LTM) period, a decline from the prior year's average of 10.5x. Vulcan Materials and Martin Marietta have continued to lead the sector from an EBITDA multiple perspective, trading at 16.6x and 14.9x, respectively.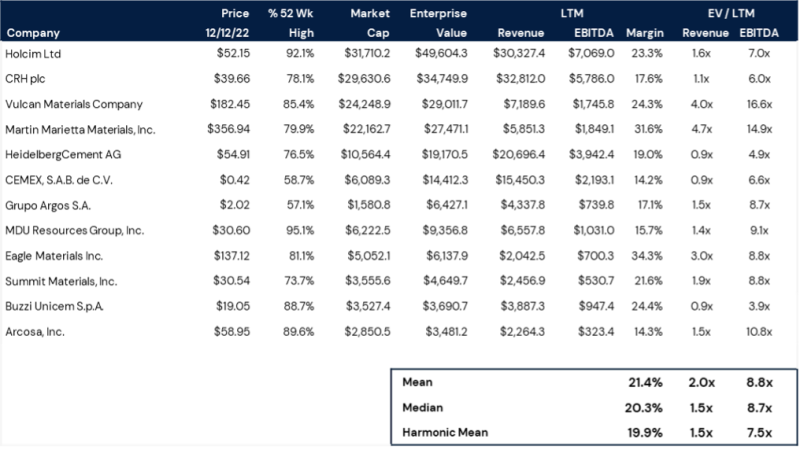 Public Equity Markets Struggle Amid Elevated Volatility
Aggregate Materials Index: -13.3%
S&P 500: -11.6%
Dow Jones Industrial Average: -0.4%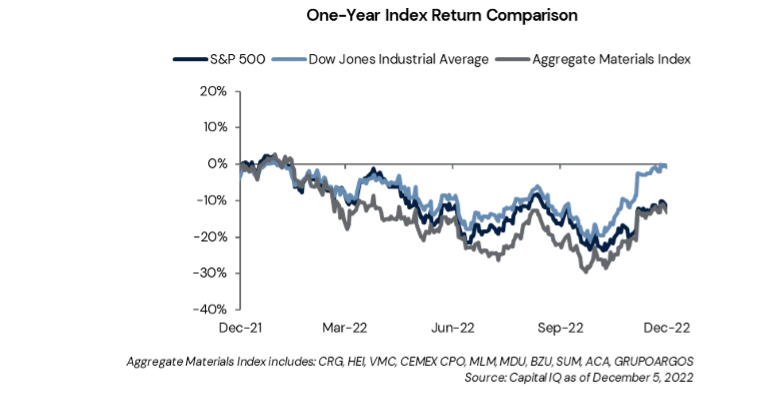 Rising interest rates, elevated inflation, and market volatility have negatively impacted returns in Capstone's Aggregates Materials Index, which has fallen 13.3% in the past year, trailing broader markets. The Federal Reserve's November 75 basis-point and December's 50 basis-point interest rate hike aimed to further reduce inflation but at the risk of pushing the U.S. economy into a recession, is causing market volatility and increasing the likelihood for a hard landing in the broader markets and within the construction sector.
Aggregates Sector Grows As Federal Contracting Increases
A healthy backlog of construction activity due to continued labor shortages and an elevated rate of postponed construction work is expected to drive demand in the Aggregates sector. Challenges related to COVID-19 have persisted in the space, stemming from supply chain issues which contributed to skyrocketing prices for many natural materials.
The Associated Builders and Contractors' Construction (ABC) Backlog Index highlighted a construction backlog of 8.8 months in October, a 0.2 decrease from September but a 0.7 increase year-over-year (YOY).1 Infrastructure projects showed robust growth in October, with backlog increasing to 8.9 months, from 7.2 months in September, according to ABC. The passing of the Infrastructure Investment and Jobs Act (IIJA) is expected to bolster infrastructure construction and provide sector participants with enhanced revenue visibility in the near term.
Select public companies in the space have seen significant increases in revenue over the past quarter, with much of this growth attributed to increases in project spending, and price hikes in raw materials. In particular, Eagle Materials experienced record Q2 fiscal 2023 revenue of $605 million, a 19% increase YOY, according to its earnings release.2 Eagle's strong performance was largely driven by a 26% increase in revenue in its Light Materials segment, fueled by higher wallboard prices and sales volume.
Aggregates players have largely been able to pass on rising costs to customers, supported by the 9.2% YOY increase in total construction spending in October, according to the U.S. Census Bureau.3 Aggregates-reliant construction projects, such as warehouses and data centers, will likely continue to surge in the near term. New data center construction, for example, is forecasted to expand at a compounded annual growth rate (CAGR) of 9% from $51.4 billion in 2022 to $75.3 billion in 2027, according to IMARC,4 a market research firm. Moving towards year end and into 2023, sector players with healthy backlogs, defendable gross margins, and sufficient labor are poised to garner valuable revenue opportunities and buyer interest.
M&A Volume Continues At Rapid Pace In 2022
Sector M&A volume has been strong through YTD 2022 compared to YTD 2021, with 100 transactions announced or completed to-date, a 27% increase YOY. M&A volume in 2022 is currently on pace with pre-COVID levels and has already surpassed 2021 full year volume by 9.9%. Large companies, in particular, have sought targeted acquisitions to diversify capabilities in high-growth markets.
Strategic buyers have comprised the majority of transactions YTD, accounting for 74% of total M&A activity. Strategics have actively consolidated small regional suppliers, which bodes well for near term middle market transaction activity.
Notably, Eagle Materials acquired a Colorado based concrete and aggregates producer in May for an enterprise value of $120.2 million or 0.7x EV/Revenue (target parent company not disclosed). The acquisition is expected to increase Eagle's market share and diversify its geographical reach. Private equity (PE) firms have also remained active in the sector, comprising 26% of YTD transactions, competing with the space's largest public companies to acquire regional construction product suppliers. Notably, GKB Management acquired Louisiana Concrete Products, a precast and prestressed concrete supplier, to grow their aggregates supply businesses in Louisiana (August 2022, undisclosed).
The Aggregates sector's average M&A multiple of 8.0x EV/EBITDA in YTD 2022 has outpaced the broader Building Products & Construction Services industry three-year average of 7.9x EV/EBITDA, highlighting the resilience of the sector when compared to the broader industry. Active regional consolidation by strategics and healthy project pipelines of sector players has contributed to strong M&A pricing through YTD. Robust M&A activity will likely continue as baby boomers age further into retirement, business sales increase, and forecasted sector revenue remains high at an estimated 3.3% CAGR from 2022 to 2027, according to Grand View Research.5
Private Equity Activity
GF Data, a provider of detailed information on business transactions ranging in size from $10 to $250 million, provides quarterly data from over 200 PE firm contributors on the number of completed transactions. The following chart provides the number of completed transactions from GF Data contributors, the average total enterprise value (TEV)/EBITDA multiples, and the average amount of debt utilized in the transaction computed as a multiple of EBITDA. The data, although not industry specific, demonstrated that EBITDA multiples increased to 8.1x in Q3, a 0.7x increase quarter-over-quarter (QoQ).

Sector Players Look To Consolidate And Maximize Profitabilty
Strategic and financial buyers have consolidated small- to mid-sized businesses to maximize efficiencies and enter new markets through established suppliers. PE firms are expected to continue to acquire scalable aggregate providers in high growth markets. Outlined below are recent, notable transactions in the space.
Transaction Overview
Blue Ridge Construction Capital, a newly formed PE firm specializing in the Building Products & Construction Services industry, has acquired Matthews Sand and Gravel (MSG) and Edge Aggregates, for an undisclosed sum (September 2022). Blue Ridge Capital will combine both entities to create Matthews-Edge Sand (MES), one of the predominant aggregate's suppliers in the high-growth Raleigh, North Carolina metropolitan area.
M&A and Sector Takeaways
The transaction highlights the healthy appetite among sponsors for aggregates providers in high development areas such as Raleigh-Durham. Blue Ridge Construction Capital will look to grow MES through a mix of organic growth and strategic add-on acquisitions in the Raleigh area. Robust federal infrastructure spending and a healthy backlog of commercial and residential projects have created a steady level of demand in the Aggregates sector—drawing PE firms searching for defensible targets amid economic uncertainty.
Transaction Overview
Vulcan Materials has acquired Syar Industries, a leading construction and contracting business based in Napa, California, for an undisclosed sum (August 2022). Syar provides construction aggregates, recycled materials, hot-mix asphalt and ready-mix concrete to a variety of commercial and government clients, including Mare Island Naval Shipyard and Travis Air Force Base.
M&A and Sector Takeaways
The acquisition of Syar accelerates Vulcan's expansion into the Northwest U.S. market. Syar Industries offers complementary services and products to Vulcan, operating nine ready-mix plants, six asphalt plants, and two quarries and sand gravel sites, according to a press release.6 Despite the uncertain economic outlook, firms continue to look for stable assets with high growth potential. The synergies between Vulcan and Syar will allow for efficient integration between the two companies. The acquisition also enables Vulcan Materials to strengthen its foothold in a growing and diverse San Francisco Bay area market.
Select Transactions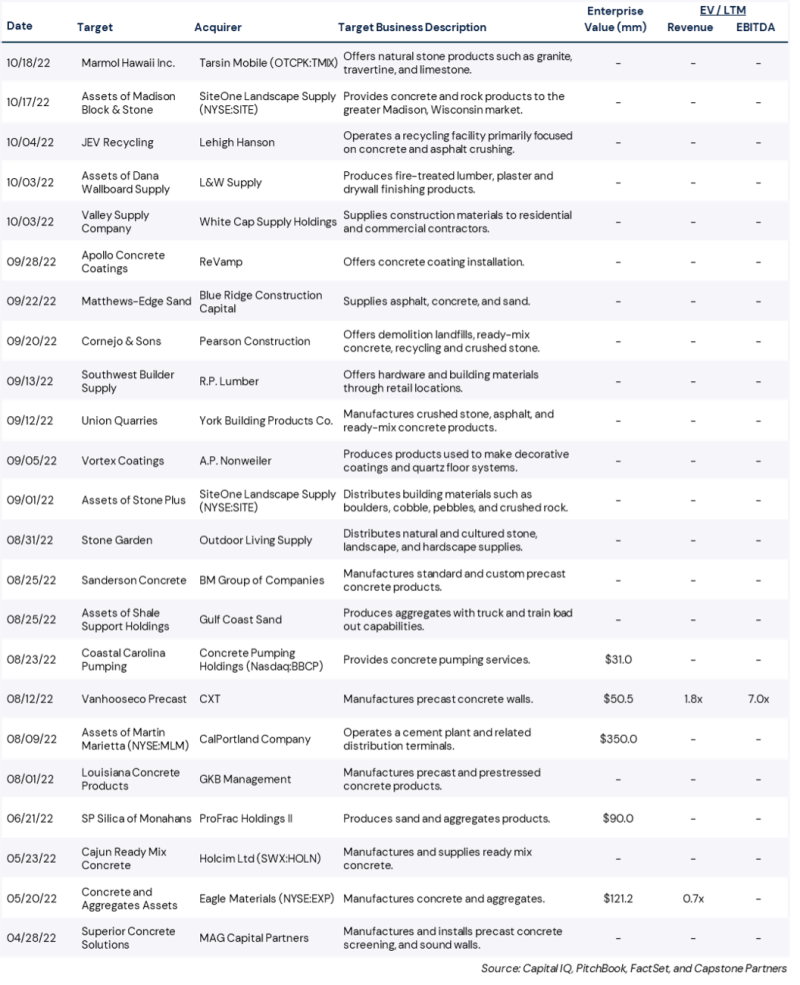 Company Spotlights: Vulcan Materials
Headquarters: Birmingham, Ala.
Markets: Construction Materials
LTM Revenue: $7.2 Billion
Market Capitalization: $21.7 Billion
Company Description
Vulcan experienced a 38% increase in revenue in Q3 driven by rising average selling prices for aggregates, asphalt, and concrete products, rising 12%, 26%, and 13% YOY, respectively, according to its earnings release.7 In addition, gross profit increased $99 million to $493 million in Q3, a 25% increase from the prior year. Strategic positioning of Vulcan distributors in top geographical markets has allowed the company to capitalize on high growth verticals including Residential, Commercial, and Infrastructure development. Elevated public infrastructure funding provided by the IIJA is expected to provide meaningful revenue opportunities for Vulcan, stemming from $550 billion in government funding over the next five years with $110 billion designated for roads, bridges, and major projects, according to the House Committee on Transportation & Infrastructure.8
"During the third quarter, our team showcased the durable growth capabilities of our aggregates-led business model. Volumes, prices, gross profit, and importantly, unit profitability improved in each of our operating segments. Widespread double digit pricing growth across all segments outpaced continued cost pressures. Our momentum is strong," said Vulcan president and CEO, J. Thomas Hill, in a company earnings call.9
As of Q3, Vulcan public infrastructure project volume has grown 18%, with highway project volume slightly trailing that mark at 14% over the trailing 12-months, according to its earnings call. Vulcan's significant scale and healthy growth in project development and backlog has contributed to its outperformance of the broader Aggregates Materials Index from an EBITDA multiple perspective—trading at 16.6x EV/EBITDA compared to 9.3x for the broader index.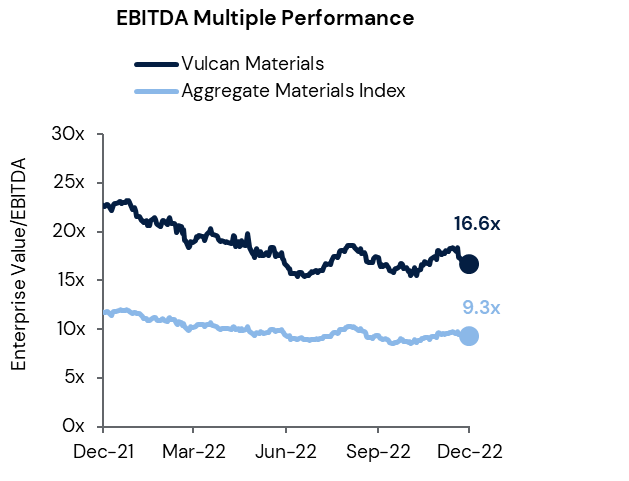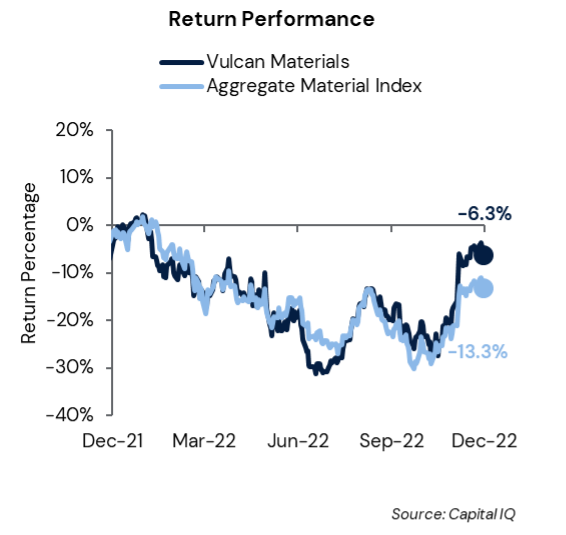 COMPANY SPOTLIGHTS: MDU RESOURCES GROUP
Headquarters: Bismarck, N.D.
Markets: Construction and Engineering
LTM Revenue: $6.5 Billion
Market Capitalization: $6.0 Billion
Company Description
MDU Resources Group experienced strong Q3 performance, with a YOY earnings increase of 6.2%, according to its earnings call.10 Growth in Q3 has been attributed to record quarterly revenue of $737 million in MDU's Construction Services business, a 43% YOY increase. Increased revenue in this sector was driven by higher contract workloads and price hikes for construction materials.
"Looking ahead, both our construction services and construction material businesses are really very well-positioned to benefit from the Infrastructure Investment and Jobs Act and the Inflation Reduction Act, which we anticipate will begin to positively impact bidding opportunities here in late 2022 and particularly 2023 and going forward. We are very encouraged by the opportunities for customer growth at our utility and electric business," said MDU Resources President and Chief Executive Officer David L. Goodin, in a company earnings call.
MDU's strong YTD revenue has contributed to impressive one-year market returns of 9.3% YTD, compared to the Capstone Aggregates Materials Index which is down 13.3%. In August, MDU announced plans to split from its construction services and aggregates supplier, Knife River. The move will create two publicly traded companies, with Knife River focusing on construction materials and MDU Resources Group focusing on electric and natural gas utilities, and gas pipeline maintenance and development. The spinoff of Knife River is anticipated to create financial and strategic flexibility for both companies, with the transaction expected to be completed in 2023, according to a press release.11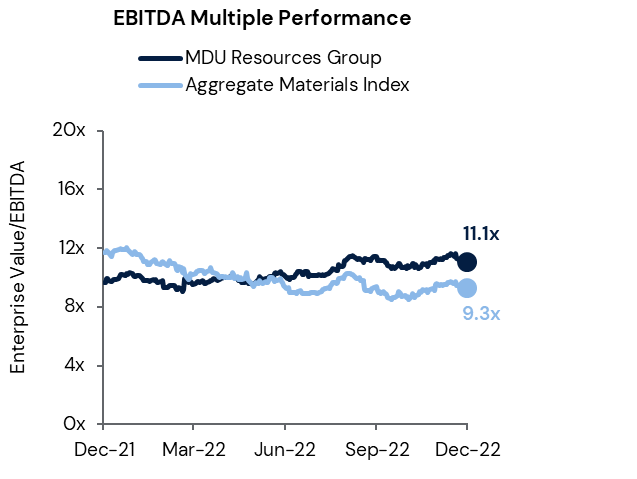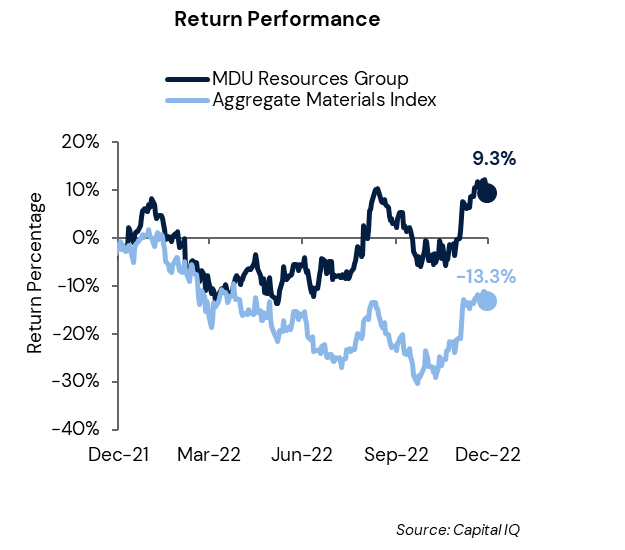 Construction Materials Update
Construction input prices increased 0.3% in October 2022 from the previous month and increased 14.6% YOY according to the U.S. Census Bureau of Labor Statistics data.12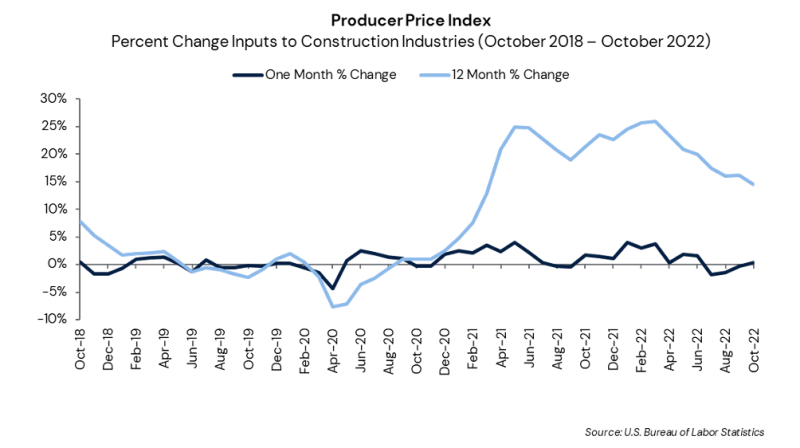 Aggregate Materials Update
Pricing continued to increase across the Aggregates sector in Q2, with asphalt and ready-mix concrete leading YOY price increases at 21.5% and 10.7%, respectively.





ENDNOTES
Disclosure
This report is a periodic compilation of certain economic and corporate information, as well as completed and announced merger and acquisition activity. Information contained in this report should not be construed as a recommendation to sell or buy any security. Any reference to or omission of any reference to any company in this report should not be construed as a recommendation to buy, sell or take any other action with respect to any security of any such company. We are not soliciting any action with respect to any security or company based on this report. The report is published solely for the general information of clients and friends of Capstone Partners. It does not take into account the particular investment objectives, financial situation or needs of individual recipients. Certain transactions, including those involving early-stage companies, give rise to substantial risk and are not suitable for all investors. This report is based upon information that we consider reliable, but we do not represent that it is accurate or complete, and it should not be relied upon as such. Prediction of future events is inherently subject to both known and unknown risks and other factors that may cause actual results to vary materially. We are under no obligation to update the information contained in this report. Opinions expressed are our present opinions only and are subject to change without notice. Additional information is available upon request. The companies mentioned in this report may be clients of Capstone Partners. The decisions to include any company in this report is unrelated in all respects to any service that Capstone Partners may provide to such company. This report may not be copied or reproduced in any form or redistributed without the prior written consent of Capstone Partners. The information contained herein should not be construed as legal advice.