Announcing the New Rock Products/Allen-Villere Partners Construction Materials Report and AVP Pulse Index.
By Pierre G. Villere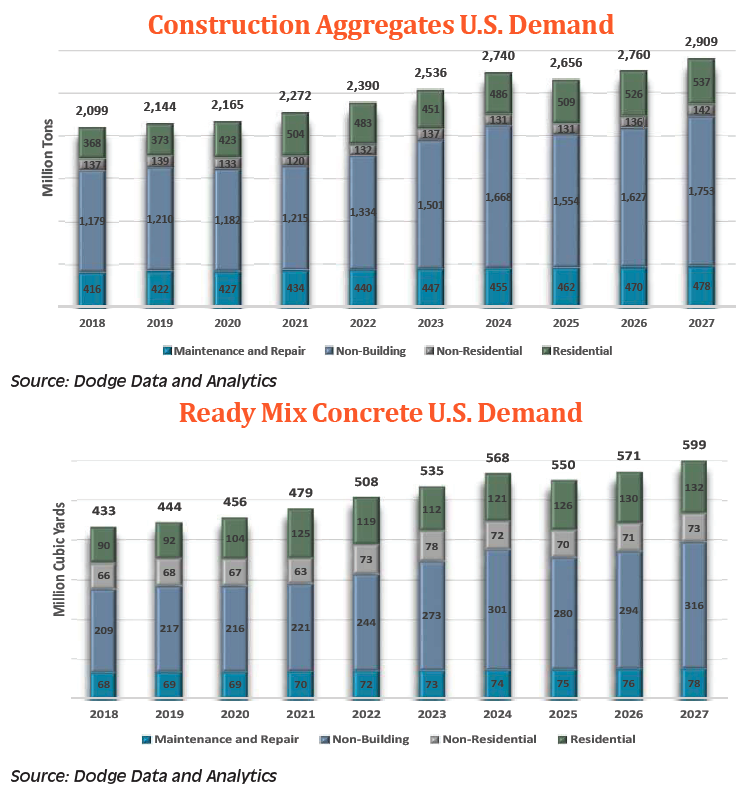 This month marks the launch of The Pulse and the AVP Pulse Index, a joint effort between mergers and acquisition advisors Allen-Villere Partners, and Rock Products, the aggregates industry's leading source for market analysis and technology solutions.
The Pulse will appear quarterly in Rock Products, and the AVP Pulse Index will appear monthly.
For years, we have thought about developing an economic report featuring an "index" that would track a number of widely regarded measurements and indexes in the various segments of our industry, that traces the progress of the aggregates industry, up or down. The idea is like an EKG, where we measure the pulse of the industry each month and report its movement.
Thus, we have developed the proprietary AVP Pulse Index. A quick glance at the index illustrates the health of the industry in one single trend line, using very relevant data that is updated monthly or quarterly.
We began with a 36-month historical view and will continue to roll forward that 36-month picture, but also track the index since inception in a separate graph, just as many other stock market indexes do.
The inputs we utilize are also individually illustrated behind the AVP Pulse Index, but it is our proprietary weighting that results in our own, graphically presented trend line. While individual indices may show higher or lower performance in an individual month or quarter, blending them on a weighted basis creates an accurate reflection of the overall health of the aggregates industry.
The Pulse: Construction Materials Market Analysis
Business leaders across all sectors, including Construction Materials, are continually navigating the tough environment of high inflation and labor shortages.
Construction input prices are up 11.9% from a year ago, while nonresidential construction input prices are 11.5% higher.
Producers should work hard to ensure their rising input costs get passed along to their customers, which is easier said than done.
Many producers are now negotiating escalator clauses into their bids to protect from material price increases.
In an attempt to corral inflation and suppress demand, the Federal Reserve is raising interest rates at a record pace.
That said, demand for construction materials has remained strong thus far.
The Infrastructure Investment and Jobs Act (IIJA) has provided a safety net to the construction materials industry by increasing infrastructure investments which will help negate the slowing in residential construction.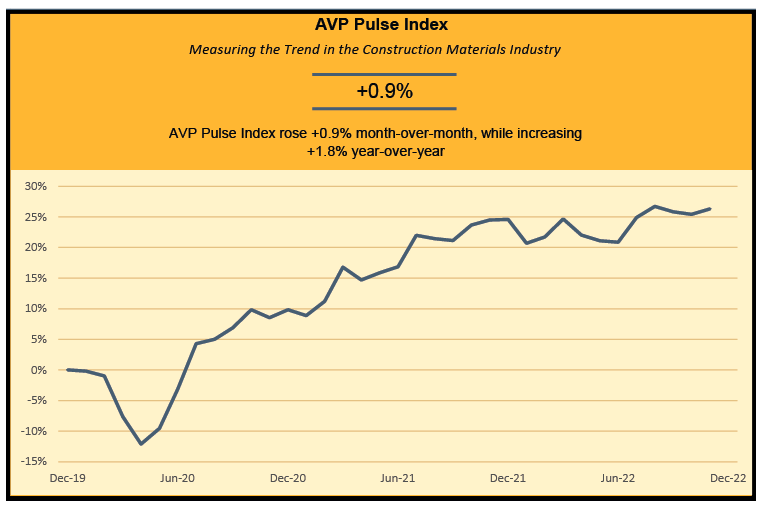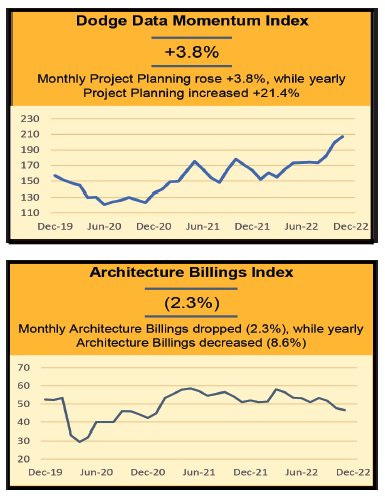 Pierre Villere's Market Assessment
The Index shows a remarkable upward trajectory since its bottom in the spring of 2020, during the height of the COVID lockdown. Since then, it has been on a march upward in a very steady fashion.
There is a trend toward a flattening this past fall as the new home start numbers fall, but there is still strength in other construction sectors, especially the infrastructure activity spurred by the IIJA, which will pour $1.2 trillion into construction over the next few short years.
Despite the Chicken Littles who are beating the drum of a recession, I don't see it in construction in 2023. I believe the Federal Reserve is working extremely hard to create a pillow-soft landing for the economy, and once inflation cools, interest rates will start a downward trend. With the IIJA money flowing, there won't be enough time for our industry to fall into a recession.
When interest rates stabilize and inflation is tamed (late in 2024?), get ready for another broad economic expansion, and the boom times it will bring.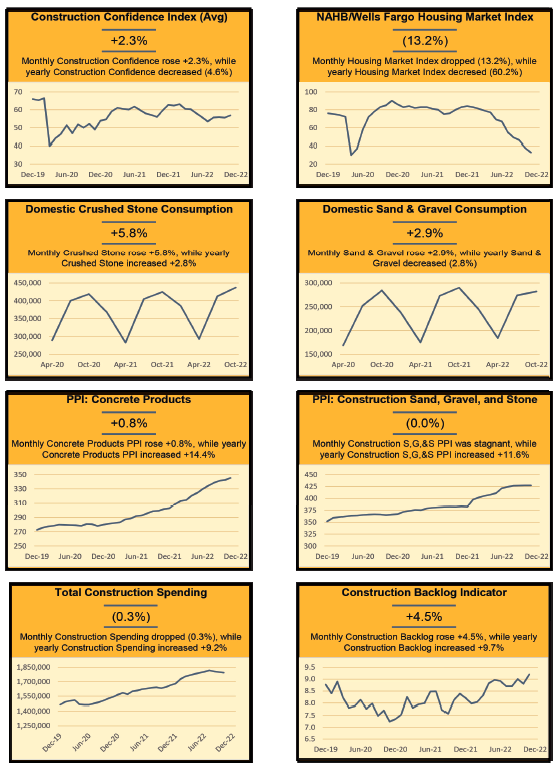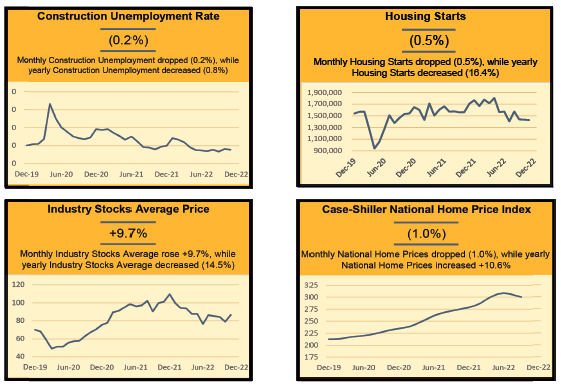 About Allen-Villere Partners
Allen-Villere Partners (AVP) is the premier mergers and acquisition advisors and valuation services firm to the construction materials industry, focused exclusively on the ready-mixed concrete, construction aggregates, concrete products and asphalt industries.
For more than 40 years, AVP has developed a special emphasis on representing the independently owned, middle-markets companies that play such a key role in the competitive landscape of construction materials. With more than 60 years in combined experience and highly specialized, industry-specific skills, Allen-Villere Partners has a national reputation for excellence in its client representation
Track Record
Valued over 600 companies in this industry over the last 40 years.
Sold over 100 companies in the construction materials industry.
Client relationships in more than 44 states.
Completing deals in the most robust mergers and acquisitions environment seen in over a decade.
Pierre G. Villere serves as president and senior managing partner of Allen-Villere Partners. He has a career spanning almost five decade, and volunteers his time to educating the industry as a regular columnist in various publications and through presentations at numerous industry events. Contact Pierre via email at [email protected] Follow him on Twitter @Allenvillere.