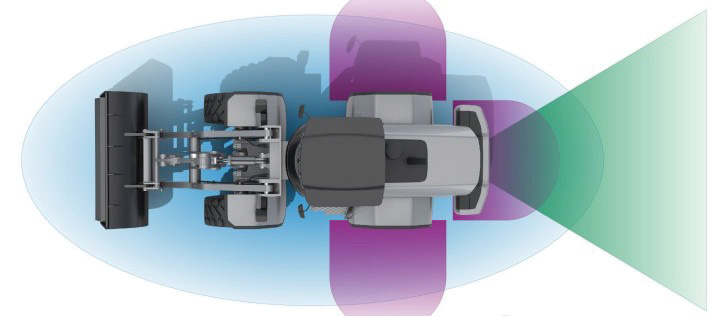 Electronic assistance systems make a crucial contribution to increasing safety on the construction site and make work easier for the drivers of off-highway construction vehicles. Bosch offers various assistance functions for construction vehicles. These functions lighten the challenging workload for the driver and make the construction site safer.
The different functions provide direct assistance to workers, such as load sensing in excavator buckets and a collision warning to protect the front and rear of the vehicle. If the systems detect people or objects in the danger zone, they warn the driver acoustically and/or visually and show the objects on the display.
Drivers can therefore keep an eye on even the most hidden areas around their vehicles. The modular sensor system includes a variety of ultrasonic, radar, and multicamera systems. This enables customers to tailor the systems flexibly to their specific applications and assistance functions.
Bosch draws on its expertise and proven key solutions from the passenger car domain and adapts these technologies specially for use in the off-highway segment. The result is that the systems combine a high level of functional safety with exceptional robustness, even under the toughest of operating conditions.
For simple visual presentation of the sensor information, Bosch has developed the Off-Highway Vision System. It displays the video stream from the multicamera system and adds an overlay that visually emphasizes the objects detected within the detection area of the radar and ultrasonic sensors.
The electronic fusion of the sensor data allows the benefits of the different sensor types to be optimally combined, thereby increasing the performance of the assistance system. The off-highway Vision System has been designed to be a prototype system. Manufacturers of construction vehicles obtain a validated, functional basic modular system with which they can design and develop their own assistance systems using the "plug and play" principle – tailored to their requirements.
The possible functional scope includes blind spot monitoring, object recognition and maneuvering assistance.
Bosch, www.bosch.com