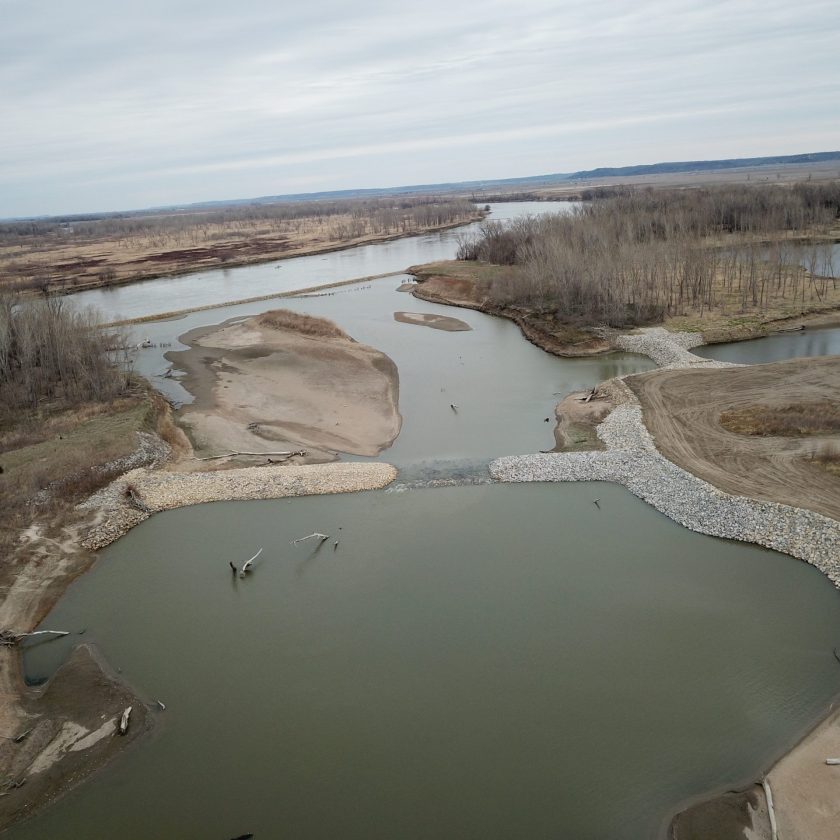 Pattison Co. will assist the U.S. Army Corp. of Engineers in the Missouri River Recovery Program at the Lower Hamburg Bend Conservation Area in Atchison County, Mo. The company's aggregate products, specifically rip-rap, are being used for stream bank reconstruction and stabilization along an old Missouri River chute that is crucial to the existence of the conservation area.
The Lower Hamburg Bend Conservation Area supplies the public with a plethora of recreational opportunities such as bird watching, fishing, hiking, hunting and wildlife viewing. "By assisting in the restoration project we are able to help maintain this beautiful area for future generations to enjoy," the company stated.
The area is managed through a cooperative effort between the Corps of Engineers and the Missouri Department of Conservation. It is managed for a wide variety of game and non-game fish and wildlife species, and has rich bottomland soils that produce a wide variety of wetland vegetation and bottomland timber, which are supplemented by plantings of warm-season grasses.
"With our product being used for stream bank stabilization we are able to help maintain the rich bottomland soils that produce the amazing timber that helps create the beauty and enjoyment in the conservation area," the company stated.
The Lower Hamburg Bend Conservation Area Restoration Project is located in Missouri on a backwater of the Missouri River in the Omaha Corp District. This project is set to analyze and evaluate performance of different rock types.
"We are excited to see the short-term and long-term results as we had wonderful feedback from those utilizing our aggregate product," the company said. "Our customers stated the aggregate was great to work with while placing the product in the Missouri River, easy to handle and locked together efficiently while being placed in the water. When viewing the pictures below of the project you can see our product as it is tanner than the other rock being used for analysis by the Omaha Corp of Engineers."
Reconstruction or stabilization is a vital component to help deter or repair the flocculating water erosion that is happening or has happened to rivers or streams. At a river or stream bank's edge there are natural soils and clays that aren't strong enough to support the bank's weight, stabilization is required to prevent the riverbank from collapsing. By placing our aggregate rock (rip-rap) strategically along the banks a more robust bank is created that is structured with hard material. This will help prevent the water from pulling away at the soil.
"We at Pattison Sand continue to champion responsible business practices, develop tools to improve these practices and look at ways to invest in environmental improvement solutions," said the company's Jen Peak.