Dolese is inviting everyone to attend Rock the Block, a construction industry Touch-A-Truck community event, at its Oklahoma City Services Support Center located at 8300 N Oklahoma Ave, Oklahoma City, Okla., 73114 on Saturday, Oct. 1, 9 a.m.-1 p.m., with a quiet hour 9-10 a.m. for children with noise sensitivities.
The free event is family-friendly and open to the public. Children will be able to touch, climb and explore vehicles of all sizes. In addition to Dolese, a variety of construction industry partners will display vehicles and equipment for kids to interact with, including: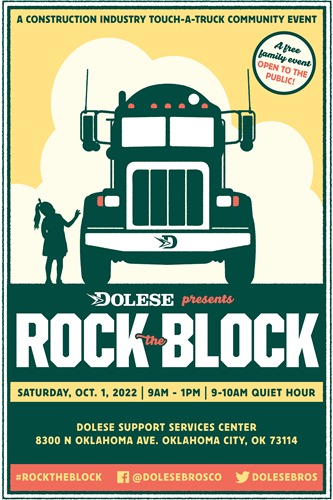 • Action Safety Supply Co.
• Association of Oklahoma General Contractors
• Basement Contractors
• Ben E. Keith
• Bruckner's
• Brundage-Bone
• C.L. Boyd
• Haskell Lemon Construction Co.
• Kirby-Smith Machinery Inc.
• Kona Ice
• Love's Travel Stops & Country Stores
• OCT Equipment
• ODOT Materials Division
• Oklahoma City Fire Department
• Oklahoma City Police Department Bomb Squad
• Oklahoma Environmental Management
• Oklahoma Gas and Electric
• Oklahoma National Guard
• Premier Truck Group
• Shell Lubricants
• Warren CAT
• Van Keppel
• Vermeer Great Plains
• And More!
Attendees are encouraged to bring canned/non-perishable food items to donate to the Regional Food Bank of Oklahoma.
Date/Time: Saturday, Oct. 1, 9 a.m. – 1 p.m., with a quiet hour 9-10 a.m.
Location: Dolese Support Services Center, 8300 N Oklahoma Ave, Oklahoma City, OK 73114
Event Page: https://bit.ly/3KrTpdt
Parking: Event onsite parking is available.