Strategies and Products To Accelerate Productivity And Efficiency.
By Mark S. Kuhar
Screening can be a bottleneck in aggregate production. Cases of quarries operating with high rates of return and contamination of materials in their screens are not uncommon, as are stoppages in times of higher humidity and rain.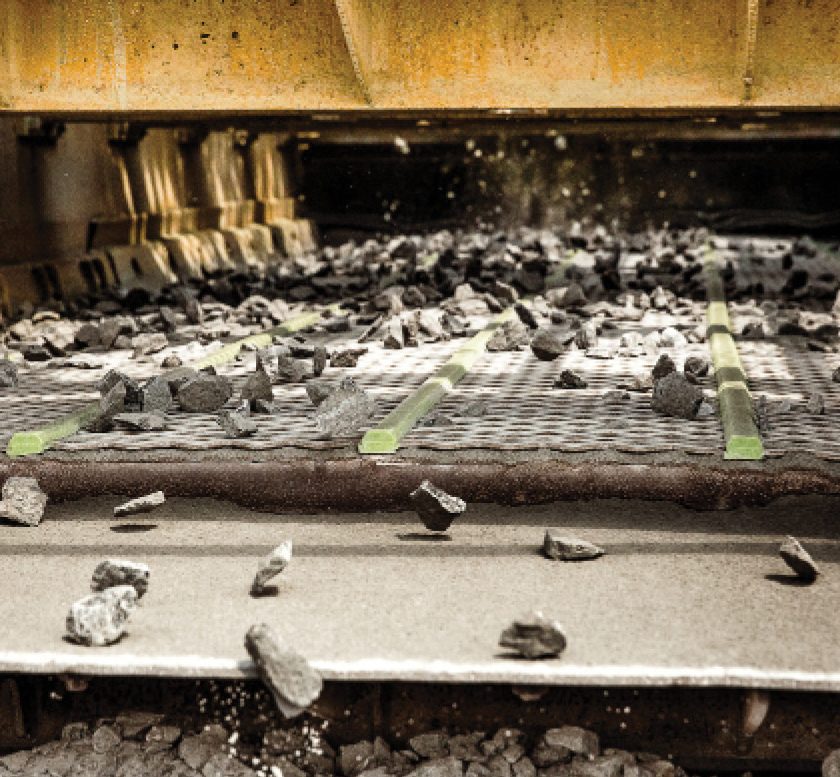 According to Metso Outotec, one solution is to analyze the feed of screens When the percentage of incorrectly sized particles in the product is very high, it may be time to look at the previous steps, including feeding. Changing the screening media of the first deck, for example, can relieve the second deck and improve screening performance.
Direct feed to the screen is a common mistake in many quarries and efficient operations always have a feed box to even out the feed. Poor distribution also affects efficiency, as does a very fast feed flow, which does not allow stabilization of the material in the screening area.
Amplitude is another point of attention: if the material is jumping a lot or being thrown out of the screen, for example, the amplitude will be high. A good feed allows for faster passage of fine materials right at the beginning of the deck, which should make the screens on the second deck, closer to the feed, receive more material and wear out first. If the wear on the second deck is concentrated more in the center of the screen, the feed process may be to blame.
The efficiency of aggregate screening systems can be greatly reduced or even completely eliminated by plugging or blinding, according to McLanahan Corp.
To fix screen plugging, McLanahan suggests:
•   More stroke.
•   Change the shape of the holes.
•   Different surface media.
•   Adjust the crusher setting.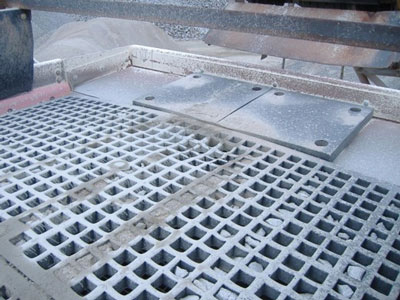 To fix screen blinding, McLanahan recommends:
•   Increase the speed.
•   Adjust the stroke.
•   Different surface media.
•   Use ball trays.
•   Heated screen decks.
Following are some products to check out from top suppliers to the aggregates industry.
---
Deister System Saver Extends Oil Change-Out Intervals
Save time, money, and oil in screening circuits with the Deister System Saver, which filters used oil – without exposing the oil to the open environment.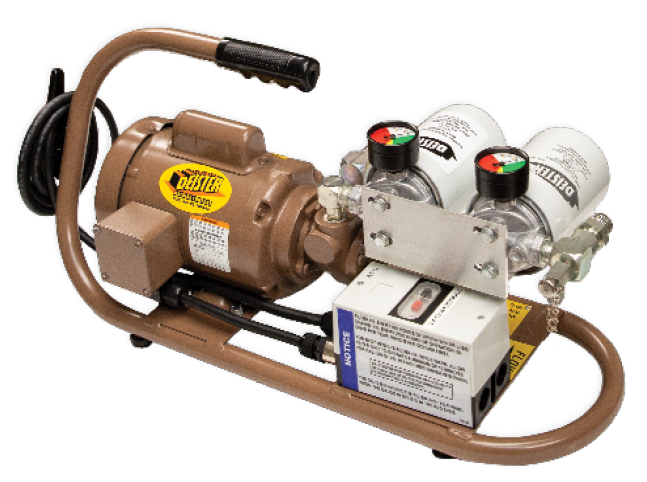 This innovative system simply filters out harmful contaminants in the lubricating oil, allowing reuse of the oil. Importantly, it extends the life of the antifriction bearings in the lubrication system, while reducing costly bearing replacement, system downtime and oil disposal costs.
By extending oil change intervals through filtration, producers can justify the costs and enjoy the benefits of premium grade synthetic oils. The System Saver is ideal for quick pressurized filling of viscous oils, saving time over gravity feeding.
Deister, www.deistermachine.com
---
Polydeck Offers METALDEX ULTRACLEAN
ULTRACLEAN is Polydeck's latest design upgrade to the METALDEX product line. The new design increases the available screening surface by 3.5 sq. ft. on an 8- x 20-ft. screen deck and the VR wire design is oriented across flow to increase secondary movement, improving the cleaning effectiveness and sizing accuracy.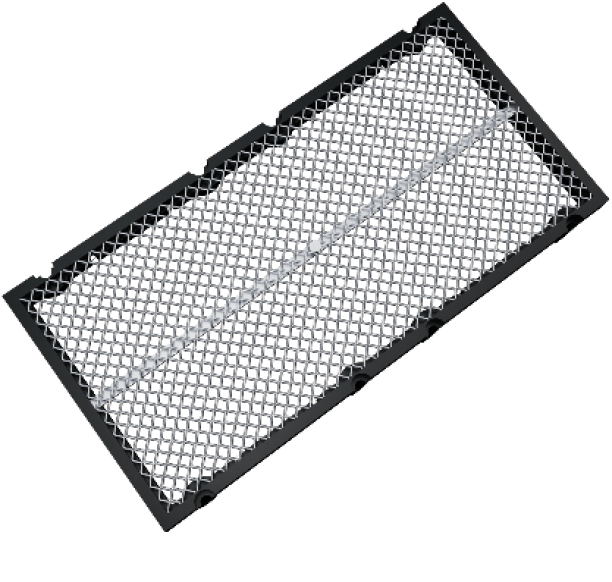 "When you buy screen media or support systems from Polydeck, we guarantee your satisfaction," the company stated. "Whether you experience an unforeseen breakdown or a screening specification change or just need help to install your new equipment, we react to your needs faster, and with more expertise than anyone in the industry. Our application experts and design engineers possess a wealth of experience and knowledge in material processing, screen design, and computer modeling to provide our customers with the highest-quality screening solutions in the industry.
The process is most successful when a detailed study of the industrial screening operation is completed. Based on this analysis, Polydeck is then able to offer the most effective solution, guaranteed to provide our customers with the lowest cost per ton in the industry."
Polydeck, www.polydeck.com
---
Superior Improves Performance of Guardian Horizontal Screen
Superior Industries Inc. said that several key features improve the performance of its popular Guardian Horizontal Screen in stationary or static settings.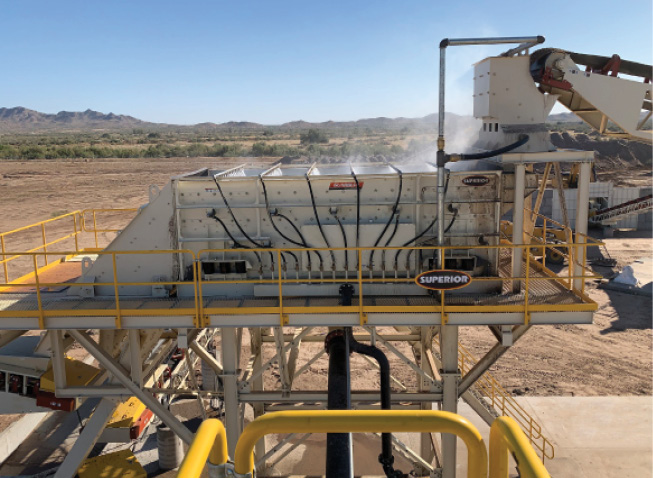 Recognized as a popular feature on inclined scenes, extra clearance between decks is now an optional feature for Guardian Horizontal Screens. The extra headroom is appreciated by maintenance crews working inside the screen.
Additionally, Superior has outfitted some of their screens with king-sized bearings, which greatly increase the capacity of the screen. One of the manufacturer's largest models uses 200-mm bearings.
Superior manufacturers a dozen models of its Guardian Horizontal Screen in two-, three- or four-deck configurations for dry or wet applications.
Superior Industries, www.superior-ind.com
---
Durex Products Features Full Aggregate Product Lineup
Durex Products Inc. offers numerous innovative urethane, rubber and specialty wire screen media options, which allow customers to fine-tune production and increase tons per hour, while keeping products in spec and lowering operating costs.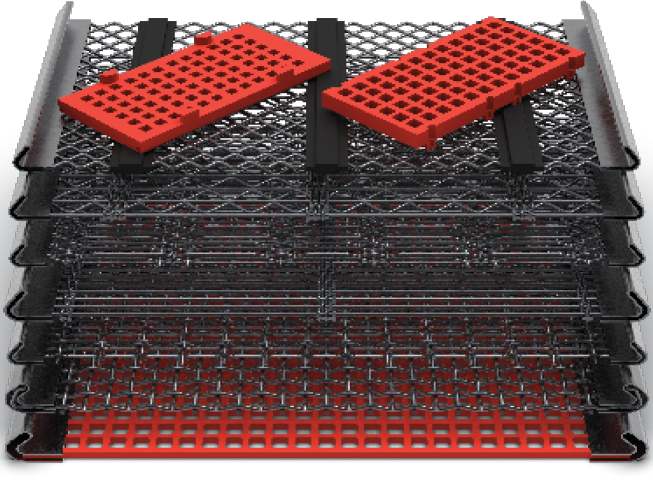 Durex has offered premium screen media technologies since 1965, including its well-known Livewire, Armor, Accuslot, and Vibraspan products. Wear liners and parts for aggregate equipment and screen accessories round out the company's offerings.
•   Modular Urethane and Rubber Screen Panels – Available in modular snap-in, pin-style, knock-in, and bolt-in systems. These panels feature tapered openings that are wider at the bottom, which reduces plugging and increases throughput.
•   Woven and Slotted Wire Screens – Made of high-quality oil-tempered, stainless, or high-carbon steel. Woven-wire screen allows the use of lighter-gauge wire, while still providing excellent wear life. Long-slot triple-shoot screens are crimped to provide better screening accuracy and eliminate blinding and plugging.
•   Livewire Screens – A self-cleaning-type screen, featuring molded rubber strips that hold its high-strength wires in place, providing better screening action and greater open area.
•   Accuslot Screens – A self-cleaning-type screen that helps eliminate plugging and/or blinding, while minimizing the passing of slivers and chips.
•   Vibraspan Screens – A self-cleaning-type screen featuring longitudinal slots for more open area, without sacrificing product size control.
•   Armor Screens – A combination of high-grade woven-wire cloth with molded polyurethane coating, designed to increase throughput, as it reduces plugging and noise.
•   Wear Liners – Including magnetic, plug-weldable, and bolt-on liners for screen boxes, crusher mainframes, feed boxes, chutes, flumes, and discharge openings.
•   Wear Parts – Including urethane and rubber, used in sizing and separating on screens, classifiers, dewatering screws, and various chutes and transfer areas.
•   Screen Accessories — Including, but not limited to, side-tension rails, J-bolts, U-bolts, donuts, stringers and ferrules.
Durex Products, www.durexproducts.com
---
MWS Equipment Launches Smart SCLPR 105
MWS Equipment announced the latest addition to its product portfolio, the static scalper range, SCLPR 105. The MWS Scalping screen is designed to handle a range of products from construction, demolition and industrial waste, and heavy quarry outputs to finer soil applications.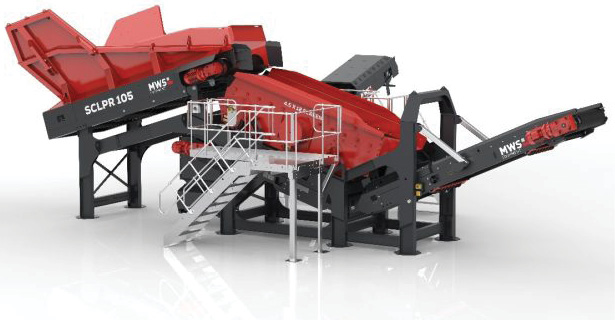 The SCLPR range is fully compatible with the MWS product range allowing it to integrate seamlessly into any wet processing plant. The SCLPR can be used in a range of applications to screen off any oversize or heavy clay bound materials prior to the washing process. This helps improve the wash plant efficiency and increase life of the plant and its wear component.
The plants have been designed with the operator in mind. In addition to the highest level of quality and performance, significant benefits include high-capacity feed hopper, variable speed control, independent or integrated control panel, and customizable conveyors to suit the individual application.
MWS, www.mwswashing.com
---
Sandvik Offers Enhanced Triple-Deck Doublescreen Solution
Sandvik Mobile Crushers and Screens revealed its new QA452 – the latest evolution of the Sandvik QA Series products and three-deck Doublescreen technology. Sandvik Doublescreen technology typically outperforms traditional screens by up to 30% offering a tailored rock processing solution for quarry, recycling and mining industries, according to the manufacturer.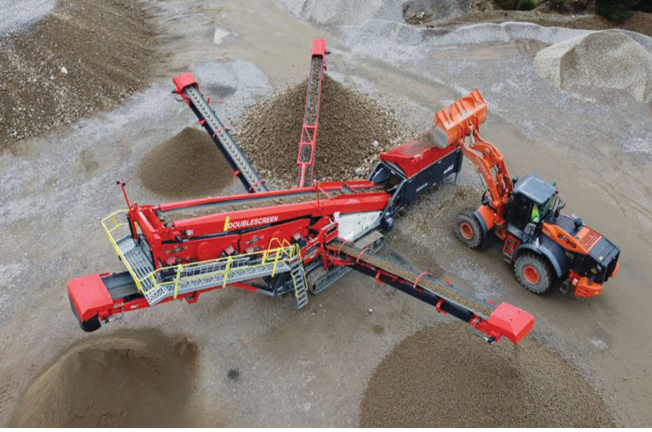 With a host of new innovations, Sandvik has engineered the first-of-its-kind, three-deck tracked mobile plant with independent screen angle adjustment and hydraulic screen separation, patent pending. It features two triple deck inline screen boxes with equal size screen decks, each providing 9 cu. meters (100 sq. ft.) of screening area.
Key features:
•   Hybrid "e" drive lets you choose your most economical and efficient energy source.
•   World-class Doublescreen design with independent screen angle adjustment and patent-pending hydraulic screen separation for faster screen media changes.
•   Choice of screen media to suit a range of applications including Sandvik WX rubber media offering up to 10x longer wear life.
•   Featuring two triple deck inline screens with equal size decks, each providing 9 cu. meters (100 sq. ft.) of screening area. 
•   Rear folding mid fines conveyor, easier to load for transport.
•   Lower environmental impact due to reduced fuel consumption, less operating noise and low emissions.
•   User-friendly PLC control system with sequential start-stop for speed and ease of set-up.
•   Connected to Sandvik My Fleet with seven-year data subscription, 24/7 fleet management, geo-fencing and remote support.
•   Security+ extended warranty and service package for higher uptime and peace of mind.
Sandvik, www.sandvik.com
---
Conn-Weld Offers Extreme Duty Screens
Conn-Weld's Extreme Duty Scalping screens stand up to the most severe applications and large tonnages. Durable suspension is specifically designed to tolerate surge loads.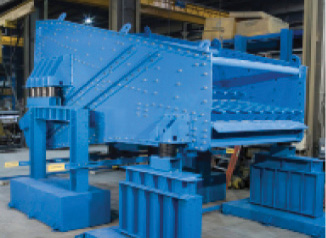 The location of the mechanism is custom crafted to allow for clearance while still supporting powerful performance. Heavy duty decks withstand the unforgiving impact of top size material that can reach the size of a compact car.
Features:
•   Mechanism with outboard counterweights allow for adjustable stroke.
•   Heavy duty modular designed deck support frame for large particle feed.
•   Overload springs for surge loads.
•   Designed for large particle separation, large tonnage and extremely large top size.
•   Oil reservoirs assure constant bearing lubrication.
•   Oil lubrication.
•   Two-part epoxy paint.
•   Cardan drive shaft.
Conn-Weld, www.conn-weld.com
---
Astec Industries Launches New Portable Screen Plant
Astec Industries' Materials Solutions Group has designed and launched its newest portable high-frequency screen plant, the PTSC2818VM. The plant's innovative design and size is the first of its kind for the industry, featuring an 8-ft.-wide high-frequency screen.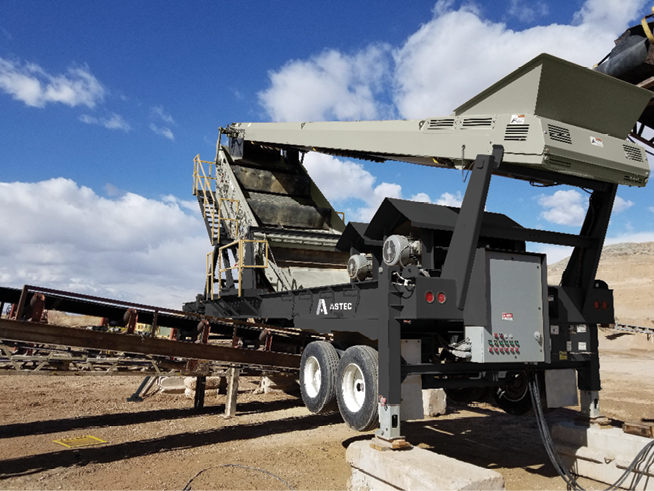 Astec's newest PTSC plant is equipped with an 8- x 18-ft. (2.4 x 5.5 m) top deck and an 8- x 12-ft. (2.4 x 3.7 m) bottom deck. The patent-pending screen design features externally mounted vibrators at the ends of the tappets for a more aggressive screening action.
This unique design creates a higher G-force and reduces heat load from material to motors as compared to single, center-mounted vibrators. It also allows for easier maintenance and adjustments. The screen is equipped with hydraulic operating angle adjustment, a fines collection hopper, top- and bottom-deck discharge chutes and an aggregate spreader.
Similar to other PTSC plants, the 2818VM features a nominal 54-in. x 38-ft. (137.16 x 1,158.2 cm) delivery conveyor with hydraulic drive and full-length skirtboards. The chassis is fitted with manually-operating support legs, outriggers for additional support and folding walkways along the screen.
The new portable plant is available with a variety of options, including: steel screen cloth, vinyl dust cover, hydraulic leveling jacks, immersion heaters for hydraulic reservoirs, starters for three off-plant conveyors and more.
Astec, [email protected], www.astecindustries.com
---
MAJOR Features FLEX-MAT Modular Screen Media
MAJOR offers FLEX-MAT, the company's line of distinctive lime-green high-vibration screens made with OPTIMUMWIRE that lowers the cost of production per ton by dramatically increasing throughput and wear life while eliminating blinding and pegging, the company said.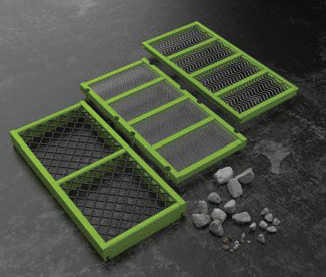 MAJOR masters wire quality, screen manufacturing and the screening process, and provides on-site screening performance assessment and training seminars on screen maintenance and screening efficiency to help producers increase their screening performance and profitability.
FLEX-MAT features up to 40% more screen capacity than traditional woven wire and up to 50% more than traditional polyurethane and rubber panels, setting a new standard in performance for aggregate, mining and industrial producers. The innovative product's high-frequency movement makes media an active part of the screening process, improving efficiency compared to static media such as woven cloth or synthetic panels.
The modular panels are available in three pattern options: the D-, S- and T-series. The D-series features a standard square pattern, which is ideal for precise sizing. The S-series maximizes open area, virtually eliminates blinding, and reduces fine contamination. The T-series enhances screening for particles below 0.059 in. (1.5 mm) and features small openings to minimize blinding. The screen media is secured through either grooved, step, or pin and leg panels.
The efficiency-enhancing characteristics of all FLEX-MAT screen media, including modular panels, are created by bonding OPTIMUMWIRE with distinctive lime-green polyurethane strips rather than weaving them. This allows wires to vibrate independently from end to end under material contact. The high frequency of the wires – 8,000 to 10,000 cycles per min. – adds to the vibration of the screen box – 800 to 900 cycles per min. – to speed up material separation and passing.
The increased screening action improves material throughput while virtually eliminating near-size pegging on the top decks and fine material blinding and clogging on the bottom decks, resulting in a lower cost of production per ton. Additionally, the media offers up to five times longer wear life than traditional woven wire and produces a cleaner retained product.
FLEX-MAT Modular screen media panels are available in either the patented OPTIMUMWIRE or 304 stainless steel wire. In addition to modular panels, MAJOR's signature FLEX-MAT media is available in tensioned sections for use on crown decks.
MAJOR, www.majorflexmat.com