McCloskey International unveiled the new C2C as the latest entry into the company's cone crusher line, with the powerful MC200 cone. The C2C brings the power of a 200-hp cone to a compact footprint, offering high maneuverability with a line-up of features aimed at boosting productivity. The crushers are suited particularly to aggregates, construction and demolition recycling.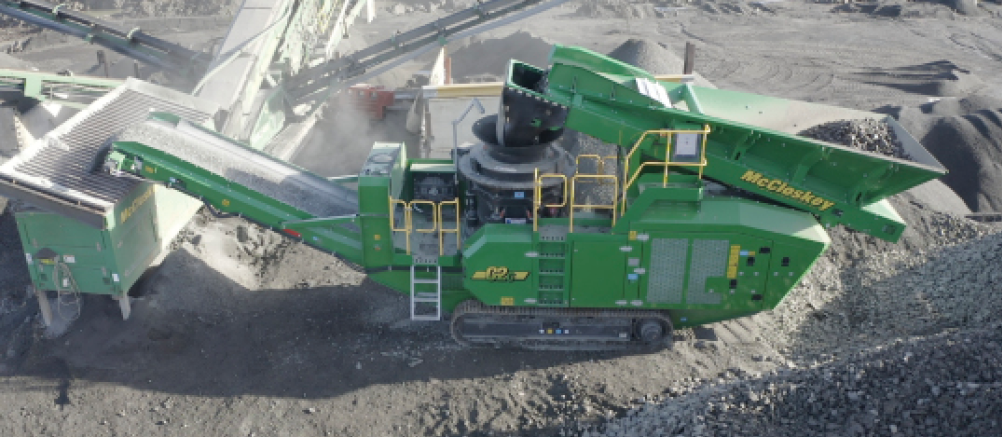 Standard features are a full-size MC200 cone, premium quality components, unrivaled ground level access, powerful engine, efficient conveyor design and continuous load and material monitoring, the company stated. The C2C delivers high production from material feed to end-product stockpile due to its innovative material flow features. A low feed height, large 6.2 cu. meters (8.1 cu. yd.) capacity Hardox lined hopper allows for stop function, while the unrestricted feed opening improves intake capability and reduces the risk of blockage.
As the material enters the cone chamber, features including a long stroke and high speed contribute to the high productivity, while ensuring the highest quality of end-product with variable speed. Multi-layer crushing delivers great capacity, better reduction and shape combined with less liner wear.
As the material moves to the class-leading heavy duty 48-in. wide conveyor, the large gap between the crusher discharge and main conveyor feeder enhance material flow. Stockpiles are formed up to 3.3 meters (10 ft., 10 in.) and with ground level access the belt is easy to maintain and service.
Power is built into the C2C, with a robust 280-Kw (375-hp) engine on board, and high-capacity fuel and hydraulic tanks to reduce the amount of re-fueling intervals. Mobility on-site and between sites is facilitated with remote control tracks that easily move and position the crusher and maximize the efficiency of any project site. The C2C can be setup and ready to work in less than five minutes.
McCloskey International, www.mccloskeyinternational.com