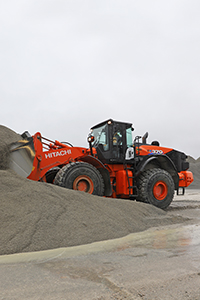 With an operating weight of 73,789 lb (33,470 kg) and a bucket capacity of 7.3 yd3 (5.6m3), the Hitachi ZW370-6 wheel loader is a nimble machine, capable of feeding crushers or screeners, stockpiling, loading and handling a variety of other tasks in the quarry. Designed to handle heavy rock material, the ZW370-6 offers a breakout force of 51,931 lbf (231 kN). It features a 55,446 lb (25,150 kg) straight static tipping load and 48,303 lb (21,910 kg) static full turn tipping load with a general-purpose bucket and straight edge with a bolt-on cutting edge.
For demanding applications that require high-capacity capabilities, there is the ZW370-6 HC with an operating weight of 79,010 to 79,200 lb (35,830 to 35,920 kg) and a bucket capacity up to 16 yds3. It features a 62,380 lb (28,290 kg) straight static tipping load and 53,340 lb (24,190 kg) static full turn tipping load with a general-purpose bucket and straight edge with bolt-on cutting edge.
The extra bucket capacity can be beneficial when two-pass loading trucks, but also consider the tipping load. Hitachi Construction Machinery Americas Inc. Regional Business Manager Dustin Hoogeveen advises, "Review the machine's tipping load — the weight the loader can support before starting to tip — to ensure the machine can do the intended job as safely as possible." While horsepower and breakout force may allow a large amount of material to be picked up, an adequate tipping load is also necessary. Be sure to accommodate for material moisture, as that will have a large impact on material density.
Technology delivers exceptional productivity
Several lift-arm and bucket-control options make the operator more productive. It's easy to adjust the kickout height for the lift arms in both the raised and lowered positions. The operator can set the kickout for the height of the truck being loaded. At that point, the stick is pulled back and it stops at that precise level. It's the same for the lower kickout height. It can be set so the operator doesn't have to think about it as they go into the pile. A parallel/tandem setting allows the operator to pull both levels back and the bucket and lift arm will function simultaneously.
Preventing wheel slip can extend tire life. Traction control on the ZW370-6 derates the engine if the tires spin. When the tires stop spinning, power is restored to normal.
Tracking performance
ConSite can track daily production and the machine's travel patterns so operators can adjust for efficiency. This productivity-enhancing service is provided free of charge for four years.
ConSite also includes machine health monitoring to help increase uptime. The dealer can see any codes the operator sees on the monitor remotely. In addition, a mail setting allows the operator to remotely request fuel, service for maintenance or general assistance through either cell or satellite service, and it goes through Global eService.
Request a demo to experience the productivity difference the Hitachi ZW370-6 can make in your quarry application.