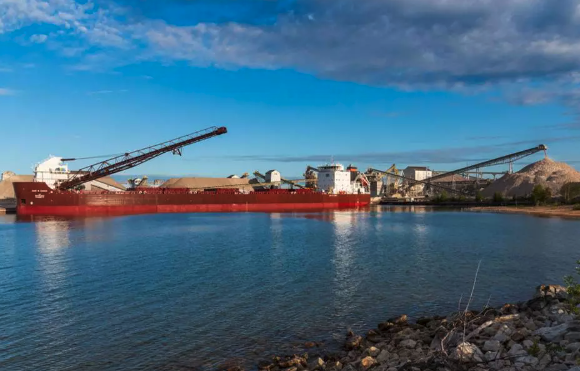 The first Great Lakes vessel to be built on the Great Lakes in nearly four decades has entered service. The Interlake Steamship Company's M/V Mark W. Barker bulk carrier loaded its first cargo of construction aggregates at the Carmeuse Port Inland dock on July 26.
"Bulk carriers play an integral role in supporting the economy of the Great Lakes region, ensuring the reliable supply of key materials to where they are needed," explained Port Inland Operations Manager, Patrick Lamb. "As a business that relies on transporting large volumes of heavy bulk materials to customers around the Great Lakes, we welcome the addition of such a modern, efficient vessel to the Great Lakes fleet, and are pleased to be among her first customers."
The highly-versatile vessel can handle a wide range of cargo from tradition bulk materials, such as Port Inland aggregates, to road salt or iron ore, and more specialized loads such as wind turbines. The Port Inland cargo from July 26 is destined for the Verplank Trucking Cobb Dock in Muskegon.
Built at Fincantieri Bay Shipbuilding in Sturgeon Bay, Wis., the 639-ft. ship is also designed to achieve a low environmental footprint. She is the first vessel on the Great Lakes equipped with engines that meet the latest EPA Tier 4 emissions standards, while onboard systems were selected to ensure low energy consumption.
"As a company, Carmeuse is committed to reducing the environmental impact of our business," said Lamb. "Part of that means looking at how we transport our products to our customers. We applaud The Interstate Steamship Co. for incorporating environmental sustainability into the design of the M/V Mark W. Baker. It's a forward-looking approach that fits well with our own."