As people began spending more time in their homes over the past couple years, renovations and upgrades kept many companies busy. One of those companies is Semco Stone, based in Missouri and Ohio.
"Sometimes obstacles are opportunities in disguise," said Corey Robinson, quarry superintendent at Semco. "We're grateful to have done well during what has been a tough time for many."
Semco sources and installs unique stone products for fireplaces, water features, walkways, patios and even entire homes. But the finished projects are not the only impressive part of the process. Providing large slabs and blocks of stone for these jobs is no small feat.
"We take huge blocks out of the ground – up to 50,000-lb. blocks – where many quarry operations are bringing out crushed rock," said Robinson. "That means we are testing the integrity of steel versus stone all day, and our machines and technology are pushed to the limit."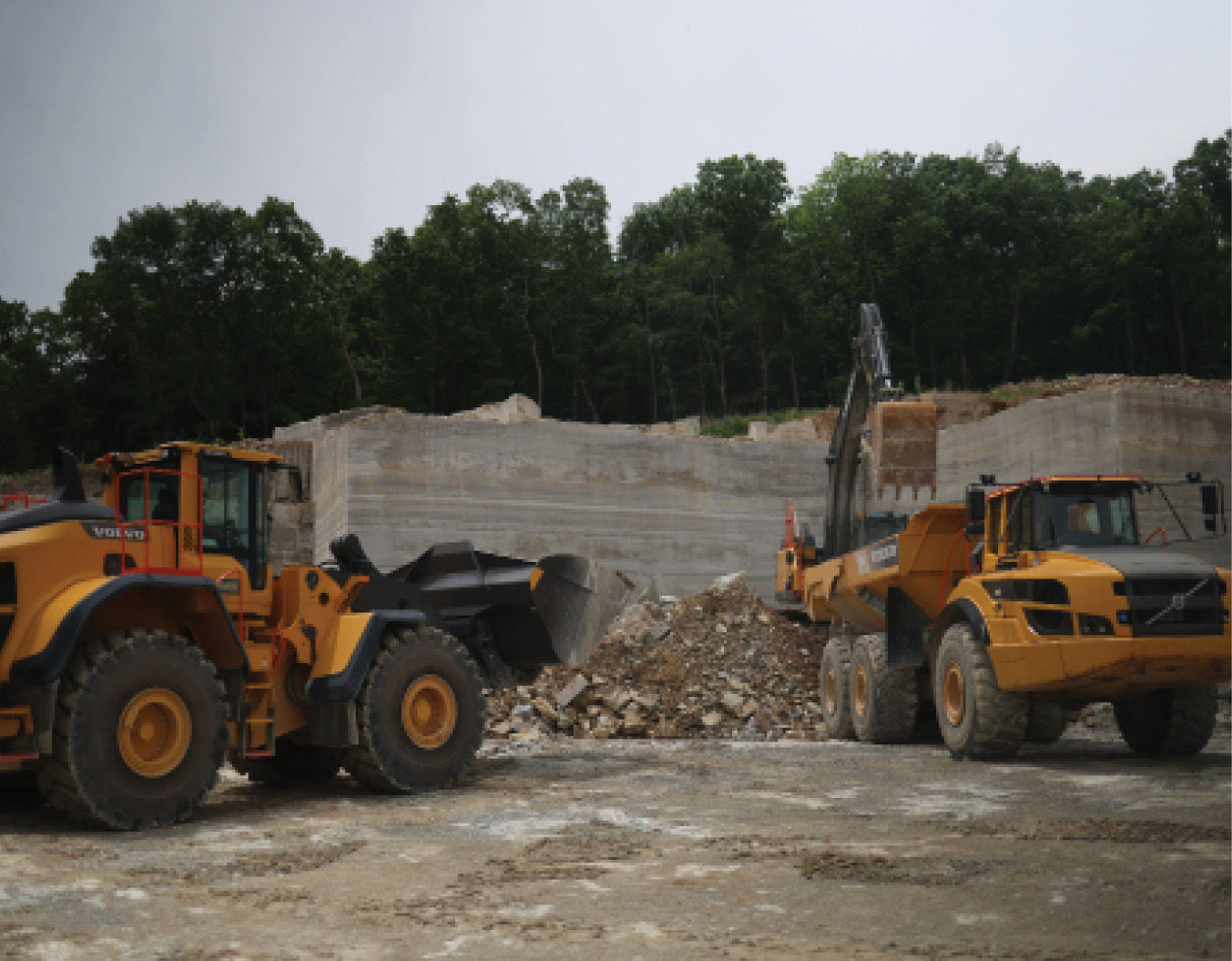 The machines Semco trusts to get the work done include two Volvo excavators, four Volvo wheel loaders and a Volvo articulated hauler.
"We use an L70 loader to load flatbed trucks with palette material, and an L120 to load wire saws," said Robinson. "But the real testament to what we do are the two L220s that are block handlers."
These two loaders pull massive blocks of stone out of the ground, so they are fitted with an extra handling counterweight, a quick coupler retrofitted with specially built forks, and L5 tires for maximum strength and durability – most loaders use L3s or L4s.
And for this type of work, it takes more than tough equipment. Telematics – in Semco's case, Volvo CareTrack telematics – helps them monitor machine usage and service needs.
A close dealer relationship makes a major difference, too, and Semco has found one in Rudd Equipment and their rep, Cody Leuthauser.
"Everyone around here knows everyone, and Corey's opinion matters to others in the industry," said Leuthauser. "We take customers to Semco locations to see the machines at work because it's hard to deny Volvo's durability when you see machines doing what they do."
Robinson describes the dealer/customer connection with Rudd as "unlike any other."
"We take pride in our work, our employees – everything," he said. "And they understand that."
Robinson said Semco purchases are based mainly on a machine's longevity and durability.
"A lot of machines fail at 10,000 hours. You basically end up buying it twice – at the purchase and to repair it."
Robinson said operator comfort, the cab layout and how it rides are important too.
"Volvo machines are a clear extension of a human operator," he said. "They're easy, fun and comfortable to operate."
Ultimately, it's the Semco team's hard work that makes the elaborate stone water features, fireplaces and other projects possible.
"We have the best equipment and technology the planet has to offer, but ultimately we are in the business of good people," said Robinson. "Extraordinary things made by extraordinary people."
Information for this article courtesy of Volvo CE. Semco Stone is not affiliated with SEMCO Publishing, parent company of Rock Products.