Construction activity follows the trends in construction types. We go through secular, cyclical changes in the types of construction that developers with the money chase. Over the years, there have been booms in hotel construction that dominated many larger markets, or big box retail, or specialty high-end shopping centers, and of course, office buildings of all types. This includes low-rise office buildings in park settings, mid-rise buildings along Interstate highways, and the tall office towers in central business districts in almost every city, large and small.
But don't expect your customers to be building any office space anytime soon. We have not seen such a slowdown since the shift from brick-and-mortar retail to online shopping that has shifted construction from retail malls and centers to Amazon-type distribution facilities that can exceed two million square feet. New office construction nationwide has hit a wall.
Major concern. This is a source of major concern to a host of constituents in the industry, from large commercial space developers to publicly-traded Real Estate Investment Trusts (REITS) to the insurance companies and pension funds that hold trillions of dollars of mortgages on these buildings. And the problem isn't overbuilding – it is simply that the "return to office" movement so many employers have been cajoling their employees to embrace just doesn't have traction with many workers.
Several months ago, I wrote about this topic and the challenge that employers were having in getting their workers back into the office. But now several new studies have all come to the same conclusion: the objection is not the office – it is the commute.
The COVID-19 pandemic led to a surge in remote work, emptying out office towers as more people worked from home. Cities with longer commutes have taken the biggest economic hit, while urban areas where people live closer to work have a higher return-to-office rate.
In a Gallup survey last summer, for example, 52% of those who want to work remotely listed avoiding commuting time as a top reason they don't want to go to the office. Other common reasons, like well-being and flexibility, are also closely tied to the commute.
The Long Commute. For sure, economists and psychologists have long said that a long commute is the most immiserating condition of daily life, so it makes sense this is what people want to avoid. And a striking fact some of these surveys point to is that commutes of less than 30 minutes are far more tolerable by commuters than those commutes that exceed 30 minutes.
Eight of the 10 major cities with the biggest drop in office occupancy during the pandemic had an average one-way commute of more than 30 minutes in 2019, while six of the 10 cities with the smallest drop in office occupancy have average commutes of less than 30 minutes. Employee opposition to commuting means that landlords and cities may require investing in housing, highways, public transportation and other infrastructure necessary to reduce commute times.
And HR professionals are the first to identify that among job candidates, those who live in the suburbs said they no longer wanted to commute daily. While the job seekers admit they miss the 10-minute water cooler conversations and the camaraderie and collaboration of the office environment, many complain it just isn't worth it.
And it isn't just the empty buildings, and the potential expired leases on a substantial portion of America's office space that could dump tens of millions of square feet onto the market, but the ripple effect it has on an entire segment of our economy. Central business districts depend on these workers to support bars, restaurants and other small businesses that fuel these economies.
Expect a tectonic shift in the commercial office space world that will result in more buildings being repurposed into residential space, which will relieve some of the commuter angst. In the meantime, expect other segments of construction to fill the gap and create demand for the aggregate industry.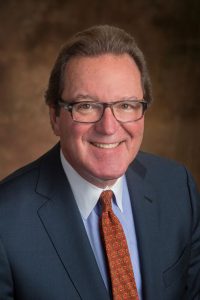 Pierre G. Villere serves as president and senior managing partner of Allen-Villere Partners, an investment banking firm with a national practice in the construction materials industry that specializes in mergers and acquisitions. He has a career spanning almost five decades, and volunteers his time to educate the industry as a regular columnist in publications and through presentations at numerous industry events. Contact Pierre via email at [email protected] Follow him on Twitter @allenvillere.