Managing And Procuring Materials In The Construction Industry Is Rapidly Becoming A Concern, Due To Material Shortages And Rising Costs.
The tasks behind maintaining roads involve removing the old asphalt and laying down a new layer. Recycling old materials requires time to crush everything down to usable size. Now, the question is: how do you speed up this process?
In Austria, an earthmoving and logistics company owns a stationary plant to produce gravel and sand. Meanwhile, in their recycling center, they collect and recycle C&D waste and asphalt from its construction sites and use it as recycled aggregate.
To get this done, they installed an MB Crusher BF80.3 crusher bucket on their excavator, replacing their stationary crusher for the practicality of a moving unit. Allowing the company to produce material of different output sizes independently and simplifying their maintenance also reduces costs and saves time.
If you consider that asphalt can be recycled repeatedly and that RAP is suitable for areas with heavy traffic because it makes roads more durable. Then you can also understand this next company's choice to use an MB-L160 crusher bucket on their Caterpillar 924G loader to process vast quantities of asphalt. If you were to run the asphalt slabs through a stationary crusher, it would jam the crusher and creates prolonged downtime. On the other hand, MB's jaw crusher makes everything easier and simpler.
Another major problem with road infrastructure is road maintenance. How much damage can cracks or potholes create? To vehicles and can affect safety itself. For this reason, to shorten maintenance times and reduce costs, a road works company installed an MB Crusher MB-L200 crusher bucket on its Manitou telehandler, recycled the crushed asphalt, and reused it for road maintenance.
Recycling asphalt provides the company, municipalities, and those who manage roads with several benefits: recycling materials means reducing purchasing and disposal costs and less dependency on a stationary production plant.
Moreover, recycling crushed asphalt is good for the environment as it reduces greenhouse emissions and limits the usage of non-renewable natural resources like gravel, sand and stones.
Crushing materials with MB's units is even easier than expected. As its Austrian customer said, "A great advantage is that the crusher bucket is straightforward to transport […], especially with hard-to-reach construction sites, road work in the mountains, or remote locations – and therefore, its versatility allows you to do more than what you typically could do: therefore, increasing the value of our work, of our construction sites while respecting the environment."
---
Anaconda Equipment To Display At Hillhead 2022

Anaconda Equipment is returning to Hillhead 2022. Anaconda will be located at booth T1 and will be exhibiting alongside the McLanahan Corp. The company will focus on the latest solutions for the quarrying, mining, and material handling industries.
Since 2020, Anaconda has been supplying a full product line of crushing, screening, conveying, and washing equipment. Anaconda industry experts will be on hand at the show to talk visitors through the extensive portfolio.
For more than a decade, Anaconda Equipment has proven itself as the reliable partner of choice in the screening and conveying industries. During the show, Anaconda plans to introduce its new crushing line by exhibiting the J12 jaw crusher for the first time in Europe.
The Anaconda J12 is a mid-sized jaw crusher designed to offer operators and contractors excellent reduction of the initial feed material, continuous production and a consistent product shape.
Designed predominately for quarrying and mining applications this versatile crusher is fabricated with a 1,100- x 700-mm (28 x 44-in.) Universal Crushers Jaw Chamber. Anaconda crushers are designed to be as user friendly and efficient as possible with the implementation of a direct hydraulic drive system, which allows for the jaw to be reversed, and the addition of Cummins L9 performance engines to offer excellent specifications, low fuel consumption, and eliminate the need for EGR.
The Anaconda DF514 Scalping Screen will also be on display at booth T1. Already proven in European market the DF514 is a reliable mid-sized scalping screen with multiple variants that allow it to adapt to different applications. The ability to either go for an apron or belt feeder allows customers to make changes to the scalper before the feed material gets passed to the 5- x 14-ft. equal sized top and bottom deck two-deck screen box. It is exciting to be exhibiting two machines that can operate as stand-alone machines but also work in cohesion to improve productivity for an end user's application.
Additionally, show attendees can visit Anaconda's booth to learn about how the extensive line of Anaconda Equipment can help provide solutions to crushing and screening. McLanahan will be exhibiting the UltraWASH 6206 and UltraCRUSH Modular systems on Booth T1, showing the diversity of the McLanahan family of companies with mobile tracked and wheeled units to static modular crushing and washing solutions.
Sales staff and product engineers will be on hand to answer questions about how Anaconda can provide a solution for your application and discuss how to maximize productivity and profitability.
Anaconda Equipment, www.anacondaequipment.com
---
Rubble Master Banks On Digitalization, Electrification, Automation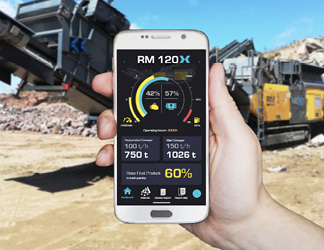 Machines are getting more complex. Labor shortages are threatening growth. Experienced operators are retiring, and training new hires takes time. Many contractors struggle with finding, training, and retaining suitable crushing & screening equipment operators.
Rubble Master started its international success in 1991 with compact crushers for the profitable on-site recycling of construction and demolition waste. At the time, the machines had to deliver a good performance and had to be easy and safe to use because most operators didn't have any prior material processing experience. Fast forward to 2022, the model range has grown in size, staying true to its core design principles.
What's new is that Rubble Master looks at new ways to improve operator experience through digitalization, electrification and automation.
"When I founded Rubble Master 30 years ago, I never imagined that we would file a patent related to artificial intelligence and digitalization one day," RM Group founder and CEO Gerald Hanisch explained. "Despite all forward-thinking ideas, it is important to keep a 360-degree view. We look at everything directly on-site together with the customer to find potential to provide solutions for future job sites."
Digitalization and electrification is the next leap in the evolution of construction machinery, providing a cleaner low emission operation and more data for more clarity about your operation and a new operating experience to minimize downtime and maximize profits.
Rubble Master understands that friction in your crushing operation causes loss in production, wasted time & money through learning everything the hard way, and leaves you with a frustrated crew.
RM XSMART Telemetry and Fleet Management
A smooth operation means more profits. That's why Rubble Master launched RM XSMART telemetry and fleet management that helps contractors get more clarity about their operation to identify blind spots and improve processes. It also assists operators with more information about the condition of their machines to become more proactive and accelerate service processes.
RM XSMART is available as an app on your phone or your desktop computer to access machine data anywhere, at any time. Operators can monitor fuel levels, reset belt scales, and track their tonnages with an optional belt scale conveniently from their cab. Traditional handwritten log books become obsolete because RM XSMART documents machine utilization such as run time, operating hours, and tonnages, which can be easily shared with your client or back-office. The operator can choose between a job report that documents the progress of a specific job or a daily report that summarizes the day's achievements.
A Different Operating Experience
Less experienced operators often struggle with new machinery. Without confidence and quality feedback, operators are held back, delay decisions, and become frustrated. The new Performance Indicator provides instant visual feedback to the operator to help him find the sweet spot so that the machine is pushed to its maximum to increase production and profits. LED light bars underneath the feeder show the utilization of the machine based on engine load and feed speed to help operators adjust their feeding behavior.
Electrification is the Future
As diesel prices soar, energy efficiency, alternative energy sources, and efficient drives become more crucial than ever. Rubble Master has been using fuel-efficient diesel-electric direct drives from day one to improve your bottom line. This is not where it stops; all products will be available either with our proven diesel-electric direct drive or hybrid drive. The hybrid option gives owners the freedom of choice between the onboard diesel engine or another Rubble Master machine.
"We consider the entire material processing train and look at the energy management between different machines such as a crusher and an adjoint screener. The machines need to communicate to avoid belts running or machines idling to save energy," Hanisch said.
Ready for the Future
A producer's everyday hustle will change radically in the near future. That's why Rubble Master constantly thinks of how the construction site of the future looks. RM XSMART, the new Performance Indicator, and electrification are the building blocks for a smarter and autonomous future Jobsite where anybody can achieve a high tonnage output with less hassle at optimum costs.
Rubble Master, www.rubblemaster.com
---
EvoQuip Launches Sustainability Campaign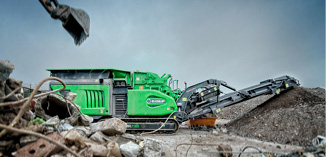 EvoQuip has taken a step toward sustainability in launching a campaign to illustrate its commitment to creating a sustainable future. The "Think Green, Think EvoQuip" campaign was launched in April 2022 and demonstrates continued growth by creating equipment that is increasingly sustainable.
Barry O'Hare, business line director for EvoQuip said, "Sustainability is a strategic priority for us and consistently at the top of our agenda. We see it as our responsibility to do what we can to be as sustainable a company as possible, and to help to build a world that puts sustainability at the forefront of everything we do."
The new campaign shows EvoQuip's commitment to this important topic and demonstrates continued growth by designing and creating equipment that is increasingly sustainable. The compact crushing and screening brand have also posted a sustainability responsibility statement on its website stating four key commitments.
The production of sustainable equipment that is as kind to the environment as possible, while still being effective and eco-friendly in its use, this is both in the design stage of the products and in the physical processing of material.
The use of sustainable materials where possible in the production of all equipment, parts, and packaging to help to ensure the products are sustainable from design to the finished product, to operation.
Offering the best solution to customers to ensure their operation is as efficient and environmentally friendly as possible. They promise to comply with any and all legislations and health and safety requirements.
Recycling is an important industry for EvoQuip, with over 40% of equipment out in the field working in a recycling application. The entire EvoQuip range provides the ideal solution for generating profit from waste. It is possible to process many types of waste from which can then be reused as product on site or sold.
EvoQuip will be increasing its selection of hybrid/electric offerings over time, one of many things that they will be doing as part of this campaign. This as well as fuel consumption monitoring, assessing and reducing carbon footprint and reducing waste to landfill will help EvoQuip live up to the name of the campaign "Think Green, Think EvoQuip."
EvoQuip, www.terex.com/evoquip