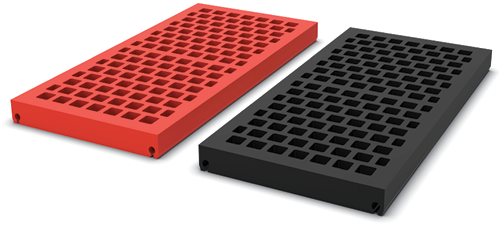 Durex Products Inc. offers a complete line of modular urethane and rubber screen panels for wet and dry applications. Durex urethane and rubber modular screen media is easy to install and provides long wear life and elasticity in dry or damp conditions. Durex has developed specialized polymer formulas for high wear and abrasive applications. In addition, the company's modular urethane and rubber panels feature tapered openings that are wider at the bottom. This advanced design reduces plugging and increases throughput.
Modular panels and fastening systems are available in Classic, 2000, Knock-In Bar, P-Pin, P-Pin Maxi, P-Snap, and P-Snap Maxi systems.
When it comes to urethane screen media, Durex's years of experience in precision, open-cast manufacturing processes result in urethane screening products that provide unmatched quality and performance.
Polyurethane is ideal for highly abrasive and dry or wet applications, providing much longer wear life than traditional wire screen media. Urethane offers excellent elasticity and impact absorption for increased screening efficiency. The product's long life and excellent productivity lead to significant reduction in total operating costs for producers.
Rubber is ideal for abrasive or high-impact applications, such as prescreening large material or in feeds with considerable drop height. Rubber screens are known for their ability to dramatically reduce noise, making them an optimal choice for pre-screening, scalping, or primary screening. Resistance to plugging, along with less downtime from longer wear life, leads to increased production.
Durex offers a wide range of urethane screening products for stone, sand and gravel, dewatering, mining, and more. Panel options are offered with slot direction as parallel or right-angle to material flow (some variations are not available on every size).
Durex Products, www.durexproducts.com