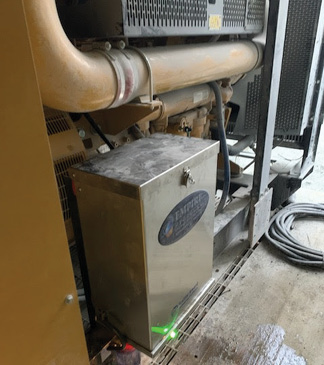 Butler Concrete and Aggregate Ltd. of Victoria, B.C., Canada, announced that after extensive testing by an independent third party, an Empire Hydrogen Fuel Enhancement System at its Sidney, B.C., plant has achieved a 19.89% reduction in diesel fuel consumption on a Cummins QSX generator. This generator is used to crush rock into the aggregate Butler supplies to its customers.
The testing was completed by Wilson & Proctor Ltd., Vancouver Island's leading repair and machining facility for heavy duty diesel truck and marine engines. It was done over two weeks covering 40 hours with and 40 hours without the fuel enhancement system.
In both cases the generator output the same level of electrical power and the same rock aggregate was produced. There can be no doubt that this was a balanced and fair test of the effectiveness of Empire's accelerant gas system, the company stated.
The specific testing results were:
Without Fuel Enhancement System: 398.7 gal. consumed, 9.967 gal.-per-hour.
With Fuel Enhancement System: 319.4 gal. consumed, 7.985 gal.-per-hour.
Improvement: 79.3 gal., 1.983 gal.-per-hour (19.89% reduction).
The fuel enhancement system was developed by Empire Hydrogen Energy Systems Inc. of Sidney, B.C. This system splits water into Hydrogen (H2) and Oxygen (O2) gas molecules through electrolysis. These gases then flow into the air intake of the diesel engine. This gas mixture causes the diesel fuel to burn faster, cleaner, and more completely.
The process results in fewer oil changes, less Diesel Exhaust Fluid use, and less frequent changes of the Diesel Particulate Filter. The system can be installed on just about any diesel engine, such as those found on trucks, boats, generators, loaders, haul trucks and ready mixed trucks.
The company is currently testing the fuel enhancement system on its mixer truck fleet with an eye to improved fuel efficiency, plus lower carbon dioxide and nitrogen oxide emissions.
Installation typically takes around five hours. The system comes in a self-contained stainless-steel box measuring 26 in. high x 19 in. wide x 11 in. deep, and it weighs approximately 75 lb.
Installation is done by a qualified mechanic and typically takes four to five hours. Payback on some installed units based on fuel savings alone is under nine months. There is also a Winter Package for cold weather environments to prevent freezing.
Mounted near the mixer gear box, the Empire Hydrogen system uses electrolysis –initiated through stainless steel plate filters and potassium hydroxide – to separate distilled water's hydrogen and oxygen, directing the gases to engine air intakes to augment diesel combustion.
"We are always examining operational improvements to reduce our carbon footprint," said President Travis Butler. "Our collaboration with Empire Hydrogen shows we can make a net positive difference when we work together and embrace innovation."
"Our goal to provide green solutions and address the growing requirements for energy consumption makes working with Butler a great fit," said Empire Hydrogen CEO Sven Tjelta. "Our organizations realize the potential that technology holds to address global climate concerns. Seeing our technology implemented at Butler reaffirms our mission to partner with industry and make our world a better place for future generations."
Butler Concrete & Aggregate is fully committed to green initiatives: the company has introduced the Climate Earth Project Builder Tool, providing integrated embodied carbon reports and a wide range of possible carbon impacts for projects. The tool allows architects, engineers and developers to see the embodied carbon impact of individual mixes and creates downloadable reports broken down by application. Utilizing these reports provides a unique opportunity to plan, build and market future projects with an informed embodied carbon profile.
Empire Hydrogen Energy Systems Inc., www.empirehydrogen.com