The New Partnership Between Rock Products and Burgex Brings Powerful New Tools to Aggregates Producers.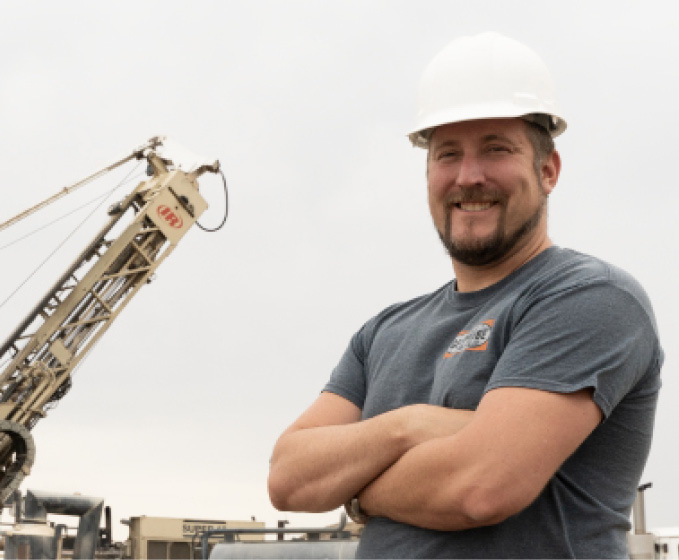 For 20 years, the Aggregates Atlas has been one of the industry's leading information sources. Featuring maps and listings, readers were able to see the location of aggregates operations throughout the United States. But the print version of the Atlas had its limitations.
In metropolitan areas throughout the country, where the concentration of aggregates operations was dense, it was often difficult to locate certain plants, and in some areas, the listing of operations had to be reduced to create a better visual.
That all changed when Rock Products partnered with Burgex on a digital version of the maps. The online versions of the maps are comprehensive and detailed. And that is only the first step. Burgex also offers additional fee-based digital tools for aggregates producers to access.
Rock Products talked to Burgex company founder Stuart Burgess about the company's evolution, its Mineralocity Aggregates platform and plans for the future.
Talk a little bit about your background and how Burgex got its start.
I started out exploring abandoned mines in the Western United States, Utah and Nevada mostly, as a hobby. I started in high school and really did a lot of camping and exploring old mines for several years. After a while I found more people who enjoyed the hobby and eventually got our current Chief of Operations Crystal Burgess into it as well. As someone who was born and raised in Alaska, she was keen to find new adventures in the West. We formed a group together called Mojave Underground that really pioneered a lot of new methods for exploring abandoned mines safely.
We were passionate about mining history and loved getting down into the mines to see how things were done 50 or 100 years ago. At that time we were dedicating virtually all of our free time to exploring and documenting mines, while trying to hold down day jobs to pay the bills. Eventually the expansion of this hobby and growth of Mojave Underground led to conversations around ways that we could commercialize what we were good at and make a living at it. From there, Crystal and I made a big leap and started Burgess Exploration, which became Burgex Inc. For the first year of business, all we did was map and sample abandoned mine workings. This turned out to be a very niche service and we were starving most of the time, so we had to adapt and learn new skills. We branched out into mining claim staking, soil sampling and basic GIS work. This kept us busy for a while, but eventually we needed to branch out more to keep food on the table and we did that through finding amazing talent to join our company.
Through 12 years of growing the business, we are now blessed with an amazing team of professionals to help us keep the momentum going. Our CEO Chris Summers was the first brave soul to join us full time. He has been instrumental in helping us strategically expand the business, while maintaining our core values. We now have a full staff of geologists, engineers, GIS Specialists, field technicians, and mining analysis that come from a diverse background. We still maintain a lot of the mom-and-pop mindset of taking pride in our work and genuinely caring about the success of our clients, but we also have the tools and capabilities to tackle a lot of big projects and innovate in brand new ways.
Why is it important for aggregates producers to adopt an "information management" mindset?
In the data we are seeing daily from using our Mineralocity Aggregates platform, we notice a broad range in production per-man-hour at different operations across the country. Some of this production difference can be attributed to the scale of the operation and things like efficiency of equipment, but there is certainly an information management factor to be applied here as well. Aggregate producers that understand the nitty gritty aspects of what is going on in and around their operation through information-management and analysis have a much better grasp on the changes they can make that will have the biggest impact on maximizing production and efficiency. Not all business decisions will have the same impact, so it makes a lot of sense to make decisions with as much information as possible.
Talk about the ways that data will change the aggregates business in the future.
I think data will change the aggregate business from top to bottom, and it has already changed the business substantially. I was recently in one of Martin Marietta's dispatch centers, what a great example of utilizing data and technology to streamline and enhance operations. The operators in the center know where all the trucks currently are, they know where all the trucks are going, and they can manage multiple operations from one central location. When the drivers pull up to the scale, dispatch can see them on video and they can communicate in real time. All the data is tracked, analyzed, and can be used to further enhance efficiency. The major producers are already using this technology, but eventually it will be common everywhere.
I get excited when I think about ways that Mineralocity Aggregates can be plugged into a system like this, not only to maximize efficiency currently, but to be able to strategically plan out into the future and anticipate demand and opportunities long before they reach dispatch.
How did the Mineralocity platform evolve, and what benefits does it offer for aggregates producers?
We developed what is now the Mineralocity Aggregates platform as an internal system at Burgex to help our market analysts to be able to dive deeper into the production and flow of construction aggregates around the country. We wanted to be able to take our analysis work beyond linear calculations and look at markets more dynamically. Initially a lot this work was still done manually on a local site by site scale, but over time we found ways to do what I originally thought was impossible and start to run dynamic supply-and-demand calculations over entire regions and eventually the entire country. This required an enormous amount of computing power and some very ingenious work by our Lead GIS Developer Jake Tanner. Some of the steps in this development included things like reinventing the way that the U.S. population is modeled, doing a national inventory of geologic bodies that produce aggregates, and tracking down and geolocating all the commercial producers in the United States.
For aggregates producers, the Mineralocity Aggregates platform offers a host of benefits that should really give them an edge when it comes to maximizing and expanding operations. Primarily it will help them visualize and explore the construction aggregate market in an entirely new way. They will be able to see all the current producers within their target market with transportation vectors, they will be able to see supply and demand balances and estimated production ranges from each operation, potential extensions of geologic bodies that are known to produce aggregates, visual projections of future market growth, and more. We've put all of this data on one interactive map with other features that we will be continuously developing. We feel like this tool will be useful for aggregates producers, industry suppliers, industry analysis, and much more. Construction contractors will also be able to use this tool to plan projects and seek out the best sources of materials within an area.
How is Burgex uniquely positioned to serve multiple needs of aggregates producers?
Our project specific market analysis reports for aggregates were already gaining a lot of industry traction, but with the addition of these latest tools, I think we are certainly very advanced now and offer both a depth and breadth that hasn't been seen before. Combined with our in-house ability to take projects all the way through exploration drilling and mine engineering to feasibility and valuations, we are a one-stop shop. Historically, I think the aggregates industry in a lot of areas has been able to get away with a lot less work on feasibility and planning, but with current permitting conditions, NIMBY attitudes, and a general lack of quality greenfield sites near a lot of metropolitan areas, partnering with a company that understands what it takes to reduce risk and maximize success is key.
Aggregates Atlas Preview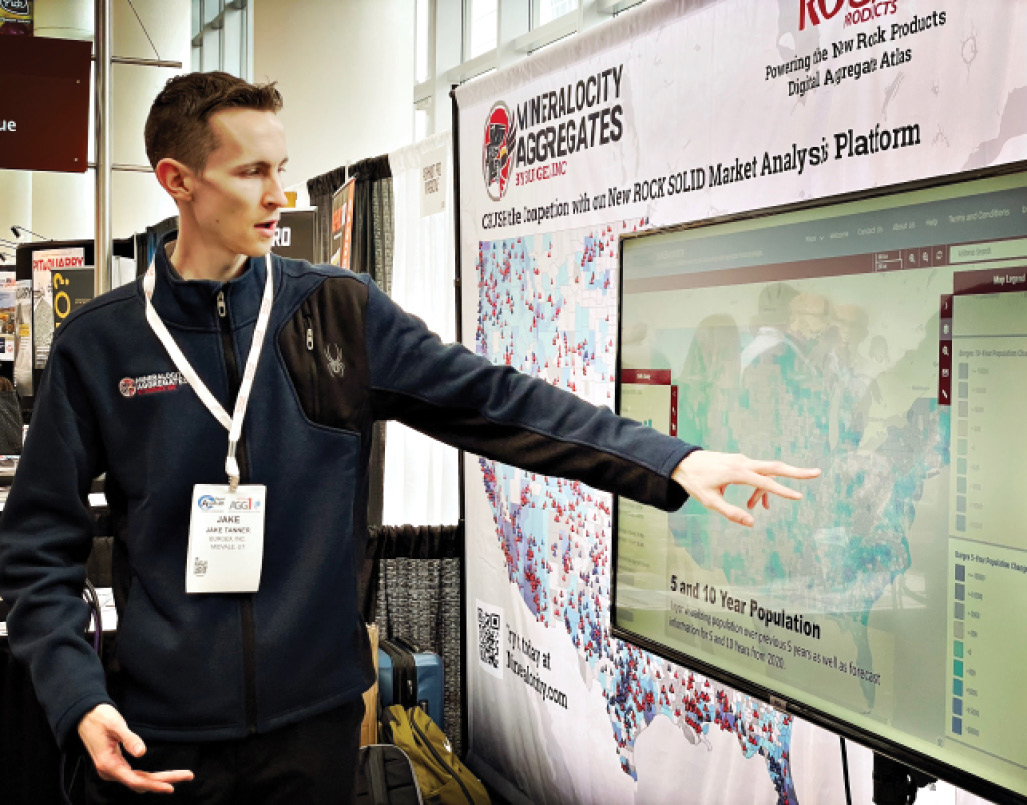 Rock Products' Aggregates Atlas is now an online digital tool for aggregates producers. The print version of this industry standard "maps" issue served our readers for more than 20 years, but we believed there was an opportunity to deliver a better product to the aggregates industry. You can now access the entirely re-imagined version of the Aggregates Atlas, powered by Burgex' new Mineralocity Aggregates Platform.
At the recent AGG1 trade show in Nashville, Burgex and Rock Products demonstrated the new platform for aggregates producers and the response was overwhelming.
We would like to thank our sponsors, VDG and Allen-Villere Partners for their generous support of the Aggregates Atlas.
Access the Aggregates Atlas Online at www.aggman.com.