By Mark S. Kuhar

The only company in the world using biology to commercially produce cement, Biomason, employs natural microorganisms to grow biocement in ambient temperatures without emitting carbon dioxide.
Yes, you heard that right. Laboratory grown cement.
Its patented biocement technology mimics nature's use of carbon as a building block, creating cement in a biological, circular system, rather than relying on the "200-year-old climate-intensive portland cement (OPC) production process," the company stated.
Biomason creates cement in a fundamentally different way, addressing the root cause of emissions. OPC production accounts for more than 8% of global carbon emissions – that's four times more than the aviation industry, the company stated.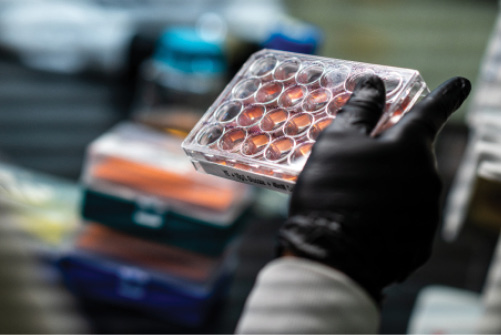 Concrete is the second-most consumed material in the world after water. This new funding demonstrates investors' enthusiasm for revolutionary solutions to the world's most predominant building material. As the global building stock is set to double by 2060, it is more imperative than ever to replace carbon-emitting materials with proven solutions, Biomason said.
Biomason recently announced a $65 million funding round led by 2150 with participation from Celesta Capital, Hartree Partners, and others, including current shareholders Novo Holdings and Martin Marietta Materials.
The Series C funding will accelerate development of Biomason's proprietary biocement technology platform to reach its goal of eliminating 25% of global carbon emissions from the concrete industry by 2030.
"This investment marks an important milestone in the wide-scale adoption and commercialization of biocement technology," said Biomason CEO and Co-Founder Ginger Krieg Dosier. "This is a commercially driven, strategic round for Biomason, and we are honored to work with new and current shareholders to take the next steps for our company. We are accelerating our technology platforms to enable broader applications in the concrete value chain, including ready mix technology. We are excited to work alongside 2150 as the leading impact investor solving the biggest climate challenges in the built environment."
"When we started 2150, the hunt for Gigacorns began. We had not imagined then that it was possible to harness nature and combine it with human technology by using bacteria to solve one of our biggest climate challenges—the cement industry," said Christian Jølck, founding partner at 2150. "We are excited to lead the investment into Biomason, which we have been following in recent years, because of the world-class team and the fact that their biocement product is ready to be scaled across the globe."
Biomason also participated in the Defense Advanced Research Projects Agency (DARPA) Embedded Entrepreneurship Initiative (EEI). The program recognizes the strategic importance of Biomason's biocement and bioconcrete technology in field applications and provides support for corporate growth and development.
"We're excited to be working with EEI to advance our technology and continue bringing novel biocement and bioconcrete applications to the world," said Kent J. Smith, Biomason director of government contracts. "This program is the next step to not only developing new solutions for the country, but also in further scaling our work globally."
The goal of EEI is to accelerate transformational innovations to products and provide funding, mentoring, and connections. Companies in the program have the potential to create entirely new industries, upend existing markets, establish military advantage, and create lasting societal change, making them an invaluable resource to the country and the world.
Biomason, www.biomason.com