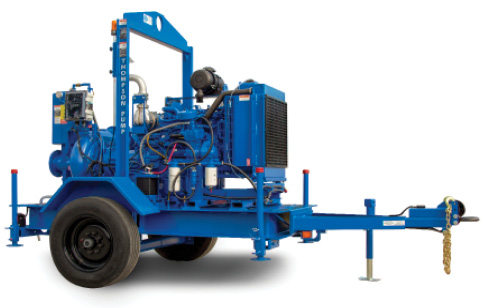 Thompson Pump and Manufacturing Co., a manufacturer of heavy-duty portable bypass and dewatering pumps, featured its 6-in. solids handling pump with Enviroprime System (Model: 6JSCE) at this year's Water & Wastewater Equipment, Treatment & Transport (WWETT) show in Indianapolis. WWETT is the premier event for municipalities, portable sanitation professionals, septic contractors, sewer contractors and wastewater professionals.
The Thompson Pump 6-in. compressor-assisted solids handling pump is manufactured for sewer bypass, emergency response and any high-head/high-volume applications. With its heavy-duty cast-iron construction and fast priming capabilities, the 6JSCE is designed for flows up to 2,680 gal. per min. (gpm), and heads up to 190 ft., with maximum solids handling up to 3 in.
This end-suction centrifugal pump has the ability to dry-prime and re-prime automatically and is equipped with the Enviroprime System that does not allow product blow-by of pumped materials.
"Our JSC series pumps are powerful, dependable, built for longevity and offer exceptional ROI, and this pump leads the industry in municipal, construction and industrial applications," said Chris Thompson, president of Thompson Pump and Manufacturing Co. "As with all our pumps, the 6JSCE provides the quality, performance and reliability people have come to expect to get the job done, every time."Thompson Pump, www.thompsonpump.com