An Exclusive Wheel Loader Option Improves Operator Visibility And Productivity.
By Rachel Ori
As technology evolves, manufacturers continue to develop tools and machine accessories that allow operators to move about a worksite more safely. One standout item that was introduced in 2021 is the Doosan Transparent Bucket, an exclusive technology from Doosan Infracore North America. This technology is currently available for new Doosan -7 Series wheel loaders.
Increased safety comes from enhanced operator visibility, and the Transparent Bucket allows the wheel loader operator to see directly through the bucket and to the area in front of the machine. This is achieved through camera technology that projects a supplemental view from the bucket to a monitor inside of the cab.
Quarry workers use powerful machinery to dig and drill rock, sand, slate, gravel and minerals. They crush, transport and process the aggregates before they are sold to customers. With a Transparent Bucket, wheel loader operators can be sure that they are moving throughout the quarries safely.
What Is a Transparent Bucket?
Despite what the name may imply, the Transparent Bucket isn't actually transparent. It's not made of glass or clear acrylic. Rather, it incorporates technology that gives wheel loader operators an unobstructed view in front of the wheel loader bucket, allowing them to see objects or challenging terrain in front of and beside the machine. This is done through the work of two cameras that use a curved projection method to show the combined image on the in-cab monitor.
Between other equipment, people and extracted material, quarries can present many obstacles for operators. A traditional bucket can obstruct the view of these obstacles. A Doosan Transparent Bucket enables operators to move the wheel loader on the site more confidently, leading to more efficient work and greater machine uptime protection.
Why a Transparent Bucket?
When someone hears about the Transparent Bucket, they may wonder why such an option would be necessary. After all, traditional buckets have been used on wheel loaders for decades.
Manufacturers have made strides in recent years to increase overall visibility from the wheel loader cab. These improvements have ranged from increasing the amount of glass in a cab structure to installing additional mirrors and rearview cameras. However, no matter how much glass is in the cab, or how clean the glass is kept, the bucket will always be in an operator's line of vision. This can be an issue for multiple reasons.
One reason is that an operator may not be familiar with the worksite. Say an operator had never worked at a quarry before or was still relatively new to using heavy equipment. With other wheel loaders, off-highway trucks and drilling equipment, a quarry can be intimidating.
A newer operator may move across a site more cautiously than more experienced operators or crane their neck from the cab to ensure they are in full control of the bucket and there's nothing in front of it. While this may not be the most pressing issue, or even something an operator would classify as an issue, it can still eat into productivity. That's where a Transparent Bucket comes into play.
The Technology
Doosan Transparent Bucket technology consists of an in-cab monitor and two cameras with protective guarding. One camera is mounted high, while another camera is mounted low on the front of the machine. The reason for two cameras is that a bucket moves up and down. When the bucket is low, the view of the bottom camera is being obstructed. Similarly, when the bucket is high, the top camera's view is obstructed. With two cameras, each bucket movement is recorded.
The system's processor automatically combines the camera inputs into a single image that makes the bucket appear transparent on an in-cab monitor. This also assists with operator visibility.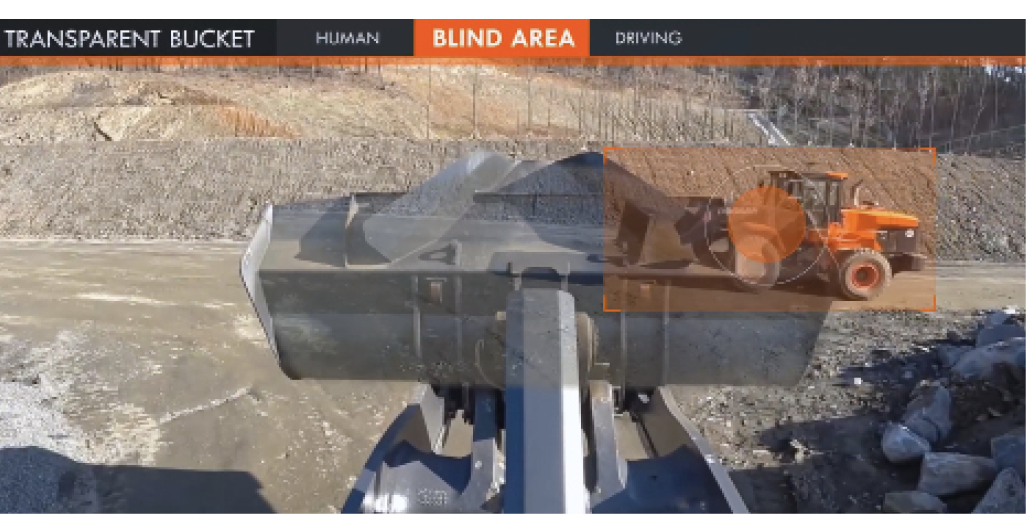 Transparent Bucket Benefits
Often, a wheel loader is moving forward and reverse multiple times in its work pattern. When operating a wheel loader, an obstructed view can develop in the front of the machine. It's best for an operator to have an unobstructed view of their surroundings.
These obstructed views are especially noticeable when raising or lowering a bucket. With the Transparent Bucket, these areas are minimized.
Maximizing visibility allows a wheel loader operator to move about their worksite more confidently. This confidence translates into a more productive workday. The ability to "see through" the wheel loader bucket allows operators to efficiently dig into and precisely place material where it needs to go. This innovative technology from Doosan helps maximize productivity even on the busiest quarries.
Rachel Ori is with Two Rivers marketing. Hyundai Doosan Infracore is an affiliate of Hyundai Heavy Industries Group.
Doosan to Launch Next-Gen Crawler Excavators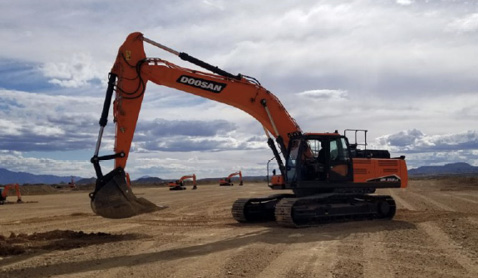 During a Doosan Infracore North America media event held in Tucson, Ariz., the manufacturer announced several new product launches for 2022, including next-generation crawler excavators.
Rock Products Associate Editor Josephine Patterson was in attendance for the announcements.
Doosan will introduce its -7 Series crawler excavators to North America. These next-generation excavators feature enhancements in power, performance and serviceability. They also offer operators unmatched visibility to the jobsite for increased productivity and safety. Fourteen models will launch in 2022 with additional -7X models rolling out in 2023.
During the event, attendees were able to operate the newest iteration of the 35-metric-ton DX350LC. The -7 Series model comes with a new design and increased performance, operator comfort, fuel efficiency and serviceability. A new 8-in. touch screen inside the cab – the Doosan Smart Touch – offers operators access to a wealth of machine information. The D-ECOPower fuel-saving feature supplies the required operating flow to the machine's hydraulic system to minimize waste.
Doosan also announced it will bring its expertise in the construction equipment industry to a new category in 2022: dozers. The new 122-hp DD100 dozer features a Doosan engine with convenient maintenance access points and does not require the use of a diesel particulate filter to meet current emission standards. It's built for the most demanding conditions and features a dual/single flange-type roller with several track guard options. Further, owners can add the 3D Machine Guidance and 3D Machine Control features as an option for greater accuracy and ease of operation.
Further, Doosan will continue to expand its -7 Series wheel loader lineup with the DL200-7, DL220-7 and DL250-7 models launching in the first quarter of 2022. Two tool carrier models will launch in the third quarter.