Business Success Is Driven By Difficult Adaptation. We Must Adjust To Changing Needs Of Customers, Employees, The Market And The Community.
By Thomas J. Roach
During the pandemic, organizations changed the way they do business. When the pandemic totally recedes, some aspects of business culture will return to normal, but many of the adjustments of the pandemic will remain in place because they were improvements.
As we contemplate coming out of this crisis, we need to assess our impromptu experiments and consider what we learned. New technologies were developed, rules changed, and opportunities were created. For instance, I never thought I would say this, but there are some advantages to working online.
Working from Home
Employees are returning to the workplace, but managers know now that they can be more flexible about allowing work from home and still maintain productivity. Employees with hardships can be accommodated and still contribute, and people with unique talents can be recruited and added to the workforce even if they live in another state. 
Most universities returned to teaching on campus this January. When snowstorms hit the Midwest in February, academic administrators didn't cancel classes. They made an announcement the night of the storm, and the next morning everyone was online. Three years ago, a quick adjustment like that was inconceivable.
Success in business is driven by difficult adaptation. We must adjust to changing needs of customers, employees, the market and the community. Yet, adaptation is constrained by the habits and routines of the business culture. Think of all the adjustments you would have made over the course of your career that were blocked by people who resisted change.
A Crisis
There are many ways one might implement changes, but nothing facilitates change as effectively as a crisis. In a crisis we look for new ideas, we test them almost indiscriminately, and if they work, we accept them and move on.
Historians note the profound cultural and institutional changes that followed the Great Depression and the two world wars. The pandemic is an event on that level. All are tragedies of seismic proportions.
For two years we were preoccupied with anticipating and resolving problems caused by the virus, but when the crisis has passed, we need to shift our focus, look at the changes, and ask what we have learned and even, what have we gained.
There is an old story about an optimistic boy with a cruel father. The father wanted to teach the boy to be more sober minded, so he put horse manure in the boy's Christmas stocking. Upon awakening Christmas morning, the father found his son happy and excited and wearing a coat and scarf. When the father asked where he was going, the boy gleefully showed him the Christmas stocking and said, "I'm going outside to look for my new pony."
Opportunity Knocks
In the 1980s I was the director of internal communication for one of the old retail giants. Those of us in the corporate offices were trying to introduce workgroup meetings, suggestion boxes, and participative decision-making into a stodgy, authoritarian, management system. 
It was a grueling process, and we met with resistance, but whenever the company ran into a major problem like a takeover attempt or budget cuts, our boss, Bruce Rismiller, would call a meeting and tell his staff that every problem is an opportunity.
He was right. When we responded to crises and we adapted our response to the new communication model. We would have avoided the problems if we could, but they usually turned out to be opportunities for adjustment.
It would be years before I tracked down the story behind the pony quote, but we all knew what he meant when he sent us out of our meetings with instructions to "look for the ponies."
The loss of life, the disruption to our families and the instability of our jobs caused by this tragic pandemic will always be with us. The world that existed before the virus will never come back, and much of what lies ahead will be diminished by our memories of last two years. Nevertheless, the pandemic has been a catalyst for change, and somewhere there's a pony.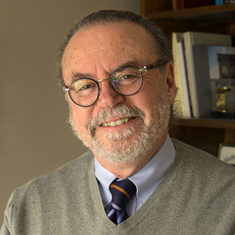 Thomas J. Roach Ph.D., has 30 years experience in communication as a journalist, media coordinator, communication director and consultant. He has taught at Purdue University Northwest since 1987, and is the author of "An Interviewing Rhetoric." He can be reached at [email protected]