By Tom Carroll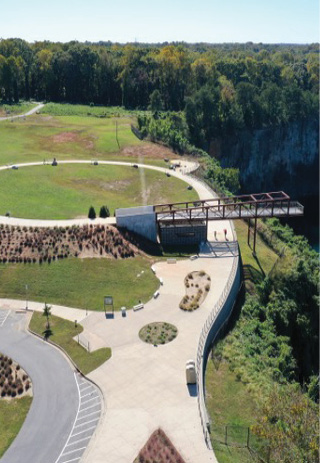 What if you could see some of North Carolina's diverse geology by taking less than one hour and making only one stop at an urban city park rather than having to drive more than 700 hundred miles to do so? Sounds impossible doesn't it? Well, it isn't. You can do that and more with a visit to Winston-Salem's Quarry Park: recently renamed "The Quarry at Grant Park."
Quarry Park, which is owned and operated by the City of Winston-Salem's Recreation and Parks Department, is 228 acres in size consisting of approximately 22 acres of open space, 12 acres of support facilities, 16 acres of open water – the former quarry pit – 178 acres of mixed mature hardwood/pine forest and 1.6 miles of bike/walking trails (see overview photo on page 10).
The quarry first opened circa 1925 and was later acquired by Vulcan Materials Co., which operated the site, known then as the Piedmont Quarry, up until 1995. Vulcan in 1999 donated 165 acres including the 16-acre former pit to the city. Initially, the property was used as a brush/leaf recycling center by the city's public works department.
In November 2014, city residents approved as part of a larger bond package a series of capital improvements to the former quarry property resulting in the construction of bike/pedestrian paths, parking, restroom facilities and a unique cantilevered steel walking overlook. Quarry Park was officially opened for public use on Aug. 15, 2017; and includes a 17-ton boulder as the park sign (see photo below).
Most recent improvements (spring 2019) include an 11-boulder "Geology Trail" containing unique 3- to 5-ton boulders from various active quarry sites to illustrate the diverse geology of North Carolina. This was made possible by the generosity of mineral producers including Vulcan Materials, Martin Marietta and Quartz Corp.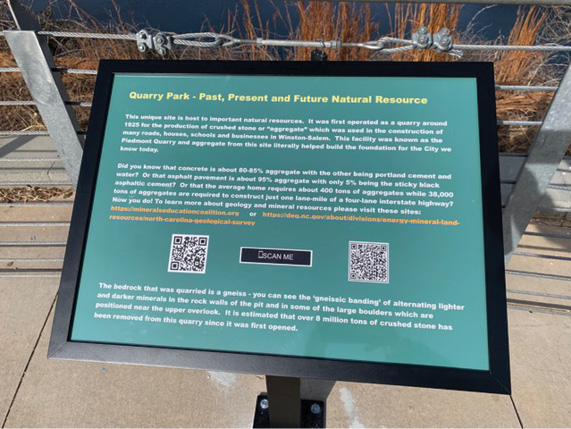 Igneous, metamorphic and sedimentary rocks are all represented along the "trail." By partnering with the North Carolina Geological Survey, interpretive signage has been provided that describes each rock type in detail, a local geologic map for each boulder showing regional geology of the donor site, and QR Codes to link to additional STEM educational resources.
In addition, interpretive panels have been provided on the quarry history, uses of the products produced from the quarry, historical photos of it while in operation and how the land has been successfully reclaimed. A generalized state geologic map has been provided as well with links (via QR Code) to the state geological survey with an interactive map for more detailed information on North Carolina's geology and each of the donated boulder specimens.
In addition to the spectacular geology lessons and amazing views of the city skyline and northern Piedmont – think Pilot Mountain (a Piedmont monadnock) and Sauratown Mountains on a clear day – the park is also a certified Wildlife Habitat Site in cooperation with both the National and North Carolina Wildlife Federations and is an active participant in Bee City USA providing valuable pollinator habitat for a variety of native plants.
According to William Royston, director of the city Recreation and Parks Department, "local schools and adjacent boys and girls club have already begun to experience this gem of a facility. The STEM education opportunities are limitless."
Future plans include more picnic shelters and parking but most importantly a new playground to be built into the ground to stay with the quarry theme. Large pieces of quarry equipment (think haul truck bed, loader bucket, drop ball, haul truck tire) will be incorporated into the playground thanks to donations from Vulcan. Construction is currently underway on the playground and will be finished in 2022.
So if you are traveling through central North Carolina and want a fantastic place to see some of what the state has to offer in the way of geologic and other natural resources be sure to make a stop. You no longer will take an urban park for "granite" … get it?
For more information and current events related to Quarry Park see www.cityofws.org/quarrypark.
Tom Carroll is a 40-plus year member of SME, a graduate of Appalachian State University's Geology program, a North Carolina registered geologist (retired), past president of the North Carolina Aggregates Association and retired director of business development and external affairs for Vulcan Materials' Mideast Division. He played a role in the donation of the property to the city of Winston-Salem and most recently lead the city's effort to create the geology trail while securing the donated boulders. He is currently president of Bedrock Strategic Consulting, LLC, which provides consulting services to a variety of clients in/around the mineral industry.