As the aggregates industry continues to endure high demand, an increase in exploration is necessary. While producers explore and mobilize from site to site, the need for temporary structures has never been higher within the industry.
ClearSpan supplies both temporary and permanent structures, and its buildings can be easily and rapidly installed, quickly uninstalled and re-erected in a matter of days – all while maintaining the original strength and durability.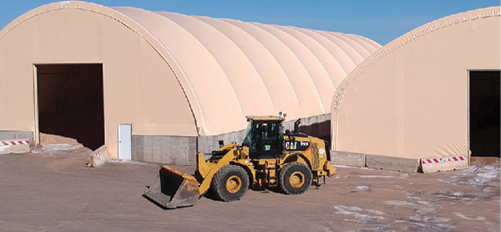 The Clearspan mining buildings advantage includes:
A building of 1,000 uses – Storage, warehouse and more.
Natural ventilation – Clean, fresh air year-round.
Natural lighting – Soft on the eyes, lowers operating costs.
Fast construction timelines – Get buildings up sooner.
Low cost per square foot.
Triple-galvanized steel – Durable, corrosion-resistant frame.
Rip-stop fabric covers.
Industry-leading warranties – 50 years on the frame, 20 years on the cover.
Climate sensitive covers – Warmer in the winter, cooler in the summer.
Multiple foundation solutions – Build just about anywhere, limited excavation.
Permanent or temporary designs.
ClearSpan's unique and distinguished line of mining solutions is made from the finest, highest-quality materials, ensuring that the mining industry gets a building that is durable and dependable.
ClearSpan supplies the perfect building solution by creating a one-stop shopping experience with everything needed to maintain a fully functional building used for mining and exploration. With multiple designs, including fabric, metal and hybrid buildings, there is a structure for any mining application, and they can be tailored to even the most specific needs.
ClearSpan provides economical foundation options, quick construction timelines, as well as turnkey, stock and design-build solutions, creating budget-friendly structures in a fraction of the time it takes to build traditional wood or red iron buildings.
Frames are built with U.S.-made, triple-galvanized structural steel that is corrosion resistant and features an industry leading 50-year warranty. Building solutions are available up to 300-ft. wide and at any length, ensuring that no matter the application, there is plenty of available space.
ClearSpan mining buildings can be engineered to meet any municipal and regional building requirements, and these structures can withstand balanced and unbalanced snow loads, as well as a minimum of 90 mph winds.
Numerous cover options, including fabric or metal, create an ideal environment. ClearSpan fabric covers feature a 20-year warranty and provide the ability to eliminate the need for artificial daytime lighting by allowing the sun's light to shine through, creating a bright, well-lit atmosphere that lacks shadows.
The fabric covers are climate sensitive and actually keep it cooler in the summer and warmer in the winter. Besides providing an energy-efficient, money-saving option, ClearSpan's fabric covers are also 100% recyclable, ensuring environmentally friendly building solutions that anybody can appreciate.
As an example, APAC-Missouri Inc. is an asphalt, construction and aggregate company with locations throughout Missouri. Owned by parent company, Oldcastle Materials, APAC encompasses operations ranging from concrete and asphalt paving to aggregate production.
One of APAC's functions is recycling used roofing shingles into asphalt material for use on highways and roads. The asphalt shingles are highly porous, and easily absorb moisture and radiant heat from the sun. Since APAC lacked storage space for the asphalt material, it was stockpiled outdoors, in full contact with the Missouri elements.
"We just had to pile them outside, and they were collecting a lot of moisture," APAC Asphalt Plant Superintendent Robbie Freels said. Before the shingles could be recycled into usable asphalt material, complete removal of all moisture was required. This increased fuel and handling costs and also added unnecessary time constraints to the process.
The company purchased three 65-ft. wide by 60-ft. long Hercules Truss Arch Buildings for locations in Marshall, Columbia and Linn Creek, Mo. All of the structures are currently being used to store the asphalt material out of the weather.
ClearSpan, www.clearspan.com