I was in New York City during the first week of January, and the streets of Midtown Manhattan remain eerily quiet. But what was most telling was the view from my hotel room.
I could enjoy the still-standing Christmas tree at Rockefeller Center, and the dusting of snow that covered the roof of St. Patrick's Cathedral, a sight to see. But to the west, I peered straight across the side street into a completely vacant warren of cubicles from some large enterprise, and in the five days I was there, I never saw a single person occupy any of the floor space.
While in town, we took the daughter of a friend out to dinner. She had just finished college and is working for a major bank that occupies an entire building in Midtown, and reported that less than 5% of her building's employees/occupants are back at work, rendering the building essentially vacant.
Commercial Questions. The commercial office space industry in America has historically been a critical driver of construction activity, and in past years, burgeoning downtowns in fast-growing markets like Austin, Los Angeles and the Bay Area in California drove the construction of new office towers designed by celebrity architects. They were often status symbols where large companies would locate to add prestige to their brand, in turn attracting smaller tenants who wanted to rub elbows with big-name occupants.
Along the way, low-rise office parks in suburban markets like the Silicon Valley and the famous Route 128 corridor in Massachusetts were also developed and housed even more in the way of prestigious Fortune 1000 companies.
This segment of the overall construction industry, and its corresponding pull-though of aggregates, is now at serious risk, and its future may be stalled interminably. Companies across the United States said they were returning to the workplace back in September, only to put off those plans when the spread of the Delta variant accelerated.
Many of those same firms were poised to dust off their office desks in January. Now major banks, technology companies and other firms have scrapped those plans thanks to the Omicron variant, and a sense that COVID-19 is going to linger longer than most first imagined.
Postponements. The postponements have unnerved office landlords and small businesses that are being stretched thin by a dearth of demand in office districts. In a survey of 10 major cities conducted in early January by a company that monitors access-card swipes, an average of only 28% of the workforce had returned to the office after the holiday season.
These stubborn occupancy trends have persuaded many business leaders to avoid specific return dates. Instead, they are adopting more nuanced workplace strategies that recognize that COVID-19 will be around for the indefinite future.
Those plans, which are still being crafted at many companies, will mean adjusting the use of conventional office space depending on need and health conditions.
Return Uncertain. For example, rather than devising an officewide return date, many companies are actively working on systems that would vary the number of employees in offices depending on the COVID-19 infection rate for the indefinite future.
Some are also working on strategies that would base office returns on the needs of specific groups. Under this system, managers would ask employees who are working on a sales or marketing presentation to gather in offices to collaborate, and then return to mostly working at home when they finished.
The decision by companies to give up on the idea of companywide return dates amounts to more bad news for office landlords, because the change will likely prolong the length of time that people work from home.
Fortunately, the shifting sands of commercial construction has turned to Amazon-type mega-distribution centers that are supplanting office construction demand. For now, we expect new office construction to be stalled for the foreseeable future, so construction aggregates producers need to turn their eyes to other areas of consumption in the commercial sector of our construction economy.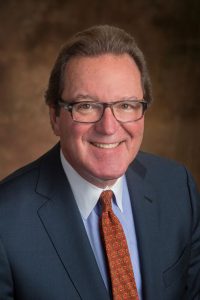 Pierre G. Villere serves as president and senior managing partner of Allen-Villere Partners, an investment banking firm with a national practice in the construction materials industry that specializes in mergers and acquisitions. He has a career spanning almost five decades, and volunteers his time to educate the industry as a regular columnist in publications and through presentations at numerous industry events. Contact Pierre via email at [email protected] Follow him on Twitter @allenvillere.