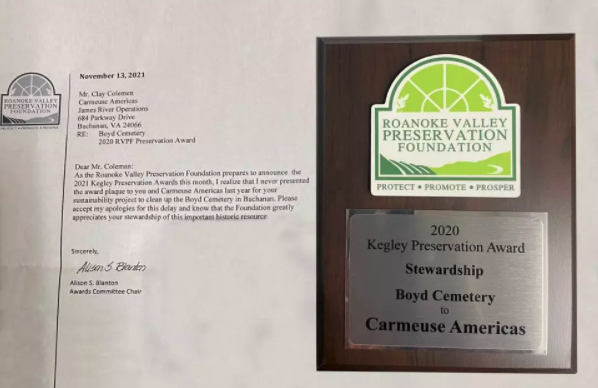 Taking on responsibility for a historic graveyard is not something done lightly. But for the Carmeuse James River Operation in Buchanan, Va., it's both an honor and a point of pride.
The plant first stepped up to rescue the neighboring Boyd Family Cemetery back in 2020, after Site Operations Manager Clay Coleman read about it in the local newspaper, The Fincastle Herald.

At the time, no one was sure who owned the plot, which had become overgrown and barely visible from years of neglect. After some investigation by Coleman failed to turn up the owner, Carmeuse took on the role of caretaker and set out to clean up the 200-year-old burial ground.
A 10-man crew of volunteers from the James River quarry took six months to cut weeds and brush, uncovering tombstones dating back to the founding days of Buchanan.
The team also laid a new gravel path and repaired the sign at the front of the plot. The work went on to be featured in the local newspaper and on local TV, and received a stewardship award from the Roanoke Valley Preservation Foundation.
Fast-forward to 2022 and the plant is keeping up the good work.
"We continue to maintain the cemetery," said Coleman, a 40-year veteran of the quarry. "We mow it about once a month in summer and clear any trees that fall in winter. We're proud to look after this important piece of local history and will make sure it doesn't get so rundown again."