By Mark S. Kuhar
As vehicle travel returns to pre-pandemic levels and federal transportation funding from the Infrastructure Investment and Jobs Act (IIJA) begins to reach states, it will be critical that states make additional investments to improve the efficiency and condition of the nation's freight network to minimize supply chain disruptions, according to a new report released by TRIP, a Washington, D.C.-based national transportation research nonprofit.
The TRIP report, "The U.S. Freight Network's Critical Role in the Supply Chain," examines the latest information on the condition and reliability of the nation's supply chain and the critical role of the U.S. freight transportation network in keeping the U.S. economy moving. The report finds that, while U.S. vehicle miles of travel (VMT) bottomed out in April 2020 at a level 40% below that in April 2019, by September 2021, U.S. VMT had rebounded to 1.8% below September 2019 levels. Vehicle travel in the 13 states listed in the chart below has now surpassed pre-pandemic rates.
While national vehicle miles of travel dropped by as much as 40% during the pandemic, freight movement fell by just 10% by April 2020, demonstrating the resilience of the supply chain and the nation's reliance on freight movement. National freight movement – including for-hire trucking, freight railroad services, inland waterway traffic, pipeline movements and air freight – peaked in August 2019, bottomed out to its lowest level in April 2020, and by September 2021 had rebounded to within 2% of September 2019, the most recent pre-pandemic September.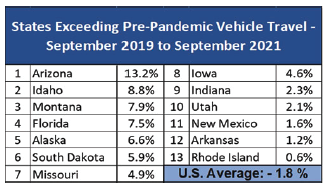 Congestion and decreased or unpredictable reliability on the nation's freight transportation network can impact delivery times and hinder the delivery of goods, supplies and raw materials, disrupting manufacturing supply chains and prolonging the time it takes for customers to receive their orders. Traffic congestion can increase the cost of goods and services as a result of increased delays.
The Texas Transportation Institute, in its 2021 Urban Mobility Report, found that increasing traffic congestion resulted in a 77% increase in traffic delays for commercial trucks from 2000 to 2019, increasing from 219 million hours to 387 million hours.
The American Transportation Research Institute (ATRI) prepares an annual list of the nation's top 100 truck bottlenecks, based on the analysis of a massive database of truck GPS data, to quantify the impact of traffic congestion on truck-borne freight. The chart below shows the top 20 truck bottlenecks.
Reliability in the ability to predict freight travel times is of critical importance, particularly to industries that rely on "just in time" manufacturing to have the right material, at the right time, at the right place, and in the exact amount needed. Late deliveries can have costly ripple effects and can cause costly disruptions in the production process.