The year 2021 was truly a momentous one. The passage of the Infrastructure Investment and Jobs Act (IIJA) was a long-time coming, but it means we are going to see long-overdue improvements to the nation's roads and bridges, and that is going to require a lot of aggregate.
As we enter 2022, producers do so with high anticipation. However, the downstream benefits of the new legislation will not be evident right away.
The Federal Highway Administration noted in a statement on Dec. 15 that it plans to provide $52.5 billion in apportioned funding for fiscal year 2022 to all 50 states and the District of Columbia. However, states will be unable to receive a significant portion of that funding due to the continuing resolution (CR) passed by Congress on Dec. 3 that maintains fiscal year 2021 federal government funding levels through Feb. 18.
The CR, with its flat "obligation limitation," means state departments of transportation cannot access the higher amounts of formula funding provided by the Highway Trust Fund via the IIJA yet – funds that are about 20% higher for FY 2022 compared to the final year of the Fixing America's Surface Transportation or FAST Act.
That's just the first roadblock. Add into that the labor and supply chain issues that have clogged the U.S. economy all through 2021. Add into that a Congress that seems to be more interested in political brinksmanship than progress. Add into that certain media networks working to create the impression that federal investment dollars are socialism, which clearly is not the case.
According to Kate Fox Wood, senior director, government relations for the Association of Equipment Manufacturers, "The work is just starting and there's a lot that needs to be done … I'm energized by the fact that this is the end of the beginning, basically."
I like her phrase, "This is the end of the beginning." The groundwork has been laid for a thriving construction economy for the next five years, and for the billions of tons of aggregates that will be needed going forward. So, full speed ahead.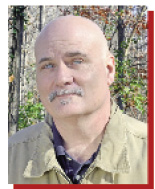 Mark S. Kuhar, editor
[email protected]
(330) 722‐4081
Twitter: @editormarkkuhar