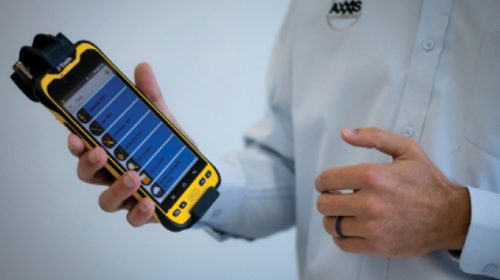 For blasting markets that place great value on a robust, safe and easy-to-use electronic detonation solution, mines and quarries in the Americas can consider BME's latest-generation system – AXXIS Titanium.
"As the most advanced version of BME's proven AXXIS digital initiation system, AXXIS Titanium breaks new ground for blast efficiency and mine productivity," said Aaron Austin, general manager Americas at BME. "The updated electronics, with extended timing and blast size options, also contribute to putting this version ahead of our global competitors in the wired electronic detonator market."
Part of the JSE-listed Omnia Group, BME has been an innovator in the blasting sector for over three decades and is today a leading blasting and explosives player. The AXXIS digital initiation system has received wide acclaim from customers across the globe, regularly breaking records for the highest number of detonators in a single blast.
With the release of AXXIS Titanium, BME is targeting predominantly larger mines in key regions. While the focus in other regions across the Americas will initially be quarries and distributors – for whom the more relevant product is likely to be AXXIS Silver, a leaner version of AXXIS Titanium.
Austin said AXXIS Titanium as a significant advance for the company's ever-evolving technology offering, securing BME's position among the global leaders in electronic delay detonator (EDD) design.
"Our release of AXXIS Titanium raises the bar globally for the electronic detonator market," said Austin. "This flagship product reflects our continued focus on digital advancement on mines, and is designed to seamlessly integrate with BME's software systems and hand-held digital tools."
AXXIS Titanium improves safety levels and manufacturing quality through enhanced communication with the detonator during manufacturing to avoid defects. Performance is raised through the increased blast duration per detonator, more units per blasting box and precise firing accuracy.
Further improving flexibility and accuracy of firing times, AXXIS Titanium allows mines to program blasts of up to 35 seconds long for larger and more complex blasts. It can also now initiate 1,000 detonators per blasting box, while 20 blasting boxes can be linked and synchronized. As a result, blast sizes of up to 20,000 electronic detonators at a time are also possible.
The system employs a dual basis of safety – with a dual voltage and dual capacitor configuration that further reduces the possibility of uncommanded firings, said Austin. BME detonators now contain a Swiss-designed application-specific integrated circuit (ASIC) chip, giving the system more internal safety gates against stray current and lightning. The ASIC chip enhances safety levels and allows for inherently safe logging and testing. Blasts are initiated by a robust, encrypted blast command ensuring that detonators all receive their respective commands and fire as planned.
"The local blasting market has always prioritized the importance of a robust downline wire, and both AXXIS Titanium and AXXIS Silver feature BME's strong and cut-resistant wire," Austin said. "This allows it to withstand demanding applications such as sharp or gravel-type stemming – and also stand up well to electromagnetic pulses (EMPs) caused by the blast's dynamic shock."
quarrying,Another priority for mining and quarrying customers, he noted, is fast turnaround times on pit closures to accommodate blasting. It is vital for these closures to be as brief as possible, so blasts must be undertaken efficiently and on schedule. 
"Due to our upgraded electronics, high chip speed and dual basis of safety, blasters can have confidence that all issues have been detected and resolved before they leave the pattern," he said. "By the time they get to the firing point – which is the sensitive time for any mining or quarrying operation – they can quickly and confidently program and check the detonators in parallel, and go ahead with the blast initiation in just a couple of minutes."
BME, www.bme.co.za