President Joe Biden nominated Christopher J. Williamson to serve as Assistant Secretary for Mine Safety and Health (MSHA) at the Department of Labor.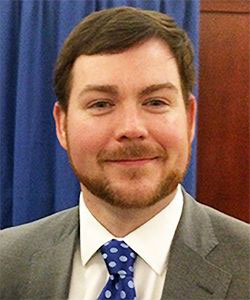 A proud Appalachian and native of the coalfields of southern West Virginia, Williamson currently serves as senior counsel to Chairman Lauren McFerran of the National Labor Relations Board (NLRB). Prior to joining the NLRB, he served in the Obama-Biden administration at the U.S. Department of Labor as a member of the senior leadership team at MSHA.
In that role, he advised the Assistant Secretary for MSHA on all aspects of agency policy, operations, and communications. Before his service at MSHA, Williamson worked in the United States Senate as labor counsel to former Chairman Tom Harkin on the Health, Education, Labor and Pensions Committee and as a legislative assistant to Sen. Joe Manchin (D-W.Va.)
As labor counsel, he advised Chairman Harkin and committee members on labor, occupational and mine safety and health, black lung benefits and other workers' compensation issues. Serving on Sen. Manchin's legislative team, Williamson was the senator's primary policy advisor on labor, mine safety and health, pensions, and agriculture issues and also advised him on energy and environmental policy, including Sen. Manchin's work on the Senate Energy and Natural Resources Committee.
Williamson began his career in public service as an attorney-advisor to Administrative Law Judge Jacqueline R. Bulluck at the Federal Mine Safety and Health Review Commission. He earned a Juris Doctor from the West Virginia University College of Law, a Master of Public Policy from American University, and a Bachelor of Arts in Political Science and Economics from West Virginia University. Williamson is originally from Dingess in Mingo County, W.Va., and currently resides with his wife and children in Crofton, Md.
"Mr. Williamson has a fine Washington resume. He's well educated. He's young, but he has almost 15 years of government service," said Brian Hendrix, Husch Blackwell, Rock Products'  Law columnist. "It's safe to assume he understands both mine safety and health law and labor law. He should know how the Hill works, given his positions with Sen. Harkin and Sen. Manchin. From his time at the Commission, at MSHA and at the NLRB, I'm sure he learned a good bit about how those administrative agencies function. That said, a Washington resume is not a mining resume.
"How does Williamson intend to advance mine safety and health? Will Williamson be good for MSHA? Does he have a vision for the agency? What are his priorities? His resume doesn't answer those questions," Hendrix concluded.