The Infrastructure Investment and Jobs Act (IIJA), passed Nov. 5, is the most important piece of transportation legislation since the Federal Aid Highway Act of 1956. Here are some key highlights about what is included in the legislation and how funding will flow to each state, courtesy of Michele Stanley, the National Stone, Sand & Gravel Association's (NSSGA) vice president of government and regulatory affairs.
"At the core of the legislation is a five-year, $304 billion reauthorization of our surface transportation programs," Stanley said. "Next, the bill includes an additional $550 billion in new funding that is disbursed for building hard infrastructure. Remember, this new funding is paid for by revenue offsets, like reutilizing Unemployment Insurance funds."
How the $550 billion in new funding is distributed to each sector:
Roads & Bridges: $110 billion.
Transit: $39 billion.
Freight and Passenger Rail: $66 billion.
Safety: $11 billion.
Airports: $25 billion.
Ports & Waterways: $17 billion.
Electric vehicle chargers: $7.5 billion.
Electric buses: $7.5 billion.
Reconnecting Communities: $1 billion.
Water: $55 billion.
Broadband: $65 billion.
Energy & Power: $73 billion.
Environmental remediation: $21 billion.
Western water infrastructure: $8.3 billion.
Resiliency: $46 billion.

"When combining the new funding with the reauthorization of our surface transportation and other programs, IIJA will direct $284 billion in new funding (above baseline spending) toward all modes of transportation and $266 billion for other infrastructure sectors," Stanley said. "The vast majority of this funding, including the surface programs, will be spent over five years. Here is a breakdown of total spending on each sector under the IIJA, courtesy of the American Road & Transportation Builders Association: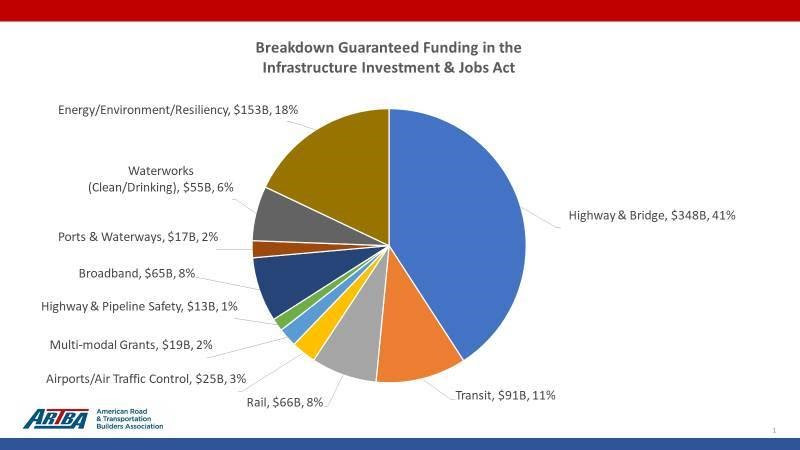 "The majority of the investments under IIJA – nearly 52% – will go toward modernizing and making improvements to transportation infrastructure, with the majority of funding reserved for highways, roads and bridges," Stanley said.
Here is a quick snapshot of how Highway Trust Fund (HTF) spending increases under IIJA, courtesy of the American Association of State Highway and Transportation Officials: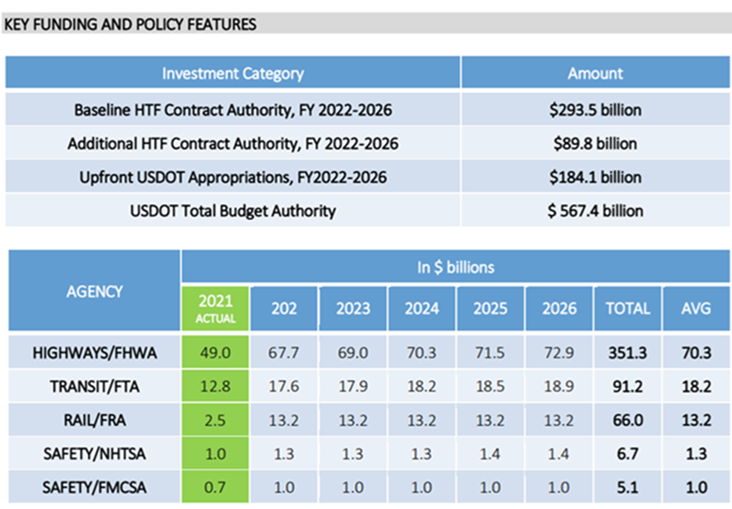 State Funding Resources
Each state will see a dramatic, almost 30%, increase in funding for their transportation programs. Here are some key resources that detail how much each state will receive in new funding:
Topline increase in highway contract authority for each state.
State-by-state benefits of IIJA funding per ARTBA.
Funding details and state-by-state funding per AASHTO.
* These are preliminary funding numbers and subject to change as the Federal Highway Administration implements IIJA.
Aggregates Industry Wins
"NSSGA has been working for years to shape this critical infrastructure bill and we fought hard to ensure the legislation contained key policy wins that are important to you and the industry," Stanley said. "If not for the work of NSSGA' s advocacy team and your grassroots communications, these policy wins would never have come to be:
Strategic exemptions to a broad expansion of Buy America for aggregates; stone sand and gravel; cement and cementitious materials; asphalt binder and related inputs. If this exemption was not included, there would be new burdensome regulations imposed on all federal projects that would have impacted our industry.
Incorporation of the ROCKS Act legislation. NSSGA has been advocating for over two years for this legislation, which will establish a working group at the DOT to study and enact polices that seek to improve local access to aggregates resources. NSSGA will now work on implementing the ROCKS Act, as it will be signed into law.
Inclusion of the One Federal Decision, which would enhance permit streamlining and eliminate duplicative permitting applications and review, without sacrificing environmental protection and diligent review. These policies will help leverage federal dollars and maximize the historic funding levels authorized in this bill.
Includes NSSGA support legislation, the REGROW Act which provides targeted funding to mitigate almost 56,000 orphaned wells across the nation that will improve the environment."
Misinformation
"We know political pundits and far-right organizations have been spreading misinformation about the legislation and claiming that it is not a true infrastructure bill," Stanley said. "This is false."
More than $350 billion of funding is dedicated to roads and bridges and the vast majority of funding goes to building hard infrastructure. This is not the Green New Deal.
The IIJA is fully paid for in a variety of ways, none of which include raising corporate, individual or capital gains tax rates.
As mentioned before, IIJA is widely support by American voters and majorities in both political parties.
Independent studies have shown that the long-term spending for improving capital assets in the IIJA will drive economic efficiency and productivity, increase GDP, generate additional revenue and will not increase inflation.
Support Those Who Supported Us
"There were 13 Republicans who stood up and joined with the majority of Democrats in Congress to get the infrastructure bill passed. Honestly, this bill would have failed without their vote, as a number of progressive Democrats objected," Stanley said. "Now, these Republicans are being attacked by many in their own party. NSSGA is already coordinating with industry partners to stand up for these lawmakers and show our support. Below is the list of the 13 Republicans and we urge you to say thank you and keep supporting them with political giving, social media posts, industry events and other outreach. You will be hearing more from NSSGA in the coming weeks as we work to support them."
Rep. Don Bacon of Nebraska.
Rep. Brian Fitzpatrick of Pennsylvania.
Rep. Andrew Garbarino of New York.
Rep. Anthony Gonzalez of Ohio – retiring.
Rep. John Katko of New York.
Rep. Adam Kinzinger of Illinois – retiring.
Rep. Nicole Malliotakis of New York.
Rep. David McKinley of West Virginia.
Rep. Tom Reed of New York – retiring.
Rep. Chris Smith of New Jersey.
Rep. Fred Upton of Michigan.
Rep. Jeff Van Drew of New Jersey.
Rep. Don Young of Alaska.