C.F. Poeppelman Moves Its Operation Down Into The Quarry To Increase Production And Efficiency.
By Mark S. Kuhar
C.F. Poeppelman Inc. has been providing Midwestern Ohio with aggregates products since 1979. Based in Bradford, Ohio, the company has facilities that are centrally located near the border of two states and between four county seats.
C.F. Poeppelman has a limestone quarry located just 12 miles east of Greenville, Ohio, producing more than 500,000 tons annually. The company also has three 120 yd./hr. concrete plants surrounding the Greenville area. Its concrete division is known area wide as PEPCON.
Available products include crushed limestone aggregate, crushed natural aggregate, limestone and natural sand, mason sand, agricultural lime, ready mix concrete, concrete coloring, rebar, expansion joint material, wire and fiber mesh, form oil, and concrete curing and sealing compounds.
According to Matt Poeppelman, vice president of C.F. Poeppelman Inc., part of the third generation of his family to work at the quarry (and part of the fifth generation of his family to work in the mining industry), the quarry had reached the point where it needed to be upgraded.
When he and his brother took over management of the operation, it was obvious a new approach was needed. So he and his brother, with advice from the sales and engineering teams at Process Machinery Inc., began to look at the best way to accomplish just that.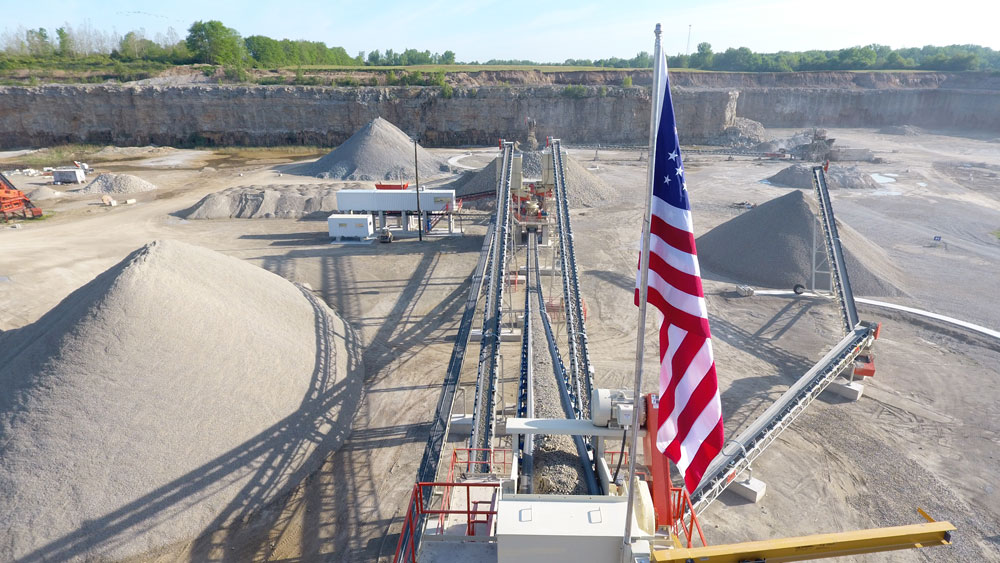 From Old to New
"The old plant relied heavily on haul trucks to cycle from quarry face to crusher, and from crusher to stockpile," Poeppelman said. "We wanted to get away from haul trucks."
The previous incarnation of the quarry was designed so the production facilities were up top. This entailed a long haul cycle, and the expense and maintenance of haul trucks became a burden. A plan was devised to move production down into the quarry.
With existing experience in construction, engineering and ready mix, the company did its own site prep and surveying, pouring the concrete foundations with in-house labor.
"We did things in two phases to spread out the capital spend," Poeppelman said. "The first stage was completed in in 2018. Phase two started in May 2020, again with Process Machinery working with us hand in hand."
The plant was completed and commissioned in late April 2021.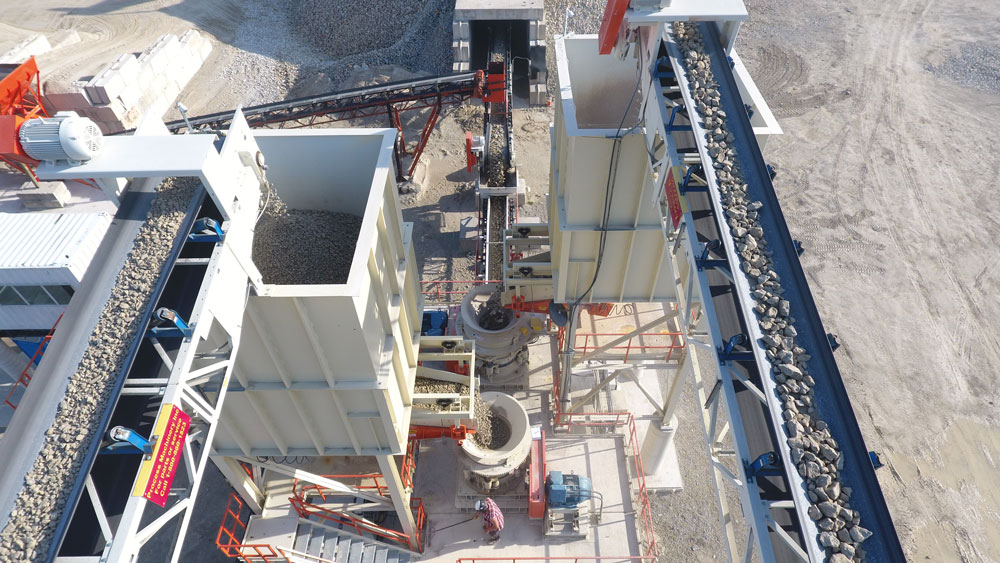 Equipment Check
In addition to moving the plant down into the quarry to replace the long haul-truck cycle, The company transitioned away from using an impactor, which produced lots of fines. "That was a benefit back when we had an asphalt plant," Poeppelman said. "But fines accumulated after the asphalt plant was decommissioned."
The new plant features a Lippman primary jaw crusher – incorporating an old Teledyne (pre-BTI) secondary breaker – and two Metso cones. "The new crusher set-up yields much more cubical shaped material," Poeppelman said. "Fines have been drastically reduced. We are net down on sand."
We set this up so that the primary crusher is portable," Poepelman said. "There are no plans to move it right now, but we do have that option in order to minimize the load-and-carry distance."
The entire operation runs with two people. One worker pulls duty in a Cat 988 loader at the quarry face – which is currently about 250 ft. from the plant – and one worker mans the control room. The use of PLCs allows the plant to be totally operated in front of a computer. Automation is all Allen Bradley equipment, with custom logic so everything also can be controlled on the go by iPad if so desired."
The old plant maxed out at 350 tph. The new plant can run 750 tph.
"We are very pleased with how it turned out," Poeppelman said. "And we appreciate the way Process Machinery worked with us to see this project through to completion."
Future plans for the site could include additional property acquisition to expand out reserves for the future. With a little luck, the site has the potential to go on for several more generations.