A Crew Of Technicians And Engineers Undertook An Effort To Optimize Aggregate Production At The Howe Ross Pit.
By Andrew Renia and Andrew Snoby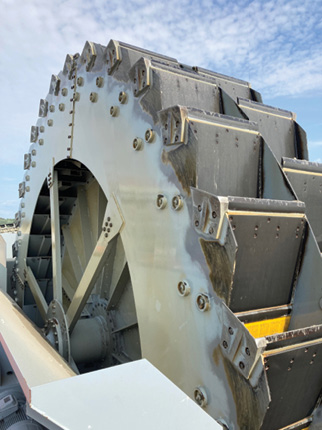 The Tomlinson Group of Companies is Eastern Canada's leader in environmental, construction and transportation infrastructure services. The third-generation family-owned business is headquartered in Ottawa, Ontario.
Through six decades of growth and innovation, Tomlinson has become a fully integrated corporation providing a large array of turnkey services to its municipal, provincial, residential and industrial customers.
Tomlinson boasts a staff of more than 2,000 skilled professionals and tradespeople. Tomlinson's size and streamlined, consolidated structure allows the company to retain specialized technical expertise and centralized administrative resources to implement functional quality, safety, and environmental management systems.
Its group of companies offers:
Road building, structures and site development.
Sewer and watermain.
Piling and shoring.
Demolition and remediation services.
Concrete supply.
Specialty sand products, aggregates and asphalt supply.
Environmental services.
Biosolids and organics management.
Datashred security.
Specialized parts manufacturing and machining.
Tomlinson's high standards have helped the company raise the bar for quality, professionalism, and customer satisfaction. Tomlinson developed a governing set of corporate Core Values that promote quality, safety and service both internally and externally.
By conducting its business in line with this set of Core Values, Tomlinson is able to consistently provide its customers with high quality materials and services that satisfy the most stringent municipal, provincial and national standards.
Howe Ross Pit
One of Tomlinson's major aggregate operations is the Howe Ross Pit, located near Ottawa. A few years ago, recovery of the aggregate was achieved with a 16-in. suction dredge supplied by DSC Dredge out of Reserve, La.
At the time dredge conditions were difficult, and the dredge operator was inexperienced. Production was in the range of 400 mtph to 500 mtph from a slurry of roughly 10,000 gpm. During this time dredged product was discharged into a secondary pond where the solids were excavated and loaded onto trucks for transport to a stockpile. At the stockpile, wheel loaders transferred the aggregate to feed hoppers, which metered the material into a washing and sizing plant.
A crew of technicians and engineers undertook an effort to optimize aggregate production at the Howe Ross Pit. Several alternative concepts, including bucket wheels, were evaluated. DSC engineers were also engaged to optimize dredge parameters and positioning.
Stichweh was also invited to offer suggestions on bucket wheel sizing. In the early stages, there wasn't really a budget for the project, but if there had been, Stichweh would have exceeded it.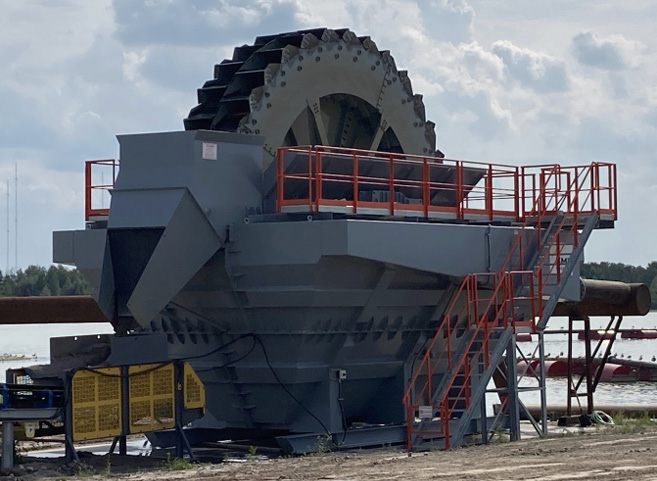 Here Comes the Bucket Wheel
Stichweh's recommendation was for an 8-meter diameter bucket wheel, which is the largest in the world. There is always concern to purchase the first, or the largest anything.
Several Stichweh customers were contacted; none recalled any recent spare parts purchases; some customers had to be reminded they owned a Stichweh bucket wheel. On average Stichweh bucket wheel owners were buying spare parts on roughly 10-year intervals.
Annual maintenance involved changing oil in the gear box. Early on, it became clear that the installed horsepower was very low, and the wheel speed would adjust automatically to maximize the dewatering time.
The simplified circuit, which would be a dredge, bucket wheel, conveyor and plant feed hoper, combined with the other advantages, overcame the "buying the largest" concern.
A year into the new operations of the Howe Ross Pit, production has achieved up to 1,000 mtph thanks to the teamwork by Tomlinson, DSC and Stichweh technicians and engineers.
Not only is the transfer of aggregate from the dredge to the plant simpler and lower cost, but the aggregate is drier and easier to handle. And the installed horsepower for the bucket wheel is only 50 hp.
It was a radical change that resulted in a radical benefit. How much lower is the cost with the new system you ask? Let's just say top management at Tomlinson was so happy, they sent everyone in the aggregate department to Hawaii for six months on a company-paid holiday.

Andrew Renia is aggregates operations manager at Tomlinson Group of Companies. Andrew Snoby is vice president of operations for Snoby Separation Systems LLC.