In This Quarterly Report, Provided Exclusively to Rock Products, Capstone Partners Offers Insight Into Merger and Acquisition Activity, Capital Markets Trends, Aggregate Production and Pricing.
By Darin Good, Brian Krehbiel and Crista Gilmore
The aggregates industry has benefited from healthy production and pricing, despite labor shortages and select cost headwinds challenging industry players. Merger and acquisition (M&A) activity continues to surge with strategic buyers actively consolidating to bolster capabilities and enhance geographic exposure. Several key report takeaways are included below:
Leading public companies have demonstrated healthy performance through year-to-date (YTD), capturing strong revenue growth amid elevated demand.
M&A activity has outpaced the prior year with strategic buyers actively expanding and sellers capitalizing on favorable valuations.
Average M&A purchase multiples have increased year-over-year (YOY) reflecting the intense level of competition in deal processes for high quality companies.
Pricing and volume across aggregates materials have improved, with several materials experiencing drastic production increases from the prior quarter.
Introduction
In this quarterly report, Capstone Partners provides insight into mergers and acquisitions, capital markets trends, aggregates production, and pricing data through YTD 2021.
Public Company Commentary
EBITDA trading multiples in the aggregates industry have improved YOY, resulting in an average of 9.9x, a healthy increase from 8.6x in the prior year.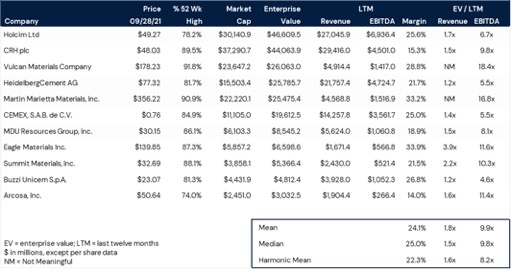 Source: Capital IQ as of September 28, 2021
Aggregate Materials Index Keeps Pace With Broader Market
Aggregate Materials Index: +32.1%.
S&P 500: +32.6%.
Dow Jones Industrial Average: +26.4%.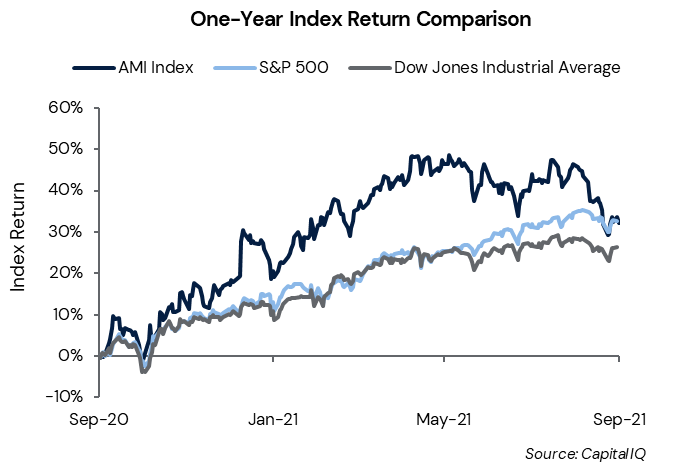 Capstone's Aggregate Materials Index (AMI) value has nearly mirrored the past one-year performance of the S&P 500, at +32.1%. Accommodative monetary policy, healthy downstream construction markets, and the prospect of a sizeable federal infrastructure bill have provided a significant tailwind to publicly traded aggregates materials players.
Strong Construction Spending to Drive Aggregates Demand
Robust activity in the aggregates industry has been fueled by strengthening state and local budgets, healthy residential and nonresidential construction demand, and the prospect of a sizeable federal infrastructure bill. While heavily impacted at the onset of the pandemic, state funding and budget levels have begun to show signs of improvement as state and local construction spending increased modestly in July from the prior month growing 0.8%, after falling through much of 2021, according to the U.S Census Bureau.1
Continued strength in the Residential Construction market has driven substantial revenue growth for leading industry players supplying home building products. While housing starts have cooled slightly in recent months, total starts in August outpaced prior year levels by 17.4% (U.S. Census Bureau2), buoyed by low mortgage rates and accelerated deurbanization trends. Notably, Martin Marietta experienced record second quarter revenue of $1.3 billion with aggregates shipments to the residential market accounting for 25% of Q2 shipments, according to its earnings call.3
In addition, accelerated e-commerce adoption has driven increases in industrial warehouse and data center construction, which are typically aggregates intensive projects, with warehouse construction spending rising approximately 13.8% YOY in July.
The Senate-passed bipartisan infrastructure bill represents the first sizeable federal transportation funding in over 15 years, with a proposed $550 billion in new transportation and broader infrastructure spending over five years. The funding would significantly accelerate starts across public infrastructure segments, providing a substantial revenue opportunity to aggregates providers.
Despite favorable growth outlooks, rising diesel costs have pressured margins and labor shortages continue to adversely affect project staffing. Fortunately, the strong aggregates pricing environment has largely offset negative cost headwinds with pricing power expected to continue in the near term. In addition, industry players are expected to continue to utilize M&A to address headcount issues and bolster capacity to undertake large construction projects.
M&A Valuations Elevated Through Year-to-Date
M&A activity in the aggregates industry has surged through YTD 2021 with transaction volume rising by 33% YOY. The prospect of capital gains tax increases has driven many owners to expedite their exit timeline to maximize take home proceeds. However, underlying market fundamentals have also fueled a historic M&A environment as low-cost access to capital, elevated EBITDA purchase multiples, and strong cash flows among leading public companies have encouraged a wave of transaction activity.
Strategic buyers have comprised the majority of acquisitions (87%), attracted to target companies with strong geographic exposure, healthy end markets, and ability to drive synergies and margin improvement. Private equity buyers have demonstrated steady interest in the sector, comprising 13% of total transactions, pursuing target companies with strong management teams, recurring revenue, and healthy gross margins.
The M&A pricing environment has continued to favor sellers through YTD 2021, with the average EBITDA purchase multiple amounting to 11.4x, significantly improving from an average of 9.0x in 2020. Several recent transactions have pointed to a sustained high-valuation M&A market – most notably with Vulcan Material's watershed acquisition of U.S. Concrete for $2.1 billion. Its purchase multiple of 11.3x EBITDA represented a healthy premium to U.S. Concrete's public trading multiple of 9.5x prior to the announcement of the transaction. As high barriers to entry persist in the aggregates industry, upcoming and established industry players are expected to continue to seek attractive consolidation opportunities. Arcosa has demonstrated a willingness to pay premium multiples for scaled aggregates platforms as it seeks to bolster its competitive positioning in the industry, acquiring Southwest Rock Products and StonePoint Materials (March, 13.4x EBITDA).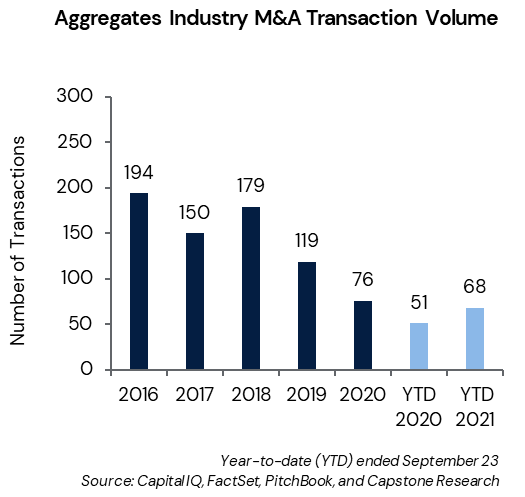 Private Equity Activity
GF Data Resources, a provider of detailed information on business transactions ranging in size from $10 million to $250 million, provides quarterly data from over 200 private equity firm contributors on the number of completed transactions. The following chart provides the number of completed transactions from GF Data contributors, the average total enterprise value (TEV)/EBITDA multiples, and the average amount of debt utilized in the transaction computed as a multiple of EBITDA. The data, although not industry specific, displayed an increase in the average EBITDA multiple to 7.2x in the second quarter, in line with pre-pandemic averages.

Public Companies Look to Bolster Market Share and Margins
Martin Marietta continues to engage in M&A, allocating significant capital to enhance its product portfolio. In addition, Arcosa has emerged as an active buyer in the sector, pursing accretive target companies and establishing itself as a top growing competitor in the space.
Transaction Overview
Leading aggregates and heavy building materials supplier Martin Marietta has acquired Southern Crushed Concrete (SCC) for an enterprise value of approximately $140 million (August). Texas-based SCC offers construction materials including bull rock, cement stabilized sand, concrete sand, and crushed concrete. It employs efficient methods to produce recycled concrete for construction projects throughout Southeast Texas, reducing construction and transportation costs. SCC's usage of construction waste at its recycling centers saves approximately 1.5 million cubic yards of landfill space annually, according to its website.4
M&A and Industry Takeaways
The transaction adds to an active year of acquisitions for Martin Marietta and follows its recent purchases of Lehigh Hanson's West Region Business for an enterprise value of $2.3 billion (May) and Tiller Corporation (May, undisclosed). It also underscores the emphasis leading public companies are placing on cost-effective methods of production to bolster margins and profitability amid a fluctuating pricing environment. Top industry players are poised to continue to explore accretive acquisitions to defend market share and improve their ability to undertake and staff large construction projects.
Transaction Overview
Arcosa has acquired premier natural aggregates provider Southwest Rock Products and affiliated entities for an enterprise value of $150 million, equivalent to 4.2x revenue and 10.7x EBITDA (August). Southwest Rock serves the greater Phoenix Metropolitan market with five active sand and gravel locations and one hard rock quarry. It produces approximately 5 million annual tons of construction aggregates, according to a press release.5
M&A and Industry Takeaways
The acquisition of Southwest Rock aligns with Arcosa's initiative to reduce cyclicality, enhance margins, and expand into new geographies. Since becoming an independent public company three years ago, Arcosa has pursued an aggressive inorganic growth strategy, investing approximately $1.3 billion in strategic construction material acquisitions, according to its earnings call.6 In addition, the Southwest Rock EBITDA purchase multiple of 10.7x, represents a premium compared to the average multiple Arcosa has paid for its four disclosed acquisitions from 2019 through 2021, which has amounted to 10.2x.
Select Transactions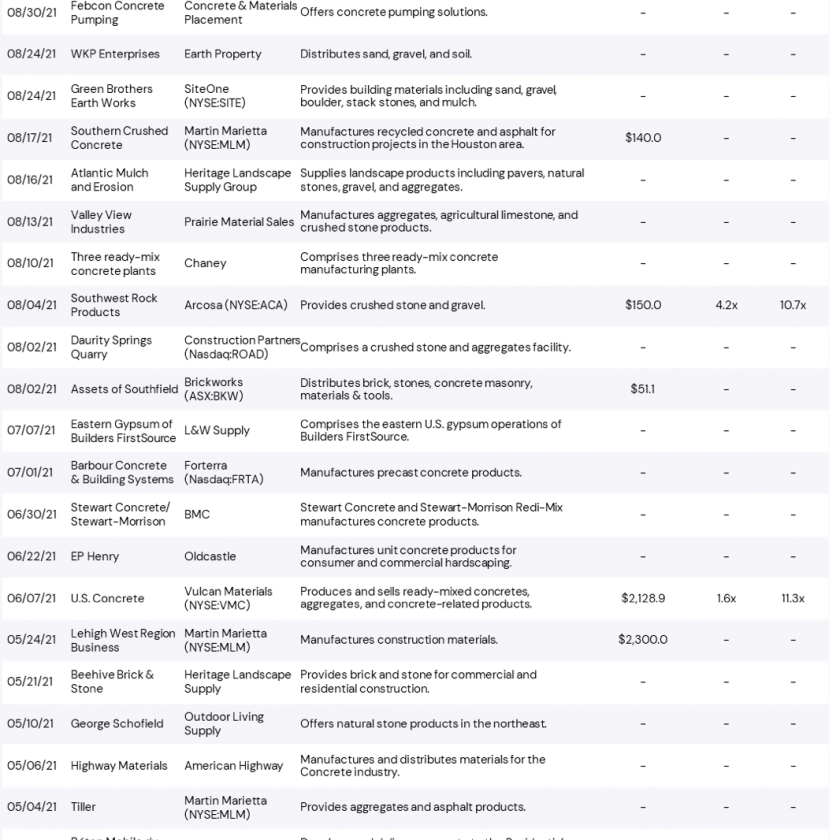 Company Spotlights

Ticker: NYSE:MDU
Headquarters: Bismarck, N.D.
Markets: Construction Materials
LTM Revenue: $5.6 Billion
Market Capitalization: $6.0 Billion
Company Description
MDU Resources experienced record second quarter earnings of $28.9 million in its Construction Services group, driven by robust demand for inside and outside specialty contracting, according to its earnings call.7 In addition, backlog levels in the segment have reached an all-time high, standing at $1.32 billion at the end of June. MDU's Construction Materials business reported a slight decline in earnings, falling to $51.4 million from $53.0 million, largely attributed to higher labor-related costs. However, materials continue to experience strong demand and healthy pricing as backlog in the Construction Materials business has improved to $912 million as of June 30, surpassing the prior year levels of $875 million.
"Demand for construction services remains high for both the inside and outside specialty contracting. Inside specialty contracting saw a strong demand for commercial industrial work, specifically in the manufacturing industry. And outside contracting workloads increased with high demand from the utility industry, " commented Jason L. Vollmer, MDU Resources Group vice president & chief financial officer, in the earnings call.
MDU Resources continues to explore acquisition opportunities to expand its existing footprint and bolster its market share. Notably, its subsidiary Knife River acquired Mt. Hood Rock Products (April, undisclosed), enhancing its aggregates presence in the Portland metropolitan area. MDU's future guidance points to an expected earnings per share in the range of $2.00 to $2.15 in 2021, with EBITDA between $875 million and $925 million, according to its earnings release.8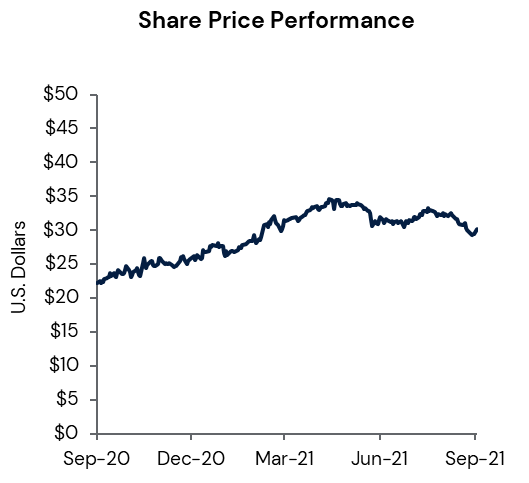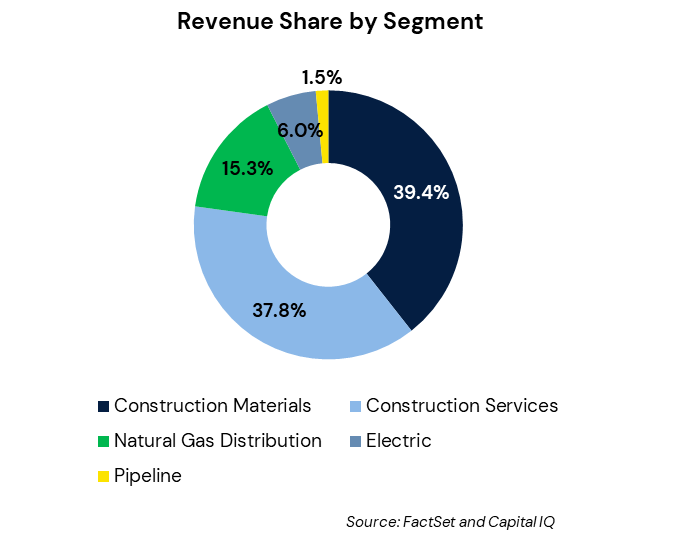 COMPANY SPOTLIGHTS (CONTINUED)

Ticker: NYSE:EXP
Headquarters: Dallas
Markets: Construction Materials
LTM Revenue: $1.7 Billion
Market Capitalization: $5.9 Billion
Company Description
Eagle Materials achieved record revenue of $476 million in fiscal Q1 2022 ending on June 30, marking an 11% increase from the prior year, according to its earnings release.9 Strong revenue has been fueled by healthy demand in residential construction markets and heightened levels of infrastructure spending. Eagle's Heavy Materials segment, inclusive of cement, concrete, and aggregates, reported a 3% revenue increase driven by increases in cement sales price. Revenue in Eagle's Light Materials segment surged 25% YOY, as higher wallboard sales volume and prices contributed to robust operating performance.
"Residential construction represents the most important single demand driver for us, driving around 80% of the demand for gypsum wallboard and about 30% of the demand for cement. The outlook for housing starts, especially single-family starts, which are particularly important for wallboard demand remains strong. As long as mortgage interest rates stay in the lower quartile by historic standards, this should be largely sustainable as we have been underbuilding against underlying demand in the U.S. for over a decade," commented Michael R. Haack, Eagle Materials president, chief executive officer & director, in an earnings call.10
Repair and remodeling projects have also represented a strong revenue opportunity for Eagle, as stimulus measures and home price appreciation have encouraged homeowners to increasingly undertake renovation projects. In addition, the Senate-passed $1 trillion infrastructure bill would provide a significant boost to Eagle's cement business which is largely driven by infrastructure projects.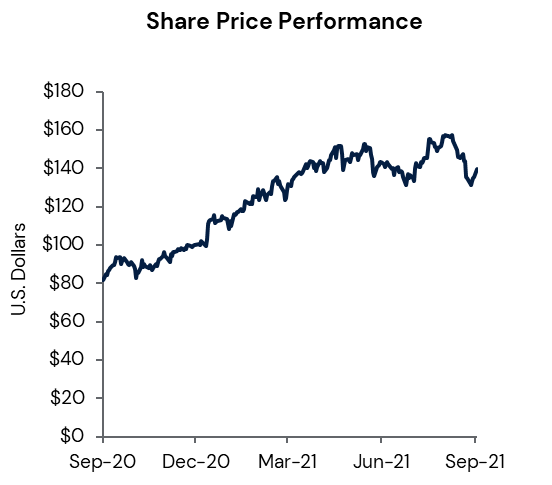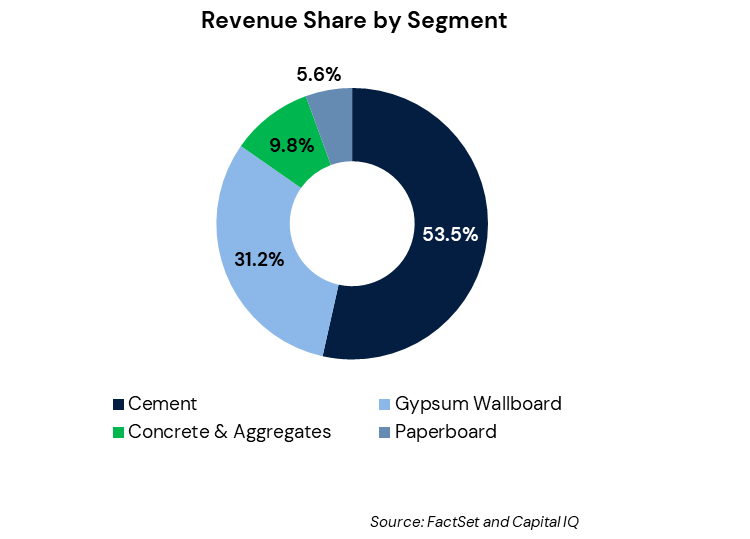 Construction Materials Update
Construction input prices fell 0.6% in August from the prior month, however prices remain 20.8% higher YOY, according to the Bureau of Labor Statistics.11 Natural gas has led YOY pricing increases, rising 132.2% followed by steel mill products which have grown 123.1%.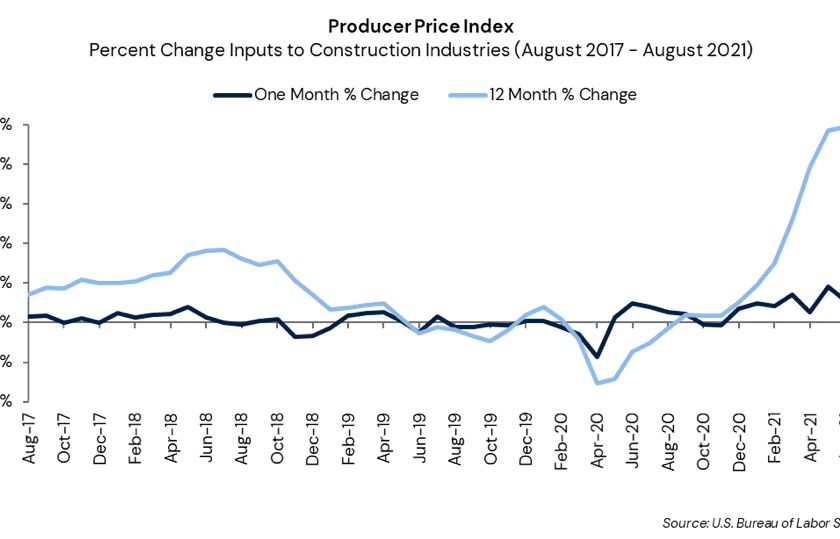 Aggregate Materials Update
Aggregates materials production has registered substantial increases compared to the prior year, which bodes well for downstream construction demand. Pricing also continues to show strength across all aggregate materials categories.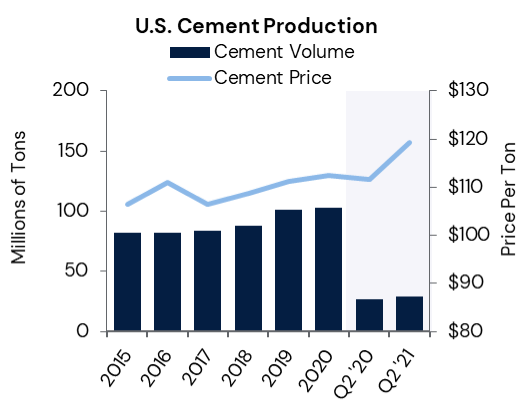 Cement
Portland cement consumption amounted to 29 million metric tons in Q2, marking a 7.8% increase YOY. Cement consumption has surged compared to Q1, rising 35.5%.
The average net selling price per ton for Martin Marietta and Eagle Materials cement in Q2 increased 6.7% YOY to $119.23.
Source: U.S. Geological Survey and Capstone Research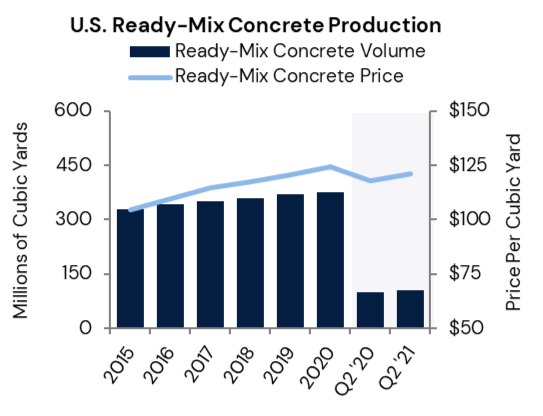 Ready-Mix Concrete
Ready-mix concrete (RMC) prices increased 2.6% YOY in Q2 to $121.02 per cubic yard. Price data is computed from the average RMC net selling prices of Vulcan Materials, Martin Marietta, and Eagle Materials.
RMC volume increased 7.7% YOY in Q2 to 106.3 million cubic yards. Notably, production volume grew substantially compared to the prior quarter, rising 35.2%.
Source: NRMCA Industry Data Survey, Average RMC selling price of U.S. Concrete (not included in Q2 2020 and Q2 2021 due to acquisition by Vulcan), Vulcan Materials, Martin Marietta Materials, Eagle Materials, and Capstone Research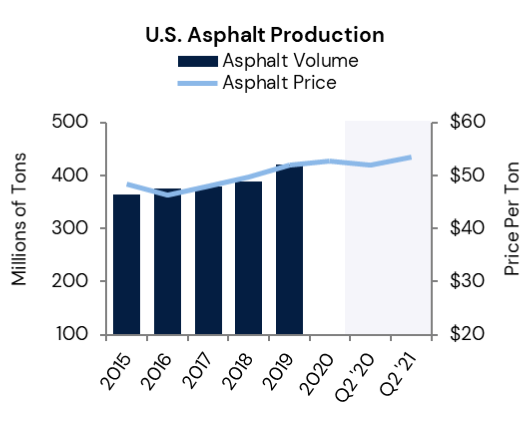 Asphalt
Asphalt prices increased 2.9% per ton YOY in Q2, as measured by the average net asphalt selling prices of Vulcan Materials and Martin Marietta. Pricing in Q2 also increased by 1.1% compared to Q1.
Asphalt volume is reported on an annual basis. The most recent asphalt production amounted to nearly 422 million tons in 2019.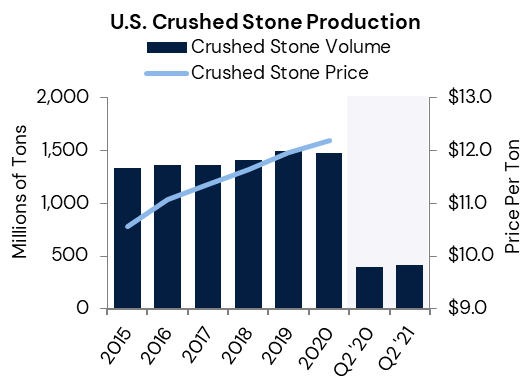 Source: NAPA Asphalt Pavement Industry Survey, Vulcan Materials, Martin Marietta Materials average of net asphalt selling prices, and Capstone Research
Crushed Stone
Crushed stone production increased 3.8% YOY in Q2 to 415 million metric tons. Compared to Q1, production grew a robust 42.6%.
Crushed stone prices are recorded on an annual basis.
Source: U.S. Geological Survey and Capstone Research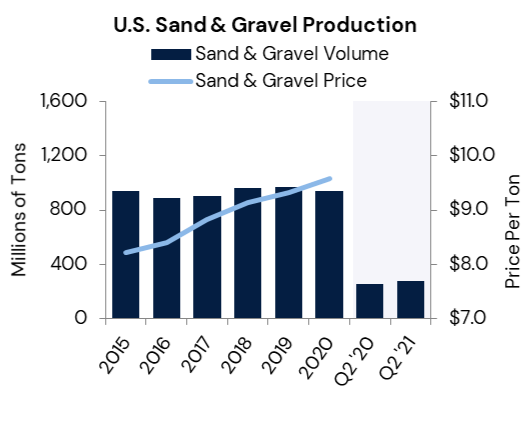 Sand & Gravel
An estimated 279 million metric tons of sand & gravel were produced and shipped for consumption in Q2, an increase of 10.7% YOY. Sand & gravel has exhibited the largest production increases compared to the prior quarter, with volume rising 55.0%.
Sand & gravel prices are recorded on an annual basis.
Source: U.S. Geological Survey and Capstone Research
Capstone's Building Products & Construction Services Team advises industry business owners, entrepreneurs, executives, and investors in the areas of M&A, capital raising, and various special situations. Due to our extensive background and laser focus within the industry, Capstone is uniquely qualified and has an unparalleled track record of successfully representing Building Products & Construction Services companies.
Capstone Partners has developed a full suite of corporate finance solutions, including M&A advisory, debt advisory, financial advisory, and equity capital financing to help privately owned businesses and private equity firms through each stage of the company's lifecycle, ranging from growth to an ultimate exit transaction.
To learn more about Capstone's wide breadth of advisory services and Rock Products industry expertise, please contact Managing Director Darin Good.
ENDNOTES
U.S. Census Bureau, "Construction Spending," https://www.census.gov/construction/c30/c30index.html, accessed September 29, 2021.
U.S. Census Bureau, "MONTHLY NEW RESIDENTIAL CONSTRUCTION, AUGUST 2021," https://www.census.gov/construction/nrc/pdf/newresconst.pdf, accessed September 28, 2021.3
Martin Marietta, "Events & Presentations," https://ir.martinmarietta.com/events-presentations, accessed September 28, 2021.
SCC Materials, "About," https://www.scctx.com/about/, accessed September 28, 2021.
Rock Products, "Arcosa Acquires Southwest Rock Products," https://rockproducts.com/2021/08/05/arcosa-acquires-southwest-rock-products/, accessed September 27, 2021.
Seeking Alpha, "Arcosa, Inc. (ACA) CEO Antonio Carrillo on Q2 2021 Results – Earnings Call Transcript," https://seekingalpha.com/article/4445480-arcosa-inc-aca-ceo-antonio-carrillo-on-q2-2021-results-earnings-call-transcript, accessed September 28, 2021.
MDU Resources, "Events & Presentations," https://www.mdu.com/investors/event-presentations/default.aspx, accessed September 28, 2021.
MDU Resources, "Second Quarter Earnings Call," https://s21.q4cdn.com/410701468/files/doc_presentations/2021/08/Second-Quarter-2021-Slide-Deck.pdf, accessed September 28, 2021.
Eagle Materials, "Eagle Materials Reports First Quarter Results," http://ir.eaglematerials.com/news-releases/news-release-details/eagle-materials-reports-first-quarter-results-1, accessed September 28, 2021.
Seeking Alpha, "Eagle Materials Inc. (EXP) CEO Michael Haack on Q1 2021 Results – Earnings Call Transcript," https://seekingalpha.com/article/4442051-eagle-materials-inc-exp-ceo-michael-haack-on-q1-2021-results-earnings-call-transcript, accessed September 28, 2021.
Bureau of Labor Statistics, "PPI Commodity Data," https://data.bls.gov/timeseries/WPUIP2300001, accessed September 28, 2021.
Disclosure
This report is a periodic compilation of certain economic and corporate information, as well as completed and announced merger and acquisition activity. Information contained in this report should not be construed as a recommendation to sell or buy any security. Any reference to or omission of any reference to any company in this report should not be construed as a recommendation to buy, sell or take any other action with respect to any security of any such company. We are not soliciting any action with respect to any security or company based on this report. The report is published solely for the general information of clients and friends of Capstone Partners. It does not take into account the particular investment objectives, financial situation or needs of individual recipients. Certain transactions, including those involving early-stage companies, give rise to substantial risk and are not suitable for all investors. This report is based upon information that we consider reliable, but we do not represent that it is accurate or complete, and it should not be relied upon as such. Prediction of future events is inherently subject to both known and unknown risks and other factors that may cause actual results to vary materially. We are under no obligation to update the information contained in this report. Opinions expressed are our present opinions only and are subject to change without notice. Additional information is available upon request. The companies mentioned in this report may be clients of Capstone Partners. The decisions to include any company in this report is unrelated in all respects to any service that Capstone Partners may provide to such company. This report may not be copied or reproduced in any form or redistributed without the prior written consent of Capstone Partners. The information contained herein should not be construed as legal advice.