BKT displayed a full range of mining and construction tires at MINExpo 2021 in Las Vegas. Two new sizes were highlighted at the BKT booth.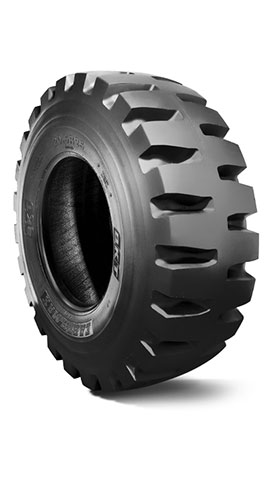 First is the 45/65 R 45 size of EARTHMAX SR 53, designed for loaders, dozers and low-profile dump trucks with a deep L-5 tread and cut-resistant compound provides excellent traction in severe rocky conditions.
The second new size is 33.00 R 51 for EARTHMAX SR 46, featuring a special lug block pattern and designed for rigid haul trucks to carry heavy loads with excellent maneuvering and resistance to cuts and damage.
Visitors also found many other products at the BKT booth, such as EARTHMAX SR 45 M (size 24.00 R 35) and EARTHMAX SR 45 PLUS (size 27.00 R 49), both rigid haul truck tires with a deep E-4 tread, for optimum traction in long haul operations.
A wide based radial tire for scrapers, EARTHMAX SR 32 (size 40.5/75 R 39), with cut-and-puncture resistance, and EARTHMAX SR 51 with L-5 cut resistant compound, for loaders and dozers (in size 23.5 R 25) were also showcased.
The underground mining tires featured were EARTHMAX SR 55 (in size 18.00 R 25) L-5S with a smooth tread design for loaders, dozers, and load haul dumps with cut resistance for extra durability, and EARTHMAX SR 57 (size 12.00 R 20) with L-5 special underground mine service compound, for extra cut protection and deep traction for stability. And finally EARTHMAX SR 41 (size 29.5 R 25) in UMS cut resistant E-4 deep tread version, designed for articulated dump trucks.
BKT, www.bkt-tires.com