MINExpo 2021, held in Las Vegas last month, was a reboot of the event that was supposed to happen last year. COVID put a stop to that. This time, the doors opened on time and the show went on. It was a good one.
More than 20,0000 people attended, and while that is certainly down from previous shows, the attendees who did show up were there for a reason: to buy. Almost every exhibitor I spoke with at the show told me their booth traffic was down but the quality of the people stopping to see them was up.
The Las Vegas Convention Center had a firm mask mandate in place, and show exhibitors and attendees complied. It is always better to have a safe show than no show at all. It was a small inconvenience to ensure everyone could gather in one place.
Kudos to the National Mining Association, Las Vegas Convention Center and the city of Las Vegas for pulling this off.
MINExpo is typically heavy on hard-rock mining with less emphasis on the aggregates market than its counterpart Las Vegas show ConExpo-Con/Agg. Despite that, it was good to see so many aggregates producers on-hand for the event.
Most of the heavy iron manufacturers, such as Caterpillar, Komatsu, Liebherr and others brought their largest machines to display. But many other manufacturers showed products that were right in the wheelhouse for aggregates producers. Sandvik, McLanahan, Weir, VDG and many others either introduced new products or re-emphasized products that will be important in the coming months and years.
The aggregates producers that came to the show were smart. As I write this, Congress is finally maneuvering to make new infrastructure spending a reality. Producers that are already thinking about how to capitalize equipment upgrades and position their plants to take advantage of future market growth in the current supply-chain-challenged environment are the ones that will lead the rest.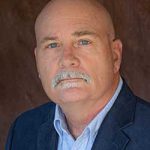 Mark S. Kuhar, editor
[email protected]
(330) 722‐4081
Twitter: @editormarkkuhar