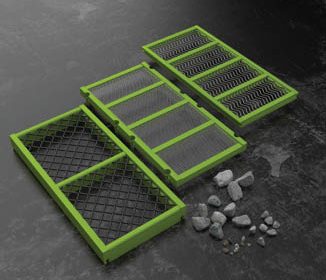 MAJOR is a global manufacturer of wire screens for the aggregate, mining and recycling industries. FLEX-MAT, the company's line of distinctive lime-green high-vibration screens made with OPTIMUMWIRE lowers the cost of production per ton by dramatically increasing throughput and wear life while eliminating blinding and pegging, the company said.
MAJOR masters wire quality, screen manufacturing and the screening process, and provides on-site screening performance assessment and training seminars on screen maintenance and screening efficiency to help producers increase their screening performance and profitability.
FLEX-MAT features up to 40% more screen capacity than traditional woven wire and up to 50% more than traditional polyurethane and rubber panels, setting a new standard in performance for aggregate, mining and industrial producers. The innovative product's high-frequency movement makes media an active part of the screening process, improving efficiency compared to static media such as woven cloth or synthetic panels.
"Quality is key to any operation, which is why we place a strong emphasis on it at MAJOR," said Bernard Betts, president of MAJOR. "We understand that no two operations are identical, which is why we configure each screening panel to precisely fit individualized requirements. That attention to detail is how we achieve what alternative media cannot – unrivaled throughput and superior end-product quality."
The modular panels are available in three pattern options: the D-, S- and T-series. The D-series features a standard square pattern, which is ideal for precise sizing. The S-series maximizes open area, virtually eliminates blinding, and reduces fine contamination. The T-series enhances screening for particles below 0.059 in. (1.5 mm) and features small openings to minimize blinding. The screen media is secured through either grooved, step, or pin and leg panels.
The efficiency-enhancing characteristics of all FLEX-MAT screen media, including modular panels, are created by bonding OPTIMUMWIRE with distinctive lime-green polyurethane strips rather than weaving them. This allows wires to vibrate independently from end to end under material contact. The high frequency of the wires – 8,000 to 10,000 cycles per minute – adds to the vibration of the screen box – 800 to 900 cycles per minute – to speed up material separation and passing.
The increased screening action improves material throughput while virtually eliminating near-size pegging on the top decks and fine material blinding and clogging on the bottom decks, resulting in a lower cost of production per ton. Additionally, the media offers up to five times longer wear life than traditional woven wire and produces a cleaner retained product.
FLEX-MAT Modular screen media panels are available in either the patented OPTIMUMWIRE or 304 stainless steel wire. In addition to modular panels, MAJOR's signature FLEX-MAT media is available in tensioned sections for use on crown decks.
MAJOR, www.majorflexmat.com
Pulse Vibration Analysis
Haver & Boecker Niagara offers its Pulse Vibration Analysis (VA) software, giving mining and aggregate operations insight to their equipment's performance. The Pulse VA program is specifically designed to examine the health of a vibrating screen to ensure optimum screening performance and equipment reliability.
MAJOR will showcase Pulse VA at booth #7501 in Central Hall at MINExpo 2021, Sept. 13-15, in Las Vegas.
Pulse VA detects irregularities that could translate into diminished performance, decreased efficiency, increased operating costs and imminent breakdown.
Designed to be easy to operate, with components specifically chosen and engineered for the harsh environment where screening takes place, the Pulse VA system uses an industrial-grade tablet computer that connects wirelessly with eight tri-axial sensors. The sensors attach to key places on the equipment and send up to 24 channels of data to the tablet, which displays a real-time view of the machine's orbit, acceleration, deviations and more.