SmithCo Side Dump Trailers will exhibit the first mining side dump trailer to feature a hydraulic suspension at MINExpo 2021, according to the company.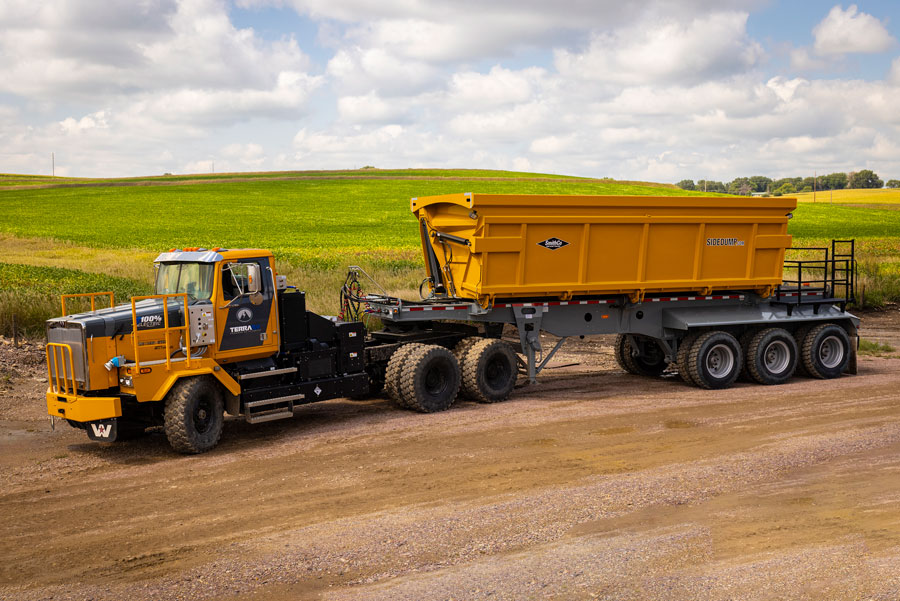 The patented Simard suspension system allows axle ends to move independently of one another to more easily navigate washboard mine roads with no air freeze-up issues in arctic conditions.
This tractor-trailer combo offers a smaller footprint, less fuel use and lower ton-mile costs than conventional haul units, improving the feasibility of satellite mines.
Traditional haul trucks are expensive, require a specific type of road, and are not suited for distance hauls. Whether you're grubbing, taking off overburden or need to move ore from remote sites to a central processing plant, SmithCo has the side dump trailer for your application, the company stated.
Its mine trailers make opening a satellite more feasible. Conventional side dumps and tipper styles are available.
Features:
Custom built for each application.
Tubs designed to maximize payload.
Heavy haul units built for off-road use.
Payloads up to 100 tons per trailer.
Tubs designed to dump over barriers, berms or into crusher chutes.
Train together to carry loads from pickup to distribution points on site.
Engineered for the toughest jobs, with rugged suspensions, long-haul mine-rated tires, and heavy frames that stand up to loading and unloading.
Optional linings to reduce carry-back and eject materials cleanly.
Customer service.
SmithCo, www.sidedump.com