At Material Sand And Gravel In Poland, N.Y., A Woman's Place Is In The Quarry.
By Thomas J. Roach
Quarries. The rock doesn't change, but the people do.
Quarries have been around for a long time. Archeologists and historians agree that quarrying predates farming. Probably even before artists were painting on the walls of caves, men were quarrying stone. After all, cavemen and cavewomen lived in caves. It was only natural that from time to time they needed to rearrange the furniture, which was rocks, or chisel out a bedroom because a cave-baby was on the way.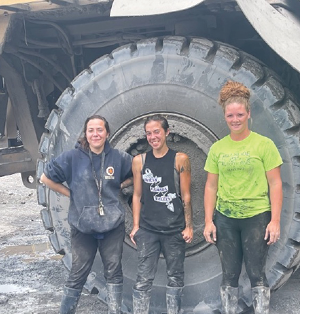 Over the millennia, blasting and heavy equipment have replaced the earliest tools, but mostly the history of quarries is a legacy of big strong men busting up rock and moving it around. Now that is changing. Workers using 21st century equipment don't need to be big and strong, and they don't need to be men to operate equipment in an industry that is increasingly becoming automated and computerized.
While the rest of the professions have made significant efforts to diversify their workforce, mining is still recognized as one of the world's most male-dominated professions.
Last month Donna Bronson, who works in the scale house of Material Sand and Gravel in Poland, N.Y., called to let me know that she and her coworkers are ahead of the curve. Counting the foreman, Pat Harvey, the quarry has 11 employees, and four of them are women. Bronson is proud to be part of the small but efficient coed team. "We do the highest output of all the Clemente quarries, and we have the least number of employees," she said.
Throughout her career Bronson waitressed, cooked and ran restaurants, and she has an accounting degree, but she chooses to work at the quarry. She took her first quarry job in 2012, left and came back in 2019. "You have to want to work hard and long hours, it's dirty, nothing glamorous," she said. They were essential workers, so there was no time off during the pandemic, and they work six days a week.
Bronson still gets in a little cooking. They have a stove, a refrigerator and microwave all for stone testing, but she also uses them to cook for everyone on Saturdays. Her menu includes home fries with onions, sausage and bacon, eggs and toast. "We work hard and we still have fun," she said. "We went through a lot of people until we got this crew; everybody works well together."
Bronson left the area and came back after 18 years. "It's beautiful up here," she said. She refers to Poland, N.Y., as "a tiny little country town with a big-ass quarry in it." She hates the city and loves the fresh air.
"We are very independent country girls up here," Bronson said.
She is especially proud of two of her female coworkers, Erica and Hannah Coffin. The twin girls, age 20, run trucks. According to Bronson, "They are both good, skilled workers and they aren't as tall as the tires on the dump trucks."
The fourth woman is Samantha Dillenbeck who "pretty much does everything here."
Bronson jokingly said that her boss likes to hire women because it makes the men work harder. "Nobody wants to be showed up," she said.
Seriously, the esprit de corps is what she finds most attractive about the job. "We are friends at work and outside of work," Bronson said. Her men and women coworkers sometimes stop by her house.
The Poland operation is one of 25 locations owned by the Clemente family. The company started in 1915 when Carmine Clemente and his sons purchased a sand and gravel mine in Troy, N.Y. Today, Carmine's grandchildren and great grandchildren run the company.
"You can't find better people to work for than the Clemente family, they are very thoughtful and they care about you. We are very well taken care of here," Bronson said.
---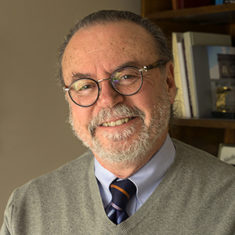 Thomas J. Roach Ph.D., has 30 years experience in communication as a journalist, media coordinator, communication director and consultant. He has taught at Purdue University Northwest since 1987, and is the author of "An Interviewing Rhetoric." He can be reachedBat [email protected]