Trimble Insight draws data from Trimble Loadrite loader, excavator, haul truck and conveyor belt scale sensors into centralized cloud storage. Using administrator customization for machine names, geofenced load/dump and stockpile locations, Insight calculates production metrics. The Scheduler aligns the production data according to your shifts and modes, notifications identify issues and then dashboards present actionable insights.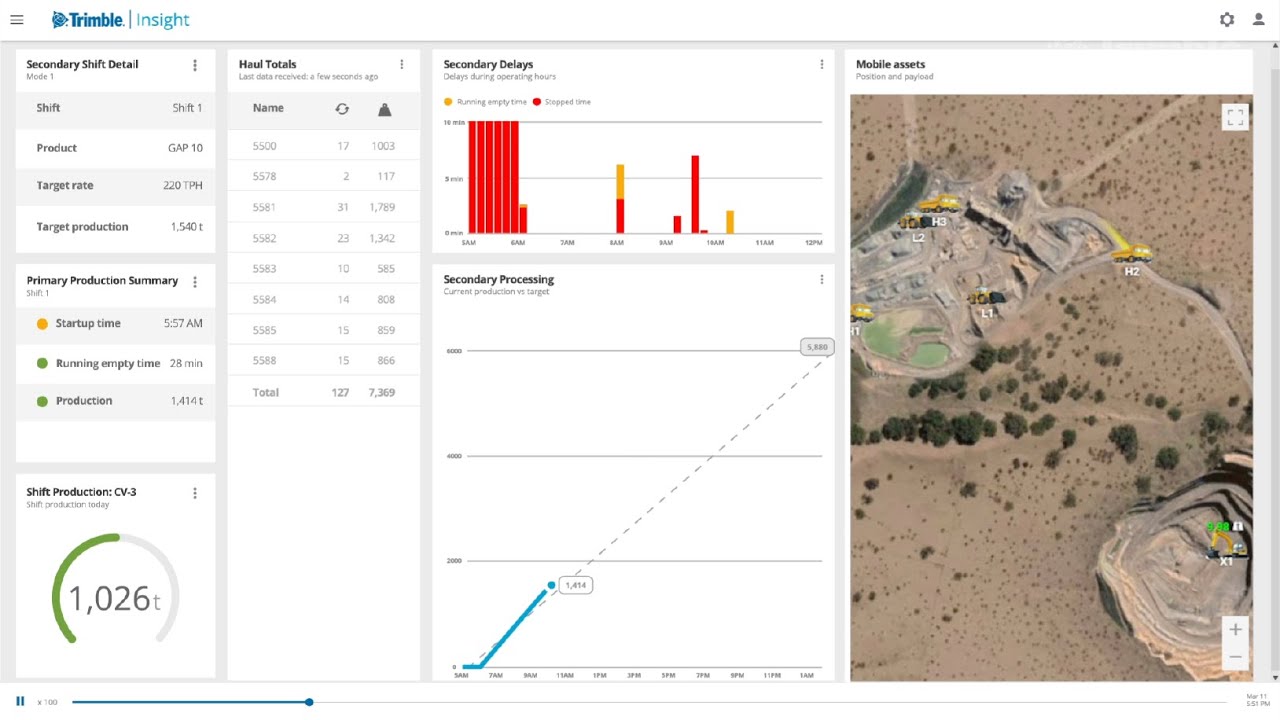 Data Types
Location (e.g. each site, pit/plant/stockyard).
Time (e.g. year, month, week, day, shift, hour).
Product (e.g. overburden, fill, shot rock, surge pile, stockpiles).
Production (e.g. tons, tons per hour).
Events (e.g. cycles, downtime events).
Target vs. actual production.
Benefits
Shows target vs. actual productivity.
Identify gaps and understand reasons for down-time or delays.
Make more informed decisions.
Customizable to suit multiple roles (e.g. site manager, production manager, fleet manager).
Access anywhere, at any time via desktop or large-monitor mobile devices.
Align to production goals using shifts, modes and targets using a scheduler.
"With a single point of truth at each of its quarries, LafargeHolcim has more consistent accurate data, which drives better production plans and better conversations and decision-making about operational improvements," said Jeff Olejniczak, Aggregate Industries. "Due to all the improvements made by the team, Trimble Insight data including rate loss, downtime, uptime and production rate helped improve monthly production nearly 80% year-on-year."
Trimble Insight solves problems such as:
Missed targets – Understand when and where production falls short of targets, with the ability to quickly isolate the source of the problem.
Monitor productivity – Don't wait for daily production reports, view your production progress on dashboards during the shift.
Inconsistent ROM feed – Highlight under and overloading that creates inconsistent haul events. Cycle time analysis identifies truck cycle counts, tons and delays that potentially lead to starving the crusher.
Incorrect dumping – Haul truck location tracking highlights potentially incorrect dumps to a surge pile that may reduce plant production.
Speeding and incident analysis – Identify speeding violations to maintain a culture of safety and replaying near-miss events with reliable visualization replays.
Fleet mismatching – Making major asset purchases often relies on optimistic production estimates from machine OEMs. Insight makes it easier to see cycle and performance of each machine so you can evaluate trials with objective data.
Testing plant modes – Scheduler builds modes to target specific product mixes and compare performance and test scenarios.
Processing inefficiency – Monitor recirculation rates and production of waste to track the performance of the plant as well as tracking product added to or removed from each stockpile.
Plant downtime analysis – It's easy to identify inefficiencies, solve and monitor the improvement, and unintended impacts.
Poor blast fragmentation – Monitor blast yield and oversize material hauled for feedback to your blast contractor to improve.
Production management – Compare production in each stage of your operation (pit to plant, plant to stockpiles, loadout) to compare with orders.
Incorrect invoicing – Trimble Insight produces summary and detailed reports. These support your customer billing, to reduce error and ensure you are paid for what you sell.
Trimble, heavyindustry.trimble.com/en/products/trimble-insight