The Arizona Rock Products Association Teams Up With Alice Cooper's Foundation To Work On An At-Risk Youth Center.
By Therese Dunphy
Good Neighbor: Arizona Rock Products Association.
Group: Community Relations Committee.
Community Impact: Committee members donate time and materials for Mesa, Ariz.-based youth center.
---
School may be out for summer, but members of the Arizona Rock Products Association Community Relations Committee have been busy helping with preparations for the launch of The Rock Mesa, an after-school center for at-risk youth in Mesa, Ariz. The center, which is expected to open this summer, is the latest project from Solid Rock Foundation. The foundation was formed in 1995 by rock star Alice Cooper; his wife, Sheryl; and longtime friend, Chuck Savale. 
"The Arizona Rock Products Association (ARPA) was honored to partner with community leader, Alice Cooper's Solid Rock Foundation, on the opening of its new teen center located in Mesa," said Brianna Kadlec, ARPA's community relations and financial manager. "As part of this community, the rock products industry is committed to being a good neighbor and getting involved in projects that make a difference."
Solid Rock Foundation
The Mesa location is the second youth center created by the foundation. Designed as a sanctuary for local teens, it offers free private lessons for instruments, vocals, dance and other arts. The center includes multiple studios, rehearsal rooms, and even a performance stage to allow kids to stop in after school, develop their talents, and express themselves.
"We are fulfilling a vision we've had for several years … to provide teens with a central place to learn, have fun, and explore their creativity in a supportive and safe environment," Cooper said, noting that kids have to search for the thing that makes them unique. "It's just about finding it, going down and mining it out. That's the whole idea behind Solid Rock. Go in, find your talent, and then nurture it. That's what we are here to do – to encourage that."
Each year, except in 2020, Cooper hosts an event called Christmas Pudding, which provides substantial funding for the centers. In 2019, he was joined by members of his original band, along with Rob Halford, front man for Judas Priest; Joe Bonamassa, lead guitarist; and Johnny Depp, who performed with Cooper as part of the group Hollywood Vampires. Together, the performers raised more than $600,000 to fund programming at the centers.
Arizona Rock Products Association
Chris Nau, chair of the ARPA Community Relations Committee and sales representative for Arizona Materials, helped to coordinate association contributions toward the project. He said the committee regularly receives requests for support from community organizations. Such requests often take the form of volunteer time, materials, or financial support. Each is evaluated according to a matrix of standards that take into consideration who is making the request, who it will benefit, what the request includes, and how it relates to the industry. "We get a lot of requests, and we try to help everybody to the point we can," Nau said.
In the case of the Solid Rock Foundation, the request for help came through from a partner on a prior community relations project, Dallin Banks of Power Tech Contracting. "They reached out to us asking for volunteers," Nau explained.
Despite a relatively short lead time, the committee rounded up volunteers to help with painting and shoveling rock for landscaping in early May. ARPA member company Cutting Edge Curbing Sand & Rock, and its supplier Red Mountain Mining, donated and delivered 24 tons of ½-minus Desert Gold to the foundation. Power Tech and other community partners joined the crew, while the association donated paint and painting supplies to refresh the wall surrounding the center.
Typically, Nau said, committee members are joined by co-workers from their companies and help out with weekend volunteer events.
"I get just such satisfaction when we're out there and helping out," Nau said. "When everybody gets involved and sees the progress, there's just a warm feeling in your heart. For me, there is no other way to explain it."
---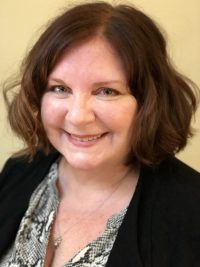 Therese Dunphy has covered the aggregates industry for nearly 30 years, while also serving multiple roles as a public official. As the owner of Stone Age Communications, she provides communications consulting services to help aggregate producers build stronger relationships within the communities they serve. She can be reached at [email protected]