Jadair has been in business for more than 52 years. The company makes water recycling and concrete reclaiming systems as well as providing water pumping systems to go along with its equipment or as stand-alone systems.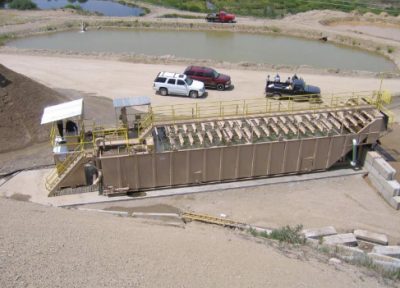 "Our Settler/Clarifier line of products is used in the mining industry but is also used in many other applications as well," said company President Shane Schmutzler. "The list of applications is long but includes aggregate washing, sand washing, frac sand, placer gold mining, agricultural washing, dimensional stone cutting, construction material recycling plants, foundries and more. They can be used in almost any industrial process that needs water clarification. Our machines allow operators to employ closed loop water recycling systems with a small footprint and without ponds. That is one of the biggest benefits.
"Our machines eliminate ponds and all the problems that come with them. Pond clean-out, wasted water, wasted time and lost production. We take care of all of those problems at the same time. We have helped producers gain the ability to wash all week long without having to shut down part way through the week to clean out ponds. We have also helped extend the production season where water is so scarce it can run out partway through the year. Water is a prime resource and conserving it is naturally part of what we do. You could say that water conservation is a built-in principle with our equipment. In our current climate that becomes extremely important. We virtually eliminate water losses due to ground seepage and evaporation.
"Another benefit with our machines is the thick solids we bring out. The solids are able to be moved with a loader and can be sold for a profit where there is a market. Using the solids in landscaping applications, soil remineralization or landfills are all possible uses. One producer developed such demand for his discharges solids he was unable to keep up with demand. That was a waste product for them in the past but with our equipment it became a salable product. That is not something you can easily do with the slop that typically comes from ponds.
"Our machines also help save on electrical power and manpower. The machines are designed with energy efficiency in mind. They require very little power, especially when compared to other processes used in this industry. That can be a benefit that adds up very quickly. On manpower we also come out ahead. There is not much that needs to be done on these machines from day to day. Once the machine is set up, there is very little time spent there," Schmutzler concluded.
Customer Satisfaction – Frank P. Gelewski of North Church Gravel Inc., Franklin, N.J., backs up Schmutzler's comments. "Our Sand and Gravel plant was a dry screen operation. We were making sand for concrete but the minus 200 content was too high," Gelewski said. "It was decided that we needed to wash the product. We looked a several options for our operations. One of the factors was we didn't have an area for settling ponds and there was no water source. After looking at several options we decided on the Jadair CT 352. We could run the water system closed circuit. All the water used to wash the aggregate was sent to the Clarifier, cleaned and sent back to the wash plant. This process minimized the amount of water loss and make up water required to operate at full capacity.
"We purchased a portable wash plant with no classifier, Gewlewski continued. "At the same time we purchased the Jadair CT 352. The feed stock to the plant contained 5% to 7% minus 200. Our production goal was to make 500 tons of washed concrete sand per 9-hour shift. By-products were washed 1/4-in. 3/8-in. and ¾-in.
Demand for washed concrete sand increased over the years and we needed to increase production," Gelewski said. "In 2016 we purchased a new wash plant with a Classifier Tank and Twin 54-in. screws. To compliment this increased production we added two more Jadair CT 352s. We are pushing 3,000 tpd through the plant. The system was designed by Jadair so there is no dirty water pump. We only have a 3600 gpm clean water pump. This is a great cost and maintenance savings as there are no changing out pump liners or entire pumps. We replace the pump seal once a year during winter maintenance. The Jadair CT 352s are very user friendly. They pretty much run themselves, automatically adjusting speed according to the load."
Jadair, www.jadair.com