Dire Reports of Water Shortages Mean Processing, Usage and Recycling Challenges for Quarry Operations.
By Mark S. Kuhar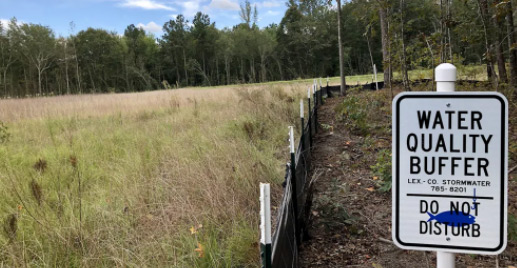 Water: Quarry operations need it. Municipalities protect it. Community members worry about it. Congress legislates it. Manufacturers devise ways to utilize it to the benefit of everyone. The balance between too much and not enough is often difficult to achieve.
Every time you turn around there are new reports of water shortages, droughts, extreme heat and restrictions.
According to recent media coverage:
Researchers say there is a megadrought across the entire Southwest United States. Conditions are considered a megadrought when "a drought that is at least 19 years in length that's below a given magnitude relative to historic records," said Brigham Young University geology professor Matt Bekker. Another report stated that 72% of the region is in "severe" drought, 26% is in exceptional drought, and yet populations are booming, increasing the need for more water.
New data shows the entirety of four states are under drought conditions: California, Oregon, Utah and Nevada. Overall, drought is being experienced in 88% of the Western United States.
The water crisis along the California-Oregon border has gone from dire to catastrophic as federal regulators shut off irrigation water to farmers from a critical reservoir and said they would not send extra water to dying salmon downstream or to a half-dozen wildlife refuges that harbor millions of migrating birds each year. The agency announced last month that hundreds of irrigators would get dramatically less water than usual, but a worsening drought picture means water will be completely shut off instead. The entire region is in extreme or exceptional drought, according to federal monitoring reports, and Oregon's Klamath County is experiencing its driest year in 127 years.
The Washington County, Utah, Water Conservancy District implemented new restrictions and urged the cities it serves to do more to cut water use in the state's ongoing drought emergency. It asked cities to audit their own facilities to cut water use by additional 10%.
Nevada law will outlaw about 31% of the grass in the Las Vegas area in an effort to conserve water amid a drought that's drying up the region's primary water source, the Colorado River. Lake Mead hit its record-low level, threatening the water supply for millions. The drought conditions also mean there is less hydroelectric power available to handle surges in power demand across the Southwest.
Lake Mead's decline is expected to trigger substantial reductions in water deliveries in 2022 for Arizona, Nevada and Mexico. The largest of those cuts will affect Arizona, slashing its Colorado River supplies by 512,000 acre-ft., about a fifth of its total entitlement.
And other weather patterns have had an additional impact. Insufficient monsoon rains last summer and low snowpacks over the winter left states like Arizona, Utah and Nevada without the typical amount of water they need, and forecasts for a rainy summer season don't show promise.
The conclusion: The past two decades have been the driest or the second driest in the last 1,200 years in the West, posing existential questions about how to secure a livable future in the region, and viable business conditions for companies like aggregates operations that depend on water.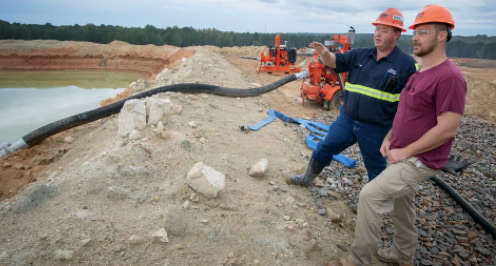 Aggregates Operations Take Action
While there is now a concerted effort to conserve water resources, aggregates operations have been on the forefront of that effort for many years.
Vulcan Materials states on its website that an estimated 70% of the company's aggregate mining operations recycle water and it has a 99% compliance rate with permitted discharge limits: "We are committed to the protection and preservation of water resources including surface water, groundwater and wetlands. Aggregate sites have water treatment systems consisting of settling ponds or mechanical filtration equipment such as clarifiers and filter presses, all for the treatment of water from the processing operation. Water used in the processing operation is treated to reduce total suspended solids (TSS) levels so the water can be recycled, or in cases where excess water is present, the treated water is discharged. Aggregate mining and processing operations collect stormwater that falls within the facility boundaries and store it in pond systems or mined-out quarry pits. The water is used in place of pumped groundwater. This combination of recycling treated water and collected stormwater runoff reduces the need for extracted groundwater to supply the operation.
Vulcan said its water management projects and initiatives include:
Capturing and recycling water throughout the production process, including closed-loop systems that recycle water that remains following material washing.
Using settling ponds or mechanical filtration equipment to reduce total suspended solids levels so water may be recycled or discharged.
Collecting stormwater that falls within facility boundaries and storing it in holding ponds for use in place of pumped groundwater, further reducing the need for extracting groundwater.
Partnering with government agencies on municipal water management projects to protect and improve the supply of water to the communities in which we operate, and to support infrastructure projects related to stormwater and wastewater management.
With the inclusion of Vancouver, B.C.-based Polaris Materials as part of the company's recent acquisition of U.S. Concrete, West Coast water issues will be on the front burner for the company.
Martin Marietta Materials
Martin Marietta Materials is also on the forefront of water-management. With new additions to its business in the Western United States after its recent deal with HeidelbergCement, the West will be even more important.
"We use water for production, maintenance activities, environmental controls and reclamation," the company said on its website. "We recognize that water availability is critical to the future of our communities and our operations. We also recognize that our diversion and discharge of water into the environment impacts our communities and the ecosystem. We are committed to responsible and efficient water management and continuously seek opportunities to use renewable and recycled sources.
"As with our GHG emissions strategy, we invest in new processes and technologies following appropriate testing. In 1972, the U.S. Congress enacted the Federal Water Pollution Control Act, now known as the Clean Water Act (CWA). This law, as amended, established the basic framework for regulating water pollution in the United States. Compliance with water quality requirements under the CWA is a critical aspect of Martin Marietta's environmental stewardship. While we make significant efforts to reuse and recycle water in our processes, we do have discharges at or from a number of our locations. In those cases, we have obtained permits under the National Pollutant Discharge Elimination System (NPDES) that contain site-specific limits designed to maintain the health of the receiving water body and the aquatic species that call it home.
"We use treatment systems designed to ensure that permit compliance is maintained and conduct regular monitoring and reporting to ensure compliance. In addition, stormwater discharges associated with industrial activity are regulated pursuant to the CWA. These regulations require that the site operate under either a general permit applicable to all similar facilities or a site-specific permit depending upon many factors.
"The storm water permitting system is designed to minimize and reduce pollution in the runoff from industrial facilities. Sites must maintain a Storm Water Pollution Prevention Plan, implement Best Management Practices, and undertake certain sampling and reporting. In 2020, we operated more than 400 facilities across the United States and recorded a total of only 10 CWA-related violations, all of which were minor, with no penalties assessed.
"Not only do we focus on ensuring that our discharges do not diminish the quality of local water resources, we also are committed to being responsible users of the available water in the communities in which we operate. Martin Marietta's production processes rely on water. Importantly, we implement water management practices recognizing that clean and reliable water is also critical to our local communities.
"To this end, in 2020 we undertook to re-examine the water stress levels of these communities, measured as a ratio of annual water withdrawals to total available annual renewable supply. A higher percentage indicates that there are more water users competing for the water resource. Areas with high water stress are those with a range of 40% to 80% and areas with extremely high water stress are those greater than 8%. We analyzed our operating locations by zip code, using the World Resources Institute's Water Risk Atlas tool, known as Aqueduct. A profile of our building materials operations (which includes all businesses other than Magnesia Specialties) is shown below. Importantly, we implement water management practices recognizing that clean and reliable water is also critical to our local communities."

Texas is an important location of many Martin Marietta plants, and drought conditions are also prevalent there.
"Geographically, the majority of our locations classified as high-water stress are located in Texas; those classified as extremely high water stress areas are primarily in Texas and Colorado," the company said. "In those areas, responsible water use and recycling are critical, and we have made significant efforts to reduce water waste, as described in the following examples.
"Over the past several years, Martin Marietta has invested in water recovery equipment at Medina Rock & Rail Quarry, Beckmann Quarry, Chico Quarry, Black Spur's Bird Hill Plant and Hunter Stone Quarry, each located in Texas. For example, at our Medina Rock & Rail plant between 2018 and 2020 we completed a number of operational improvements, including an on-site water recycling pond as well as paving four miles of roadway. While the plant's production of washed products has increased dramatically over time, these improvements still led to an estimated 20% drop in water usage per ton of stone produced or an annual savings of approximately 390 acre ft. of water. The water recovery system at Beckmann Quarry, installed in 2010, continues to provide significant benefits and reduced the facility's water withdrawal by an average of 50% compared to 2009. This equates to a pumping reduction of more than 20,000 acre-ft., resulting in billions of gallons of additional Edwards Aquifer water that is available to South Central Texas communities for other beneficial uses.
"While water conservation and protection is key in our western operations, it is not neglected elsewhere. For example, in 2020 our Northeast Quarry in Maryland invested $3.9 million in a new fines recovery plant which included a 40 ft. clarifier, two belt filter presses, four slurry pumps, two clean water pumps, a polymer system, advanced piping and electrical systems and process controls. By recovering 90% to 95% of the water used during production and reducing the sediment load of the remaining discharge, this system benefits both surface and groundwater resources in the area.
"Similarly, our Tyrone Georgia operation also invested $1.1 million in its own clarifier system in 2020. This system consists of a 40-ft. clarifier, a clarifier underflow pump, and three prefabricated containers plumbed to a series of settling ponds to collect the concentrated mud from the clarifier. It also includes a fully automated polymer mix, flocculant and feed system. This system is designed to eliminate fine material from entering the stream running through the property, preserving its surface water quality."
---
Water Quality Protection
The U.S. House of Representatives' Transportation and Infrastructure (T&I) Committee marked up and advanced H.R. 1915, the "Water Quality Protection and Job Creation Act of 2021."
This legislation follows the Senate's passage in May of its clean water reauthorization package, S. 914, the "Senate Drinking Water and Wastewater Infrastructure Act of 2021." According to the National Association of Clean Water Agencies, the committee's action marks another step towards increasing clean water investment, setting the stage for increased funding year over year that better reflects the critical needs for clean water investment.
Most notably, H.R. 1915 would provide the first ever reauthorization of the Clean Water State Revolving Fund at an historic $40 billion over five years. The bill also includes a reauthorization of the Sewer Overflow and Stormwater Reuse Municipal Grants at $2 billion over five years and support for water technology investments by utilities, among other beneficial clean water provisions, and emphasizes the role that clean water investment plays in building resilient communities.
---
Granite
Resource conservation is a priority for Granite's operations – and for its future. "The water reuse team at our Cottonwood aggregate and asphalt facility in Cottonwood Heights, Utah, has taken this to heart by assembling and operating a water recycle facility," the company stated. "Since 2009, the facility has reused more than 50 million gal. of water in a state where the average rainfall is the second lowest in the nation. The water reuse plant uses a series of clarifiers, holding tanks, and a belt press to reuse the wash water in the washed aggregate process. Unlike many washed aggregate plants, the Cottonwood facility only utilizes lined ponds in the water reuse process, significantly improving the system's water retention and recovery capabilities. The water reuse team takes exceptional pride in its work and has improved the percentage of recycled content every year the water recycle facility has been operating. Before the system was in place, the plant used more than 40 gal. of fresh water per ton of washed product. Now it is consistently at or below 20 gal."
The Cottonwood facility earned recognition through Granite's annual Environmental Excellence Award. This operation has exemplified all aspects of Star Performance by not having a recordable safety incident or an environmental notice of violation in over five years. The team also produces the highest quality washed aggregate in the Salt Lake Valley (~600,000 tons in washed aggregate in 2019). For these reasons and more, the team at Cottonwood is a shining star of performance.
The Cottonwood facility has one of the most efficient water reuse systems within Granite, which has helped the Utah region to become a Partner Level member (highest level) in the Utah Department of Environmental Protection-sponsored Clean Utah program.
The water reuse team has taken standard dewatering practices and fundamentals and applied monitoring and measurement of the system performance through annual calculations of water savings and use of water per washed product to track and improve the process.
It is through this tracking and measurement that the team has become so efficient at water reuse. The Cottonwood facility and reuse plant has been a place of learning for many of the materials group staff (both inside and outside of the Utah region) on how a large aggregate facility and asphalt plant can operate efficiently. The development of the water reuse system has saved money and man hours by removing the double handling of material and the loss of useable water. Lastly, Granite's Utah region and Cottonwood facility have not received an environmental notice of violation for more than 10 years.
Could WOTUS Get a Re-Do?
On June 9, 2021, the U.S. Environmental Protection Agency (EPA) and the U.S. Army Corps of Engineers (USACE) announced their intent to revise the definition of Waters of the United States (WOTUS) to better protect our nation's vital water resources that support public health, environmental protection, agricultural activity, and economic growth. The EPA issued a declaration requesting remand of the 2020 Navigable Waters Protection Rule (NWPR), which defines which waterbodies should be considered WOTUS under the federal Clean Water Act, thereby triggering regulation.
"We are committed to establishing a durable definition of 'waters of the United States' based on Supreme Court precedent and drawing from the lessons learned from the current and previous regulations, as well as input from a wide array of stakeholders, so we can better protect our nation's waters, foster economic growth, and support thriving communities," EPA Administrator Michael S. Regan said in a statement.
This represents the latest chapter in the history of the Clean Water Act, which has seen the limits of jurisdiction modified by multiple administrations and ruled upon by the Supreme Court. The Trump administration's NWPR was a departure from prior iterations of the rule, most recently the broader Obama-era rule. In effect, it reduced the number and types of streams and wetlands regulated by the Clean Water Act, most notably the removal of ephemeral streams from regulation. The lack of protections is particularly significant in arid states such as New Mexico and Arizona, where nearly every one of more than 1,500 streams assessed has been found to be non-jurisdictional.
It is uncertain how long it will take to codify the new regulations. Legal challenges associated with a "repeal and replace," similar to the 2015 repeal-and-replace process, are anticipated and may delay the process. There also is uncertainty surrounding how the EPA and USACE will handle currently approved jurisdictional determinations if the rule is changed. It's important to keep this in mind if you are in the process of a permit application or permitting process at this time.
Source: Civil & Environmental Consultants Inc., www.cecinc.com
Manufacturers to the Rescue
While regulations governing water vary around the country, it is a resource that is absolutely essential to the extractive industries and is therefore increasingly under the water management microscope. Here are a few manufacturer solutions.
CDE
Innovations in the washing sector and the continued advancement of CDE's pioneering wet-processing solutions are supporting quarry operators and materials processors alike to overcome the challenges stemming from water management; whether those are cost-based, efficiency, sustainability and regulatory.
CDE's modular wet-processing equipment can contribute to the easing of water scarcity issues arising from the materials processing industry's consumption of water resources, greatly improve water efficiency, and better wastewater management practices. Developing technological solutions to tackle these mounting challenges is paramount for many materials processors seeking to boost the profitability of their operation by minimizing the consumption of costly water resources.
CDE consistently invests in research and development with the aim of enhancing the capabilities of its premier water recycling and management equipment. At the forefront of its water recycling systems is the AquaCycle, a single, compact and user-friendly unit that can be applied to high and low tonnages across many markets.
Delivering competitive advantage to its customers, CDE's AquaCycle accelerates return on investment by maximizing production efficiency, minimizing the loss of valuable fines, and reducing water and energy costs.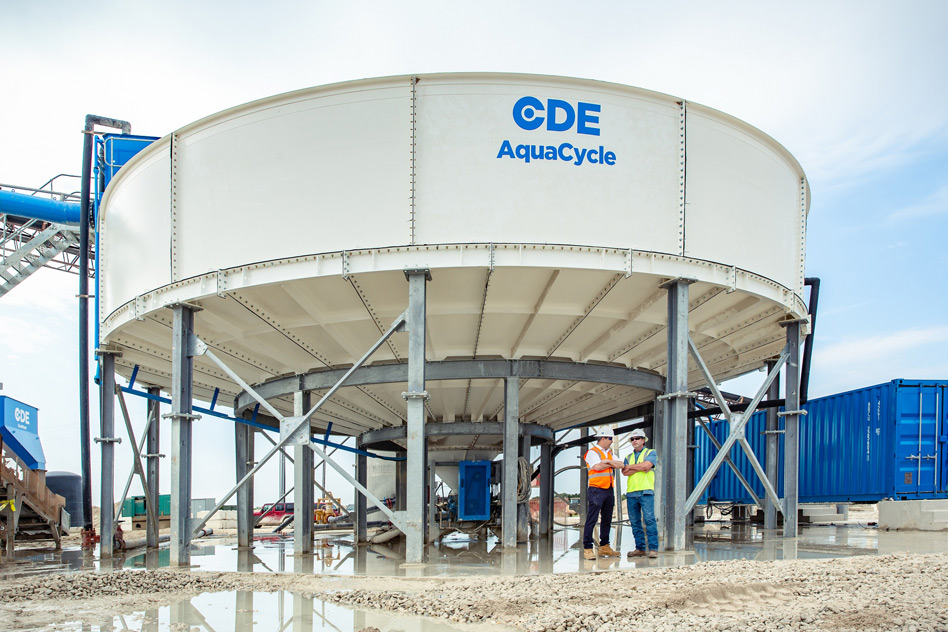 An alternative to water extraction and the costly process of pumping water to the plant, CDE's AquaCycle is a highly efficient water management solution that minimizes costly water consumption by ensuring up to 90% of process water is recycled for immediate recirculation.
After feed material has been washed and classified, waste is sent to the AquaCycle thickener tank. Here, a small amount of polyelectrolyte flocculant is added to the water via an automatic dosing station which forces fine particles to settle on the bottom of the thickener tank. The clean water on the top overflows the weir and is stored in the AquaStore tank before being re-circulated around the plant. The result is a highly efficient water recycling system that requires only a 10% supply of top-up water.
Waste sludge is discharged into a buffer tank where a motorized rake in constant rotation ensures the material does not settle and solidify. If further dewatering is required, a plate press or decanter is added to the wet processing solution to eliminate the need for settling ponds.
Intelligent Design – Though water recycling may seem simple in theory, it is, in practice, much more complex. Water thickeners are not born equal and their efficiency is the result of years of dedicated research, development, and refinement. Every aspect of its design is carefully considered so that the system is responsive to the site-specific needs of its owner.
"We sweat the small stuff," said Kevin Vallelly, director of engineering at CDE. "CDE has been co-creating with customers for more than 25 years to deliver collaborative, imaginative and unique processing systems, and this process has been informing and refining our water recycling technologies."
All CDE equipment is designed to allow plug-and-play operation, that is equipment is pre-wired and pre-tested before dispatch, designed for rapid assembly and set up and can start processing material within days of arrival onsite. These design considerations and factory acceptance tests significantly reduce install time and accelerate return on investment.
He added, "Fast return on investment is a very real proposition when the CDE AquaCycle thickener is introduced to a washing operation. It boosts the efficiency of the wet processing plant by maximizing the settlement of solids which reduces the quantity of flocculant required, cuts running costs, and optimizing the overall efficiency of the plant."
Return on investment with a CDE AquaCycle is typically achieved in just six to nine months.
Settling ponds are known to be the source of significant revenue losses, not only due to high maintenance costs, site footprint, and downtime, but also because high value fines can become lost and trapped at the bottom of ponds.
He continued, "By recycling up to 90% of process water, the requirement for settling ponds is greatly reduced. With the addition of a plate press tailings management system that need is completely eliminated. When combined with a CDE PlatePress custom-built fines management system this figure increases to 95%, removing the need for settling ponds altogether."
Long-Term Benefits – Water management systems are becoming a must-have for mine and quarry operations to comply with environmental regulations. Matters concerning the protection of finite resources on the planet will only become more prevalent, too.
Vallelly concluded, "The benefits of the CDE AquaCycle significantly outweigh their initial investment; not only for the short period until return on investment is achieved, but for the preparedness it offers. Water management and water recycling are prevalent issues that will only become more tightly regulated and monitored in years to come. The AquaCycle ensures operators stay ahead of the curve while extracting maximum value from available resources and driving down operating costs."
The AquaCycle system is available to operators around the world and is ready to complement wet processing applications in five sectors – sand and aggregates, mining, construction and demolition waste recycling, environmental applications, and industrial sands.
CDE, www.CDEUSA.com
McLanahan
Several types of dewatering equipment are available to separate solids and liquid in slurries to reduce or eliminate settling ponds, but one is better for overall tailings and water management. McLanahan Corp. maintains that filter presses are the best choice for settling pond elimination.
The aggregate and mineral industries have historically used the simplest and cheapest dewatering technology to manage waste slurry tailings. These old methods include dumping directly into streams, rivers and lakes or using mining surfaces or underground quarries/pits for disposal.
For a number of decades these industries have been pressured to eliminate older ways of waste dumping and look for more efficient waste management technologies. Initial improvement in tailings management technology involved creating ponds or large impoundment dams to hold the waste slurry for the life of the quarry or mine.
Reducing/Eliminating Settling Ponds – Over the past 10 years or more, pressures to improve tailings management practices have increased further due to a number of factors, including:
Stricter environmental regulations.
Rising operational costs.
Higher waste handling costs.
Increased water conservation requirements.
Catastrophic impoundment failures.
The need for better risk mitigation.
Physical space limitations for operational expansion.
Leaders in the aggregate and mineral industries have started evaluating and investing in more efficient, cost-effective systems to dewater tailings. The systems include: ultra-fines separation, slurry thickening and slurry dewatering equipment technologies.
The UFR and Thickener equipment technologies separate and concentrate the waste materials, while the dewatering equipment recovers additional water from the waste stream and creates nearly dry solids.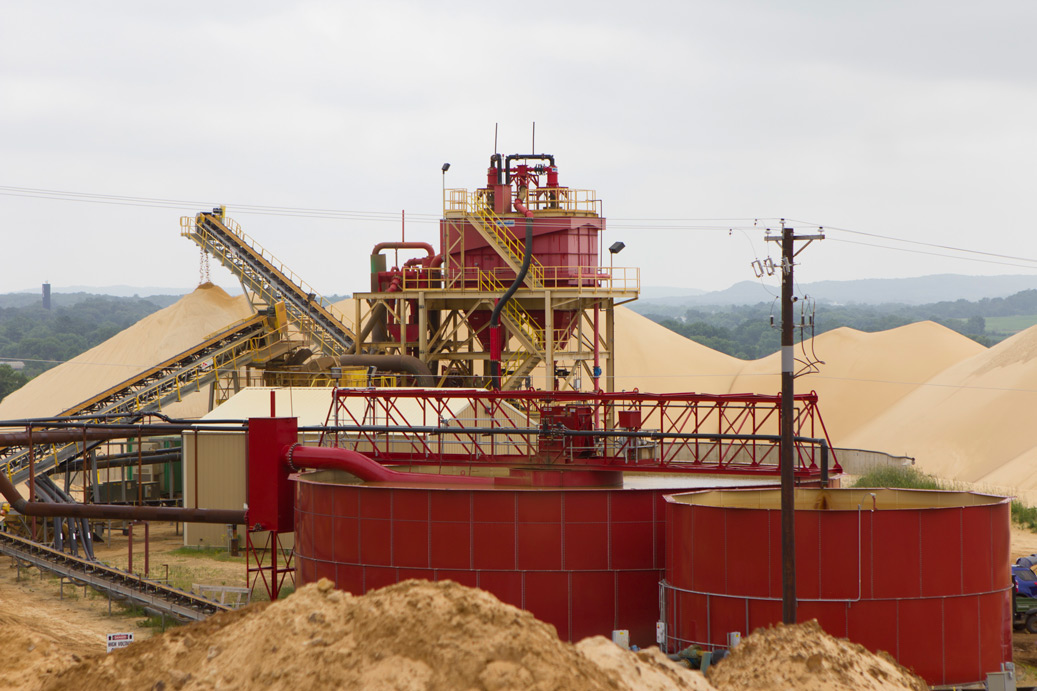 Types of Dewatering Equipment – Plate filter presses, belt filter presses and centrifuges are competing dewatering equipment used in the aggregate and mineral industries today.
Centrifuge dewatering is a high-speed process that uses the force from the rapid rotation of a cylindrical bowl to separate wastewater solids from liquid.
These dewatering devices work best with material that is more easily dewatered, has a larger particle size distribution and/or a low clay content, though they generally are not going to be as efficient as a filter press since they cannot generate the high-pressure dewatering forces of the latter.
Centrifuges operate as continuous feed units that remove solids by a scroll conveyor and discharge liquid over the weir. The bowl is conical-shaped to help lift solids out of the liquid, allowing them to dry on an inclined surface before being discharged.
Centrifuge equipment has high up-front investment cost and high operating cost. It is built to tight mechanical design specification to operate efficiently at very high rotational speeds. Operating costs are high due to high electrical power requirements, expensive replacement parts and the need to use dewatering chemicals.
In addition, centrifuge operation requires skilled, experienced operators. Centrifuges have a reputation of high noise, high speed vibrations and are subject to frequent wear issues. Because centrifuges are smaller than filter presses, the footprint could be less than that of a large plate press depending on how many units are required.
Belt filter presses are another type of equipment used to remove water from waste slurries to produce a non-liquid material referred to as a "cake."
In a belt filter press, the waste slurry is forced between two tensioned porous belts. As the belts pass over and under rollers of various diameters, the liquid is squeezed out of slurry while the solid cake material is retained between the belts. Increased pressure is created as the belt passes over rollers that decrease in diameter.
There are many designs of belt filtration processes, but all incorporate the following basic features:
Polymer conditioning zone.
Gravity drainage zones.
Low-pressure squeezing zone.
High pressure squeezing zones.
Advanced designs provide a large filtration area, additional rollers, and variable belt speeds that can increase cake solids by 5%.
The general mechanical components of a belt filter press include dewatering belts, rollers and bearings, belt tracking and tensioning system, controls and drives, and a belt washing system.
Belt filter presses have low to medium initial capital cost, with a smaller footprint for installation. Operating costs tend to be high due the need for a full-time operator and the use of chemical dewatering aids.
Maintenance costs are also expensive due to belt and roller wear as well as failure from continuous movement of the tensioned belts between the rollers. Belts and roller bearings require frequent replacement, creating lower overall availability.
Belt presses have a reputation of requiring frequent belt washing and are very sensitive to process variations.
Recessed plate filter presses are used create a dewatered cake material by separating the liquid and solid materials in waste slurries.
These filter presses are among the oldest types of dewatering devices and are commonly used in aggregate and mineral processing waste slurry applications.
Typical recessed plate filter presses are composed of a heavy-duty support framework holding a series of polypropylene plates with concave surfaces on each side of the plate. Each plate is lined with a synthetic filter cloth. The plates are tightly clamped together with hydraulic pressure, creating a void space between the plate surfaces.
A high-pressure slurry feed pump is used to force slurry material into the void spaces between the plates. The slurry solids are captured between the plates, while the liquid passes through the filter cloths mounted on the plate surfaces.
When no additional slurry can be pumped into the filter press, the slurry feed pump is stopped and the plates are separated, allowing the cakes to fall by gravity out of the press.
The up-front investment for a plate filter press can be high due the size of the equipment and required support structure.
Depending on the type and amount of material being dewatered, modern filter press equipment can be very big and require a large space for installation and operation. Common polypropylene plate sizes today can be up to 8-ft. wide by 8-ft. tall, with large filter presses holding up to 200 plates.
Plate filter press operating costs are low due to the requirement of only a part-time operator, lower wear parts cost and typically no need for chemical dewatering aids. Because the slurry material is captured completely between the filter plates, very high dewatering pressures (up to 225 psi or higher) can be applied to the slurry. The high dewatering pressures produce the highest cake solids concentration possible of any mechanical dewatering equipment.
Plate filter presses can also employ a second type of plate called a membrane plate. In this case, the plate has a flexible membrane surface made from polypropylene or other synthetic flexible material such as hard rubber.
The membrane can be thermally fused to the concave plate core, or the synthetic membrane's edge can be embedded into the concave plate core in a small channel machined in the plate surfaces.
The same initial process is used in a membrane plate press, with a high-pressure slurry pump feeding the press to fill and dewater as much slurry as possible.
After the slurry feed pump is stopped and while the filter plates are still clamped together, the membrane surfaces are expanded using compressed air or water. This inflated membrane compresses the cake material, removing additional moisture to the lowest possible levels.
Plate Filter Press Advantages – No other dewatering process has shown to be more efficient at removing liquid from slurries as the plate filter press. Additional benefits of plate filter presses include:
Highest amount of recovered water.
Driest cakes.
Lowest operating cost.
Lower waste handling cost, haul less water.
Most stable solid material generated.
Because of these advantages and the high efficiency of the plate filter press, it is the best choice of equipment to eliminate settling ponds, according to McLanahan.
McLanahan Corp., www.mclanahan.com
Jadair
Jadair has been in business for more than 52 years. The company makes water recycling and concrete reclaiming systems as well as providing water pumping systems to go along with its equipment or as stand-alone systems.
"Our Settler/Clarifier line of products is used in the mining industry but is also used in many other applications as well," said company President Shane Schmutzler. "The list of applications is long but includes aggregate washing, sand washing, frac sand, placer gold mining, agricultural washing, dimensional stone cutting, construction material recycling plants, foundries and more. They can be used in almost any industrial process that needs water clarification. Our machines allow operators to employ closed loop water recycling systems with a small foot print and without ponds. That is one of the biggest benefits.
"Our machines eliminate ponds and all the problems that come with them. Pond clean out, wasted water, wasted time and lost production. We take care of all of those problems at the same time. We have helped producers gain the ability to wash all week long without having to shut down part way through the week to clean out ponds. We have also helped extend the production season where water is so scarce it can run out partway through the year. Water is a prime resource and conserving it is naturally part of what we do. You could say that water conservation is a built-in principle with our equipment. In our current climate that becomes extremely important. We virtually eliminate water losses due to ground seepage and evaporation.
"Another benefit with our machines is the thick solids we bring out. The solids are able to be moved with a loader and can be sold for a profit where there is a market. Using the solids in landscaping applications, soil remineralization or landfills are all possible uses. One producer developed such demand for his discharges solids he was unable to keep up with demand. That was a waste product for them in the past but with our equipment it became a salable product. That is not something you can easily do with the slop that typically comes from ponds.
"Our machines also help save on electrical power and manpower. The machines are designed with energy efficiency in mind. They require very little power, especially when compared to other processes used in this industry. That can be a benefit that adds up very quickly. On manpower we also come out ahead. There is not much that needs to be done on these machines from day to day. Once the machine is set up, there is very little time spent there," Schmutzler concluded.
Customer Satisfaction – Frank P. Gelewski of North Church Gravel Inc. in Franklin, N.J., backs up Schmutzler's comments. "Our Sand and Gravel plant was a dry screen operation. We were making sand for concrete but the minus 200 content was too high," Gelewski said. "It was decided that we needed to wash the product. We looked a several options for our operations. One of the factors was we didn't have an area for settling ponds and there was no water source. After looking at several options we decided on the Jadair CT 352. We could run the water system closed circuit. All the water used to wash the aggregate was sent to the Clarifier, cleaned and sent back to the wash plant. This process minimized the amount of water loss and make up water required to operate at full capacity.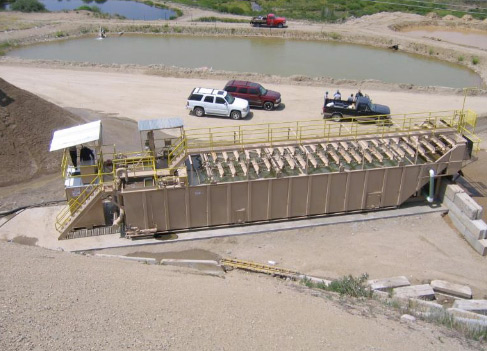 "We purchased a portable wash plant with no classifier," Gewlewski continued. "At the same time we purchased the Jadair CT 352. The feed stock to the plant contained 5% to 7% minus 200. Our production goal was to make 500 tons of washed concrete sand per nine-hour shift. By-products were washed 1/4-in. 3/8-in. and ¾-in.
"Demand for washed concrete sand increased over the years and we needed to increase production," Gelewski said. "In 2016, we purchased a new wash plant with a Classifier Tank and Twin 54-in. screws. To compliment this increased production we added two more Jadair CT 352s. We are pushing 3,000 tpd through the plant. The system was designed by Jadair so there is no dirty water pump. We only have a 3600 gpm clean water pump. This is a great cost and maintenance savings as there are no changing out pump liners or entire pumps. We replace the pump seal once a year during winter maintenance. The Jadair CT 352s are very user friendly. They pretty much run themselves, automatically adjusting speed according to the load."
Jadair, www.jadair.com