Industry consultant Mark J. Krumenacher, senior principal/senior vice president for GZA GeoEnvironmental, has written a new book, "Quarry Regulatory Control and Permitting: Defending the Foundation of a Sustainable Society." "There is no book or information source that addresses the extent of regulatory control and oversight and the challenges of permitting," Krumenacher said. "If you or your partners have experienced the quarry permitting process you understand the unpredictable challenges and often the need to defend the quarry industry and defend against claims that quarrying is unregulated."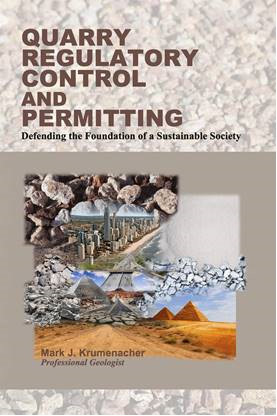 This book addresses the regulatory control and oversight of the quarry industry and the potential economic, environmental, safety and health impacts. Property values is a unique economic and societal issue that is also addressed in detail.
The ultimate target audience are federal and state lawmakers and the local decision makers that in many states influence or issue the permits to operate: city councils, town planning commissions, town boards, county zoning agencies, county land use management committees and many others.
"I hope that you will recognize that the industry needs this book to be widely distributed to your partners, associates, consultants, clients and other stakeholders," Krumenacher said. "It is time the quarry industry becomes better understood by the people that rely on the materials produced – which includes absolutely everyone."
A website includes a primer to provide the backstory that has been evolving for years and to introduce the need and purpose for the book. The Table of Contents can also be downloaded. The paperback contains 250 pages; about 150 references, citations and footnotes; 13 appendices; and an index.
The book was prepared to serve as a desk reference and information source and includes nine single-sheet white papers that reference relevant pages in the book. These fact sheets are formatted to print on 8.5- x 11-in. and will be provided in PDF form to those that purchase the book.
Quarry Regulatory Control and Permitting, https://quarrybook.wordpress.com